Live streaming on YouTube or Twitch shows no signs of slowing down. Powerful software enables enthusiastic amateurs to approach the quality of professionals by employing a wide range of effects such as custom logos, seamless transitions, excellent audio, and multi-source scenes.
An ever-growing range of software takes advantage of this recent trend and offers a means by which high-quality live streams can be created easily and efficiently. Programs such as OBS Studio, StreamLabs OBS, XSplit Broadcaster and Gamecaster, Wirecast and GameShow are leading examples of comprehensive software, while, if you have a GeForce card, Nvidia's Shadowplay is able to stream games without the benefits of overlays and so forth.
Streaming software tries to get around the problem of having a goodly number of features - oftentimes used on a regular basis - by assigning keyboard shotcuts to various actions. It can become quite convoluted if you're editing a live stream on the fly with a bunch of effects, and this is an area in which a dedicated hardware switcher is rather handy. Leading the charge is Corsair-owned Elgato, whose 15-key Stream Deck and six-key Mini have decent integration with leading streaming software.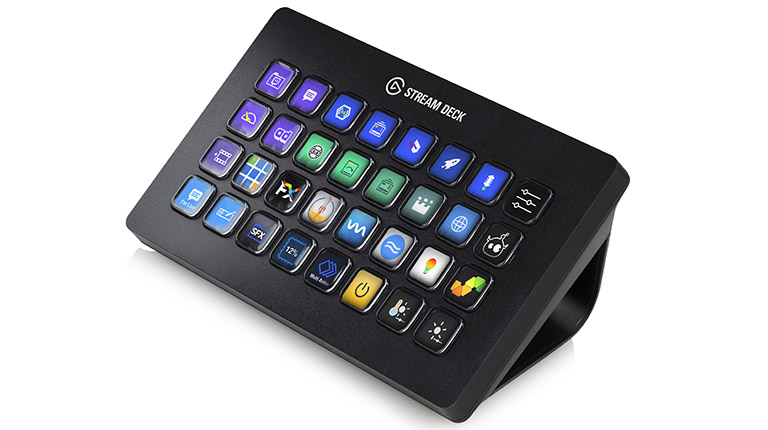 Why have six or 15 keys when you can have 32 for a no-compromise solution?
Which brings us on to today's review, the Elgato Stream Deck XL, aimed at the upper echelons of the live-streaming market where enthusiasts need ultimate flexibility across a range of programs. Elgato goes big by upping the regular Stream Deck's 15 OLED buttons to a whopping 32, meaning that a whole heap of shortcuts can be displayed without mapping multiple actions to a single button via folders.
By its very nature, the XL is a more substantial piece of kit, measuring 182mm wide, 112mm tall and 34mm thick while tipping the scales at 410g. Elgato chooses to run with a USB Type-C connection from the unit and supplies a 150cm C-to-A cable for your PC or laptop. This change makes sense as the thinner, smaller Type-C connector is less obtrusive than before, and a small indented section at the top of the base enables the cable to run out to the PC.
Using the supplied base makes implicit sense.
The well-constructed unit has a slight angle for easier key viewing when laid flat. I found the angle too shallow when placed next to my keyboard, thus making it difficult to read the backlit keys on the right-hand side of the XL. Elgato bundles in a magnetic stand that solves this visibility issue. Simply feed the Type-C cable through, click into place, and it offers a 45-degree angle that makes it much easier to see the OLED keys. I can't imagine anyone will use it without the stand. Either way, the base/stand has good traction with the desk surface; the unit doesn't move unless you press a button really hard.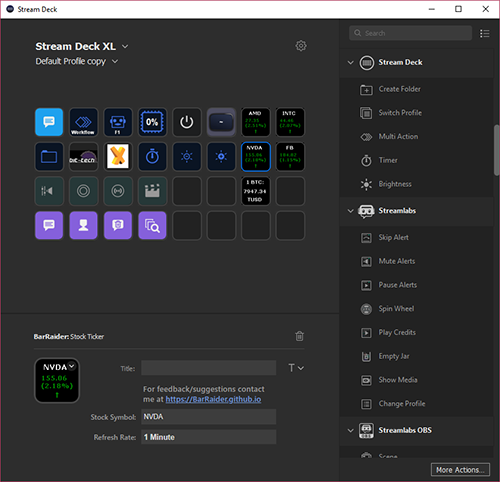 There are a huge number of shortcut defaults built into the package, mainly aimed at the streamer. Multiple common actions for Streamlabs OBS, OBS Studio, Soundboard, Tipeeestream, Twitch, Twitter, XSplit, and YouTube are dragged across to the right and assigned to a key, complete with an immediately recognisable icon. The system is live, so anything moved over is instantly replicated on the unit.
Arguably the best feature is the ability of the multi-action tool, which takes up a key, where a single push activates a number of actions in sequence. You can, for example, launch a stream and Tweet about it, change scenes, and display ads. To this end, nine consecutive actions are available. I use it to launch all my commonly-used productivity apps in one fell swoop.
Elgato has a small but growing number of downloadable widgets that offer extra functionality. There's integration with Philips Hue, for example, for setting the scene with ambient lighting, widgets for stocks and shares, and control for Elgato's own Key Light, so it's handy to have a number of extra keys dedicated to them. Each key's graphic icon can be updated by using the Key Creator. It's easy to use, but we wonder why such functionality is on a web page rather than built into the software itself? That makes no sense. Or you can simply add a 72x72-pixel graphic of your own.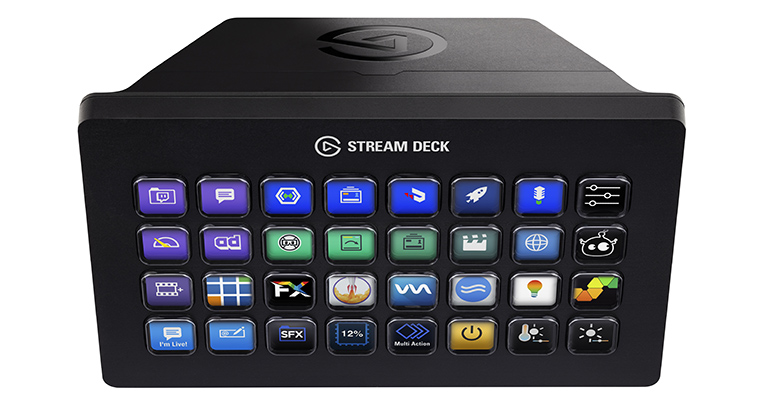 From my own use of a Stream Deck, mini and XL over time, having more than 15 keys is verging on the pointless for the vast majority of users. Heck, for someone like me, even six is fine, though I imagine Elgato wants to appeal to the well-heeled professional with its latest 32-key no-compromise offering that's otherwise functionally identical to the previous two models.
And there's the rub. The Stream Deck XL costs £249 (£240) so is limited to those who take live streaming very seriously. It's nice to have loads of spare buttons, I guess, in a decently-designed package, but do bear in mind that, other than the buttons, it doesn't do anything that the standard Stream Deck, costing £130, cannot.
That said, I remain a fan of how Elgato is tying attractive and robust software into making life easier for the enthusiast streamer. Bigger than any previous Deck by a factor of more than two, though expensive, the XL makes a case for those taking live streaming to the next level. You'll never need to Alt+Tab again.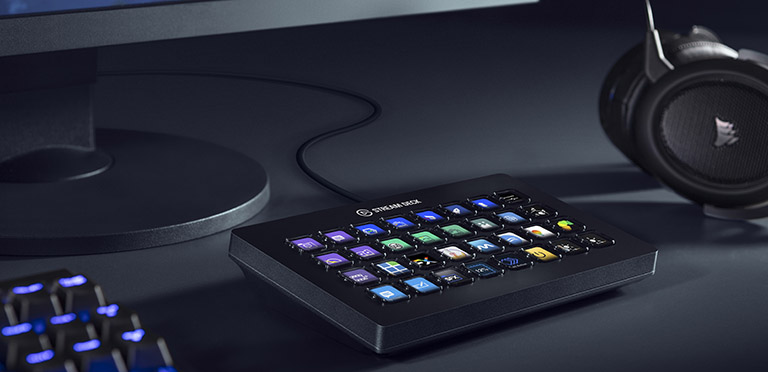 The Good

The Bad

Solid hardware design
Generally intuitive software
Massive configuration possibility
OLED keys are great

Key Creator ought to be in software
Expensive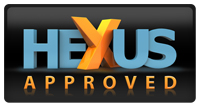 Elgato Stream Deck XL
HEXUS.where2buy*
The Elgato Stream Deck XL is available to purchase from Scan Computers.
HEXUS.right2reply
At HEXUS, we invite the companies whose products we test to comment on our articles. If any company representatives for the products reviewed choose to respond, we'll publish their commentary here verbatim.