Software and Summary
Inclined not to clutter your PC with unnecessary software? You'll be pleased to hear that the K70 RGB MK.2 Low Profile Rapidfire will function just fine as a plug-and-play solution. As standard, the RGB lighting is set to a spiral rainbow effect, and if you find it too distracting, the hardware brightness key can be used to dim or turn off the effect.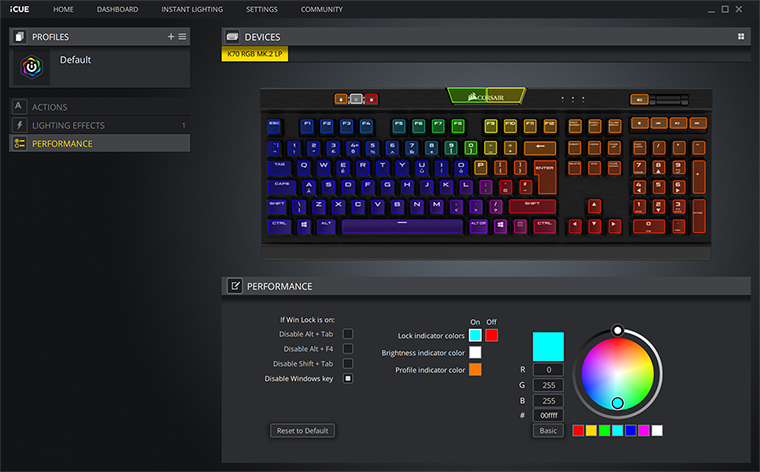 Prefer to customise your peripherals to the nth degree? Then you'll want to install iCue, Corsair's one-stop software utility for all of its modern hardware. The 400MB package is free to acquire and, even if you don't plan on using it in the long term, it's worth installing at least once to check for keyboard firmware updates. At the time of writing, the latest firmware for this particular model was v3.24.
Lighting customisation options is exhaustive, with easy synchronisation between other Corsair gear, recording and assigning macros is straightforward, the Windows Lock key can quickly be configured to disable other shortcuts such as Alt+Tab, and there's enough onboard memory to store three user profiles. You don't get anything quite as fancy as Philips Hue integration - Razer's Synapse continues to hold that trump card - but Corsair's iCue is nonetheless one of the better examples of peripheral management software.
Summary
Corsair's K70 RGB MK.2 Low Profile Rapidfire was well on the way to becoming one of our favourite mechanical keyboards, but a few niggling issues have prevented it from reaching recommended status.
On the plus side, the use of Cherry MX LP Speed switches results in a svelte, comfortable and responsive keyboard for both work and play, the RGB lighting is excellent, and Corsair's build quality is suitably rigid. This remains one of our favourite low-profile mechanical boards to type on, yet considering the £160 fee, the wrist rest ought to be better, the keycap font isn't as sleek as the rest of the board, and USB 3.0 passthrough ought to feature as standard.
Bottom line: Corsair's first attempt at a low-profile mechanical gaming keyboard is likeable and it would take just a few simple tweaks to elevate the K70 RGB MK.2 Low Profile Rapidfire from good to great.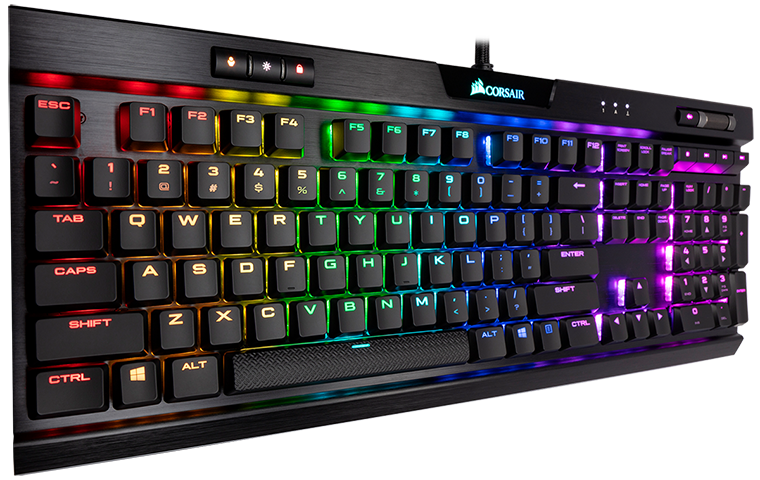 The Good

The Bad

Sleek, low-profile design
Excellent RGB implementation
Rigid aluminium top plate
Well-suited to both work and play
Reasonably quiet action
Easy customisation via iCue

Wrist rest not great
Multimedia controls could be better
Keycap font an acquired taste
Still only USB 2.0 passthrough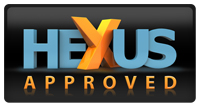 Corsair K70 RGB MK.2 Low Profile Rapidfire
HEXUS.where2buy*
The Corsair K70 RGB MK.2 Low Profile Rapidfire gaming keyboard is available to purchase from Scan Computers.
HEXUS.right2reply
At HEXUS, we invite the companies whose products we test to comment on our articles. If any company representatives for the products reviewed choose to respond, we'll publish their commentary here verbatim.