Corsair has built upon a range of Void gaming headsets with newer iterations released on a regular cadence. These headsets have select combinations of surround sound, RGB lighting and wired and wireless support, though starting at £85, they are out of the reach of the casual gamer.
Addressing this concern is the wired HS50 Stereo Headset, primed for gaming on PC, PlayStation 4 and Xbox and a multitude of mobile devices.
A trio of models is differentiated by colour. The regular model, priced at £55, uses a standard black (carbon) colour and stitching on the headband. Blue and green versions, where the earcups are ringed with the relevant colour while the headband has matching stitching, are available for a £5 premium.
HS50 weighs 319g and feels firm and secure on the head due in part to the stiff clasping mechanism, though I'd prefer the headband to have more cushioning. The large earcups rest on the side of the head rather than the ears, and they still feel comfortable after an hour of use because the earpad material has sufficient give. This also means it doesn't cause comfort problems for spectacles wearers like yours truly. I like that the material doesn't get warm after extended usage. There's a reasonable amount of adjustment for larger noggins - the band clicks and remains in position after every micro-adjustment - and exact position is shown by numbered markings on either side.
Build quality is solid. Though made out of plastic there is none of that creaking that afflicts truly budget headsets. The oval memory foam earcups, lined with mesh on the outside for a supposedly premium feel, swivel 30° or so for maximum comfort. Owing to the stereo nature there's only a mute button and volume wheel on the same side as the mic. There's no need for fancy lighting, and I think it is the better for it.
Out of the box the HS50 feel more like mainstream headphones than a gaming headset, and such a viewpoint is reinforced by the detachable, perfectly adjustable microphone boom. Handily, a small piece of plastic pops on over the microphone's connector if you wish to use HS50 as headphones alone. The non-detachable 2m cord ends in a standard 3.5mm jack, and a splitter cable is included in the box that facilitates microphone usage. This is about as simple as a gaming headset gets, bereft of any Dolby audio processing available on the Void range.
Corsair packs in a couple of 50mm drivers on each side. Firing up music tracks reveal they have a pleasant enough sound, verging on the side of warm, with enough woolly bass to appease the target audience. Detail is best described as adequate: Beth Orton's beautiful voice during 'She cries your name' loses some of its raw emotion when compared to quality headphones. Similarly, the Corsair HS50 isn't able to fully capture the visceral intensity of Nusrat Fateh Ali Khan as he rips into a famous qawwali. That's not to say the headset is bad; just don't go expecting audiophile quality.
In-game explosions benefit from that mildly woolly bass - the experience of hacking and slashing my way through Middle-earth: Shadow of War is heightened by accurate audio placement. Skype calls are clear through the wand-like, Discord-certified microphone that can be moved to near-infinite positions.
£55 represents the cheapest outlay for a Corsair gaming headset, but such is the competition in this sector, that virtual 7.1-channel sound models are available for not much more - most notably the HyperX Cloud II from rival Kingston, while others such as SteelSeries have comparable offerings. This is why Corsair has needed to address this space, though given it is $49.99 across the pond, a sub-£50 street price would have been preferable.
Keeping it simple, the Corsair HS50 is a no-nonsense gaming headset whose reasonable street price brings it into the reach of the casual gamer. Eschewing the overly gamer look of many, the minimalist design and mature appearance lends itself to a wider audience, and that's exactly what I figure Corsair had in mind when designing it.
The Good

The Bad

Minimalist design
Comfortable
Become pleasingly loud
Fully-detachable microphone


Average sound quality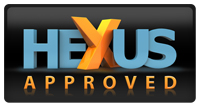 Corsair HS50 Stereo Gaming Headset
HEXUS.where2buy*
The Corsair HS50 Stereo Gaming Headset is available to purchase from Scan Computers.
HEXUS.right2reply
At HEXUS, we invite the companies whose products we test to comment on our articles. If any company representatives for the products reviewed choose to respond, we'll publish their commentary here verbatim.