Software and Summary
As with most gaming mice, the Clutch GM60 will function just fine as a plug-and-play solution. In its out-the-box state, the 11 LEDs are all permanently on and set to red, and the DPI toggle switch will alternate between four levels of sensitivity: 1,000, 1,800, 2,800 and 3,600 DPI.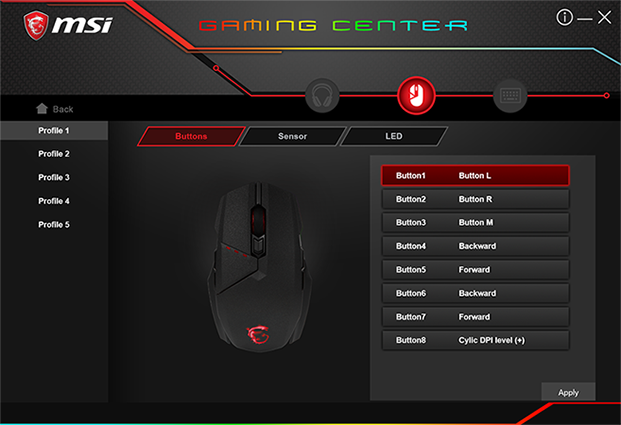 The default settings are sufficient for most users, but you'll want to download the accompanying apps to make the most of the customisation options. MSI's apps sadly aren't available from the Windows Store, but both Mystic Light and Gaming Center are available as free downloads from msi.com. The former is helpful if you have a range of MSI products with RGB lighting and want to synchronise effects, but mouse-only users will only need Gaming Center.
MSI's first tab, Buttons (pictured above), is self-explanatory and allows for each of the eight buttons to be mapped to a function of your choice, including keyboard keys, multimedia shortcuts and macros. The built-in macro recorder works well enough, with the added ability of custom delays, but having key presses show up in another language reveals that the software is still rough around the edges.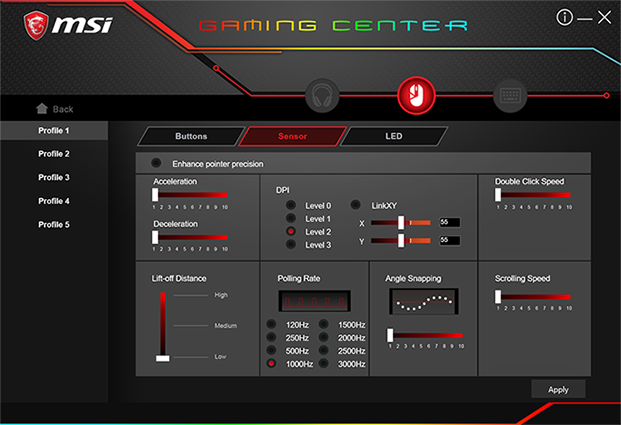 The Sensor tab is where the bulk of the customisation will take place. MSI allows for independent sensitivity adjustments on both axis, as well as a choice of polling rates and lift-off distances. Just about everything you're likely to need, though do be mindful when making changes to the five available profiles, as there doesn't appear to be an easy way to revert the sensor to default settings.
Finally, the LED tab provides fine-grained control over the 11 RGB lights, with the option for common effects such as breathe, cycle and rainbow. Getting a colour-match with your other hardware shouldn't be difficult, but if you like everything to be in sync you may lament the fact that the three DPI LEDs on top of the mouse are fixed to red and can't be changed.
...a versatile pointer outfitted with a competent optical sensor, eight programmable buttons and RGB lighting...

Conclusion

MSI is making moves in the ever-expanding gaming peripheral market with an entire range of new products designed to complement the firm's Mystic Light portfolio.

Showcasing what's in store, the Clutch GM60 gaming mouse is a versatile pointer outfitted with a competent optical sensor, eight programmable buttons and RGB lighting that syncs seamlessly with other MSI hardware.

The decision to start with an ambidextrous form factor helps GM60 appeal to a wide audience, and so too do the bundled accessories, but MSI has left room for improvement. It's a shame weight adjustment isn't as option, as the default 115g may be a tad hefty for some, and though the bundled customisation options are nice to have, they result in a £75 price tag that's higher than we'd expect to pay for a mouse outfitted with a mid-range PMW3330 sensor.

Bottom line: eager to add a versatile gaming mouse to a Mystic Light build? MSI's Clutch GM60 does the trick, but there are better performers available at this price point.

The Good

The Bad

Comfortable ambidextrous form factor
Good choice of customisation options
RGB lights sync with other MSI gear
Eight programmable buttons

Pricey for a PMW3330 sensor
115g might be a tad heavy for some
Supporting app could be better




MSI Clutch GM60




HEXUS.where2buy*

The MSI Clutch GM60 gaming mouse will be available to purchase from Scan Computers later this month.

HEXUS.right2reply

At HEXUS, we invite the companies whose products we test to comment on our articles. If any company representatives for the products reviewed choose to respond, we'll publish their commentary here verbatim.