Corsair has revamped its gaming headset range by introducing four new models under the Void Pro banner. Available in wireless, wired USB and wired 3.5mm analog (non-RGB) variants with virtual Dolby 7.1 technology on all versions, Corsair says it has improved the new range in a number of key areas. The highlights include a better microphone, improved lag-free WiFi on relevant models, and retuned drivers that offer more refined bass and extra clarity in the mid-range space.
Pricing is consistent with the outgoing Void models that are entirely subsumed by the new Pro. Starting at $79 for the wired versions and rising to $99 for the wireless, with an additional $30 for a special edition yellow model, Corsair is firmly pitching the Pro towards the premium end of the gaming market. We have the white wireless version ($99) in for technical evaluation today.
Corsair's design remains familiar. This wireless model ships with a USB dongle that acts as a bridge between headset and PC. There's a bundled, 1.5m-long USB cable for charging, too, and that's your lot as far as accessories are concerned. Not that you need any more, mind, as getting the Void up and running takes all but a minute.
The two-tone finish works well, and the Corsair logo is the solitary part of the headset that receives the RGB treatment, whose colour, intensity, and just about everything else, is controlled by the firm's CUE software.
Though looking very much like its predecessor, I'm in a good position to evaluate the Void Pro's subtle differences having used the wireless and wired surround Void models previously. Corsair employs larger earcups this time around, with the new, more gauze-like covering sitting better around my ears. Comparing back to back, the slightly larger dimensions also help in relieving some pressure off the ears, and there's enough room around the edges to wear glasses without issue.
Fit and finish
That said, though sitting nicely, Corsair's wide band design means that fast side-to-side movements can cause the Void Pro to slip a touch, with the only remedy being tightening the band too much. Still, I'd describe the Void Pro Wireless as comfortable, so whilst the 390g weight is noticeable at all times, it is not fatiguing.
Controls remain as they are before. The left-hand side is home to power, mute, a volume wheel and a mini-USB connector. The mic, however, is completely new. Pressing mute now - which was never obvious before due to no visual clues - causes a thin strip to light up red which you can see easily.
The mic itself remains non-detachable but features a new unidirectional noise cancelling microphone, according to Corsair. Flicking it up by making it parallel with the headband automatically mutes it, which is handy, but I'm not a huge fan of the mic's position which is 'straighter' than last-gen's model. Whereas that one curved around and was closer to the mouth, the Void Pro's goes straighter out. Having Skype chats revealed that I sounded fainter with the Void Pro than on the older Void Wireless.
Small subjective observations aside, voice quality is very good, volume is sufficient and I would happily use it for general Skype calls or gaming without issue.
Corsair's CUE offers a decent amount of control, and one can adjust the RGB lighting, its patterns, toggle the amount of sidetone - where you can hear yourself speak through the headset - switch between stereo or Dolby 7.1 modes, EQ settings, and update the firmware.
Playing through a number of games from the HEXUS Steam catalogue results in a good experience. Without any EQ settings and used out of the box, the bass and treble feels a touch heavier and tighter than the older Void, but there really isn't much in it. Explosions sound suitably meaty, though I'd go so far as to say the standard bass lines on the Void Pro aren't as overwhelming as, say, on a Kingston HyperX Cloud II and on a par with a Razer ManO'War. I'd describe the Void Pro as a neutral-sounding headset.
Void Pro is said to have a 16-hour battery life and WiFi connection at up to 40 feet away. I found no drop-outs when moving across the rooms of my house during testing, whilst the battery longevity is never even a concern. The quoted 16 hours is more than sufficient for a mammoth gaming session... and that is good enough for me.
Corsair's Dolby 7.1 implementation is also good, and while I would rather use stereo for that extra level of clarity, those who want pseudo surround sound shouldn't be left disappointed.
Moving on to straight-up audio, the sound quality is solid, comprising a wide soundstage and, surprisingly, good clarity at the higher end of the spectrum. I'd liken it to the quality of a reasonable stereo headset.
Summing up
The Corsair Void Pro Wireless RGB gaming headset is a evolution of a popular design. Retailing for £109 in the UK at present (horrible exchange rate, therefore) and using much of what was good about the previous-generation model, but now improved with tweaked drivers and a brand-new mic, Corsair has further cemented its position in the premium peripheral market.
Yet peripherals are peculiarly personal hardware. I prefer the shape and therefore closeness of the original microphone, as the new model can sound distant to the others on a conversation at times. Corsair cannot please everyone all of the time, but I feel it has done enough to encourage would-be Void users to at least consider the Pro.
The Good

The Bad

Better earcup design
Very comfortable
Improved stereo performance


Non-detachable mic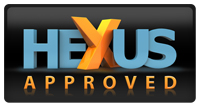 Corsair Void Pro Wireless RGB
HEXUS.where2buy*
The Corsair Void Pro Wireless RGB is available to purchase from Scan Computers.
HEXUS.right2reply
At HEXUS, we invite the companies whose products we test to comment on our articles. If any company representatives for the products reviewed choose to respond, we'll publish their commentary here verbatim.