Software and Summary
You can, if you so choose, utilise the K95 RGB Platinum as a plug-and-play device, but doing so would be a disservice to the available feature set. In order to program your own macros and create your chosen lighting effects, you'll need to download and install the accompanying CUE (Corsair Utility Engine) software package.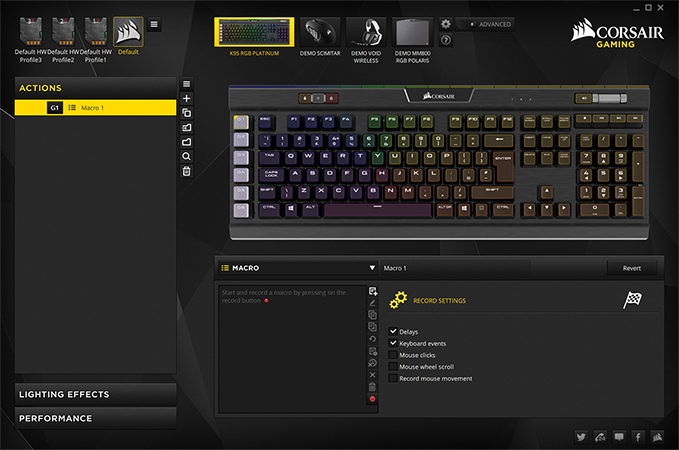 The latest release, v2.9.53, weighs in at about 120MB and covers multiple Corsair products, meaning one unified interface for your keyboard, mouse and headset. Historically, CUE has been identified as a weak link in Corsair peripherals, but the software has been refined and tweaked over the years to make it more intuitive to a wider range of users.
All of the features you're likely to tweak are split into three categories - Actions, Lighting Effects and Performance - with the former handling macros and key assignment. Recording macros is straightforward - with the option to include mouse clicks, scrolls or movement if you wish - and keys can also be remapped or assigned to multimedia functions or user-specified .exe shortcuts.
Lighting enthusiasts will spend the majority of their time tinkering in the relevant section, but while Corsair's interface has improved in terms of accessibility, there's still a bit of a learning curve. Creating complex effects can be time consuming, but on the flip side the rewards can be spectacular.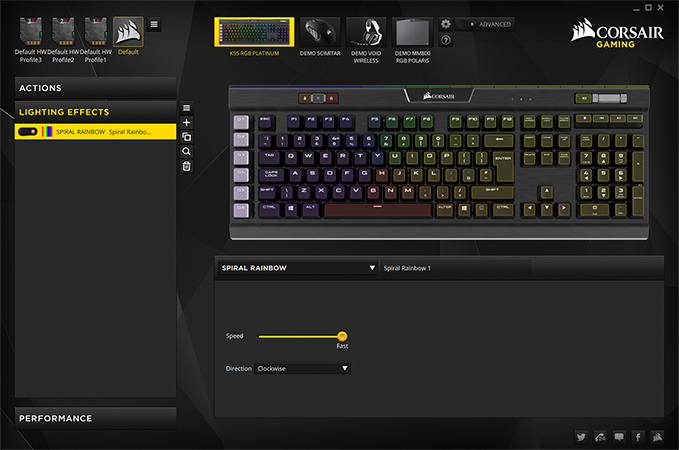 CUE arguably isn't as intuitive as rival solutions such as Razer's Synapse, but it is getting there and a few small tweaks could elevate the user experience. The ability to download third-party profiles, for example, is needlessly hidden away and we'd like to see Corsair improve the community aspect by putting shared resources front and centre.
Summary
Brimming with features and priced at £180, it has the dubious honour of being one of the most expensive keyboards that gamers can buy.

The K95 RGB Platinum is a premium addition to Corsair's popular range of mechanical keyboards. Brimming with features and priced at £180, it has the dubious honour of being one of the most expensive keyboards that gamers can buy.

Expectations, then, are high, and Corsair delivers many of the features that enthusiast gamers come to expect. The highlights include dedicated macro keys, RGB backlighting, precise Cherry MX switches, robust build quality and contoured keycaps for your style of gaming.

Multimedia controls are well laid out with the simple-but-effective volume roller continuing to serve as a highlight, and the revamped dual-sided wrist rest is a welcome addition. There's plenty to like, but at this price point you'd be forgiven for expecting perfection, and Corsair has left room for improvement. The keycap typeface is an acquired taste, and while rivals are beginning to include built-in USB 3.0 hubs, it's a shame to see Corsair's latest rocking a solitary USB 2.0 port.

Bottom line: the K95 RGB Platinum is Corsair's best mechanical keyboard to date, but if you want the company's latest and greatest, be prepared to pay flagship prices.

The Good

The Bad

Feels robust and well built
Comfortable dual-sided wrist rest
Fast key switch well suited to gaming
Onboard memory for multiple profiles
Dedicated macro and multimedia keys
Dazzling lighting possibilities

It's a £180 keyboard
Still only USB 2.0 passthrough
Keycap font an acquired taste




Corsair Gaming K95 RGB Platinum




HEXUS.where2buy*

The Corsair Gaming K95 RGB Platinum keyboard is available to purchase from Scan Computers.

HEXUS.right2reply

At HEXUS, we invite the companies whose products we test to comment on our articles. If any company representatives for the products reviewed choose to respond, we'll publish their commentary here verbatim.