The cost of home networking has been tumbling of late, so much so that it's quite possible to purchase an 8-port gigabit switch for around £20. A super-fast, hardwired connection is useful when multiple computers are connected to a network - home or otherwise - and using cables instead of WiFi is, most people will agree, just more preferable than relying on over-the-air bandwidth.
A key factor in driving down the cost of switches has been the emergence of home routers with built-in gigabit ports. These boxes, often integrating four ports, tend to mitigate the need for a standalone switch, though there's nothing stopping a user extending their network by using a switch in conjunction with a router. Point is, obtaining fast transfer speeds on a multiple-machine home network isn't expensive.
Spending more on switches
But there are compelling reasons to spend more than that aforementioned £20 on a switch. Increasing the spend brings managed switches into play. These provide additional features that can shape how network traffic is handled, offer some form of Quality of Service (QoS), provide virtual LAN capability, and serve up features such as Spanning Tree Protocol (STP) that take redundancy into account.
Network specialists TP-Link, however, believes it has an 8-port gigabit switch with a key difference that'll appeal to the home user: built in Power over Ethernet (PoE), and the firm duly sent us the £60 TL-SG1008P for evaluation.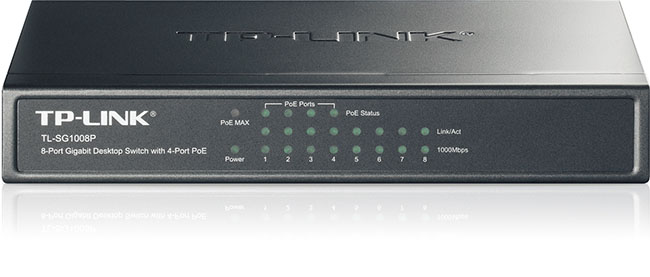 First impressions are positive, as the SG1008P carries a metal casing and, at 520g, has a reassuring heft to it. Standing seven inches wide, four inches deep and an inch high, the unit can be hidden away easily enough. TP-Link also sells the SG1008PE, a wider version (294mm) suitable for rackmounts, which incorporates eight PoE ports.
The gamut of LEDs are all located on the front. The bottom row lights up green as the full-duplex gigabit Ethernet connections are established, the middle row flashes when there's activity on the network(s), and the top is reserved for PoE status. Underneath, four rubber feet, included in the package, can, and should, be used to stabilise the SG1008P on slippy surfaces.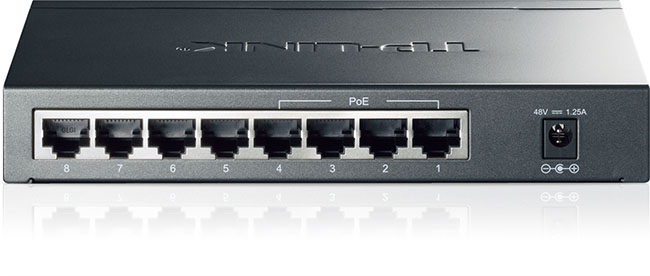 Power over Ethernet
Flicking it around shows the four right-hand ports to also feature PoE functionality, and it's this feature that makes the unit stand out from most. TP-Link implements the 802.3af PoE standard, meaning that each port can push 15.4W down the Ethernet cable to a compatible device, though the recipient device can utilise only 12.95W - some power is lost through resistance when transferred through super-long network cables.
There are good reasons why you'd want to have a switch provide power to network-attached products. For example, 802.3af-compatible security cameras, wireless access points and VoIP phones often benefit from having a single wire providing networking and power.
The review unit has a maximum down-the-wire power limit of 53W, with PoE ports 1,2 and 4 providing the full downstream 15.4W to connected devices. Running them concurrently, with 46.2W of Ethernet load, causes the red PoE MAX light to switch on. Should a device also be connected to port 3 and therefore potentially exceed the total 53W, port 4 is disabled, ensuring the unit remains within specification.
Shunting wattage down the wires requires beefed-up input power. The SG1008P ships with a small 60W adapter of adequate length, and we're happy to see the main unit run without a fan - there are a number of ventilation holes on both sides and the entire chassis functions as a giant heatsink of sorts.
In use, benchmarks
Installation and usage are straightforward; the switch is the epitome of plug-and-play. Consuming about 6W at the wall when transferring data across gigabit networks, power usage is standard for an 8-port switch, though this inevitably increases as a PoE device is attached.
We use snom 320 PoE-enabled, VoIP-compatible phones in the office, and connecting them to the switch removes the need for a separate power cable. Overall switch power consumption barely increases, we noted, as a single phone pulls just over a watt when in use. This is perhaps why TP-Link chose to forego the newer 802.3at standard - one that supplies increased power down each PoE port - for this consumer-orientated switch.
With the phone connected to the switch and in turn to a telephone/internet line, performance, if we can call it that, is the same as connecting the snom straight to the RJ45 socket on the wall. PoE works just as advertised, then, and having four powered ports can help reduce overall cable clutter in an office environment. Skype calls, too, work well.
We can test throughput performance in more quantitative fashion by benchmarking the SG1008P. Connected to gigabit-enabled NICs on a PC and notebook at each end, here's how the SG1008P fares against another mid-priced gigabit switch. All figures quoted in MB/s.
| APU Model | PassMark throughput | Iometer 1MB throughput | 532MB file transfer |
| --- | --- | --- | --- |
| TP-Link SG1008P | 84.3 | 111.3 | 76 |
| Netgear GS108 | 75.6 | 109.4 | 76 |
Performance is solid through the three tests and, in Iometer at least, approaches the very limits of gigabit networking throughput.
Conclusion
TP-Link's SG1008P 8-port gigabit switch offers additional Power over Ethernet capability that separates it from a sea of homogenous products on the market. Offering genuine plug-and-play compatibility and able to provide up to 53W of power down Ethernet wires, split over four devices, the £60 switch works well in environments where it can be difficult to source power for network-attached devices.
The fact that regular 8-port unmanaged gigabit switches are available for £20 means that users will need to leverage the PoE functionality to the fullest for this switch to make sense. All in all, though, TP-Link's SG1008P is a well-thought-out product for a niche market.
The Good
Excellent build quality
Super-easy to use
PoE very handy in certain situations
Fanless PoE implementation
The Bad
3x price of non-PoE switch
HEXUS Awards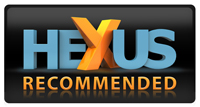 TP-Link TL-SG1008P
HEXUS Where2Buy
The TP-Link TL-SG1008P is available from Amazon.co.uk.
HEXUS Right2Reply
At HEXUS, we invite the companies whose products we test to comment on our articles. If any company representatives for the products reviewed choose to respond, we'll publish their commentary here verbatim.