Introduction
The Intel Z390 chipset and Core i9-9900K look set to become the go-to choice for the enthusiast wanting an excellent platform for gaming and everyday usage.
But such performance does not come cheap, as the CPU costs a whopping £600 while Z390 motherboards start at £120 or so.
Though users looking for that headline CPU will probably invest more in a motherboard, and this is where the £270 Aorus Z390 Master plies its trade.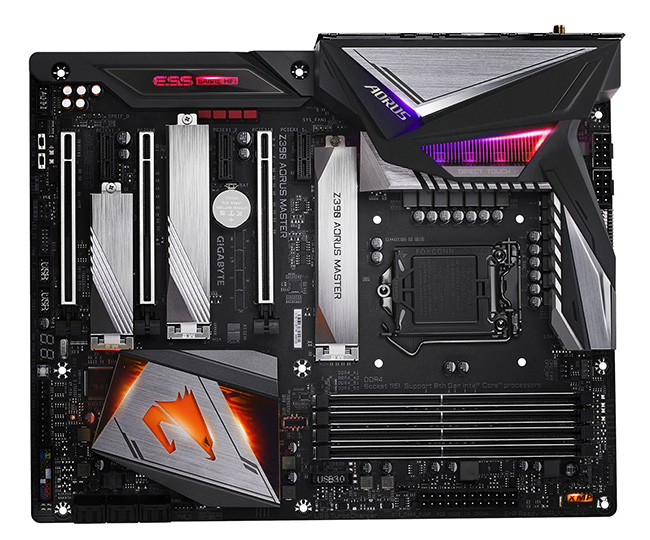 We need to consider what elevates this board from the general Z390 crowd priced well below £200, given that the new chipset now amalgamates USB 3.1 G2 and, potentially, high-performance WiFi (CNVi)
Z390 Master excels in cooling design, with a solid, L-shaped heatsink that wraps around the 12-phase digital VRMs. A solid aluminium block is augmented by stacked fins, and Aorus has thick thermal interface material between it and the VRMs for direct-touch cooling. Measuring 25mm high and screwed in properly on the rear side, this is about as good as motherboard cooling gets.
Part of the board's 1.6kg weight comes from a PCB-wide brace on the back. If it's a solidly-built motherboard you are after, look no further.
That said, this is not a bling-fest interpretation of Z390. Aorus keeps RGB to a minimum, centred on two zones - chipset and VRM heatsink - and controlled by the Windows-based Aorus Master Fusion utility. We believe the board to be better off without underside lighting, or any further illumination in the DDR4 or PCIe slots.
Dual BIOSes, a further three fan-headers at the bottom, a debug LED, and connectors for extra RGB are all expected. What we don't like, however, is Aorus' decision to locate the power button on the back - what use is that for most enthusiasts? - and we'd rather see it on the PCB.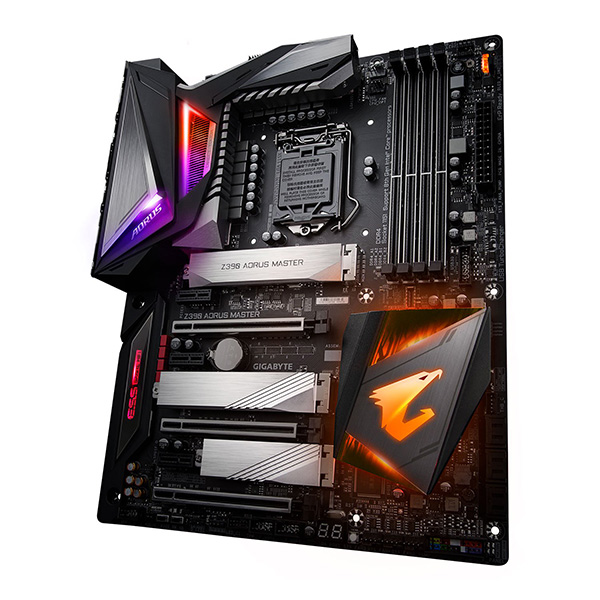 Dual-8-pin CPU connectors are fast becoming standard, and three 4-pin fan headers surround the CPU socket. Aorus includes a board-mounted USB Type-C connector between the DDR4 slots and chipset heatsink - could it have fitted on the edge of the board? - and also the standard two-port USB 3.0.
Rather than go for an all-enveloping chipset-and-M.2 heatsink, like MSI, Aorus chooses to separate them, with the M.2 receiving special treatment, represented by 2x110mm and a single 80mm slot. The heatsinks are lovely and chunky, lined with TIM, but only feature single-side (top) cooling, unlike, say, MSI, who now cools both sides on its premium boards. What we can say is that the Master's heatsinks look ever so classy, complimenting the board well.
The choice of 3x PCIe x16 and 3x PCIe x1 is sensible, though understanding there are no more lanes over and above Z370, you will only be able to run at x8, x8, x4 if three cards are installed.
Note that the top two slots supports PCIe and SATA M.2 drives but the shorter 2280 does not the SATA standard. And, as usual, there is a fair degree of lane-sharing if you decide to populate everything.

As expected, audio is excellent, produced by the combination of ALC1220-VB codec and ESS 9118 Sabre DAC, and is as good as it gets on premium motherboards.
Aorus goes big on the latest connectivity. We already know about the two USB3.1G2 ports emanating from the board via that Type-C connector. There's a 3.1G2 Type-C on the back, a trio of Type-A 3.1G2 (red) there too, and a further four 3.1G1 - two on the back, two via that aforementioned header. By our count that's the full gamut of six super-speedy ports. Not enough USB? How about an extra eight 2.0 ports on the board, split between I/O section and board headers.
It's good to see that IGP output hasn't been forgotten, either, and Intel is duly present for the LAN and 1.73Gbps-rated WiFi and combo Bluetooth module.
How would we make it better? There's nothing wrong with the PCB layout but we'd certainly move the power button over to it. A second Gigabit LAN wouldn't go amiss, as well, and those red audio caps are an eyesore, but that's it for our list of gripes.
The UEFI firmware deserves a mention because it has been visually overhauled in the latest F5 version to better resemble the Windows-based EasyTune software.
A couple of things to point out here. Aorus doesn't conduct any funny business with the auto settings, which translate to the per-core speeds mandated by Intel's Core i9-9900K. XMP works flawlessly, too.
SmartFan 5 continues to be arguably the most robust fan-control software out there, with the ability to choose speed via multiple input sources, enabling a fan-stop-function, and a custom curve that is easy to tweak.
We like the new overhaul even if mouse movements are not as fast as, say, the latest Asus BIOSes.