Introduction
Today's attention will undoubtedly have been turned towards Intel's latest mainstream processors that go by the name of 9th Gen Core. There's the Core i5-9600K (6C6T), Core i7-9700K (8C8T), and the range-topping Core i9-9900K (8C16T). The benchmark numbers for the 9th Gen i9 make it the fastest mainstream part on the market, albeit costing a considerable £600.
Intel usually heralds a new Core desktop launch by releasing a new chipset. It's no different this time around as 9th Gen Core arrives with the Z390 in tow. It's important to note that all 9th Gen chips will work on most incumbent Z370 boards via a BIOS update, because they use the same LGA1151v2 socket, but they won't function on Z270 boards due to BIOS and IMEI limitation. The bottom line is that if you want the full gamut of features, the 'refresher' Z390 is the way to go.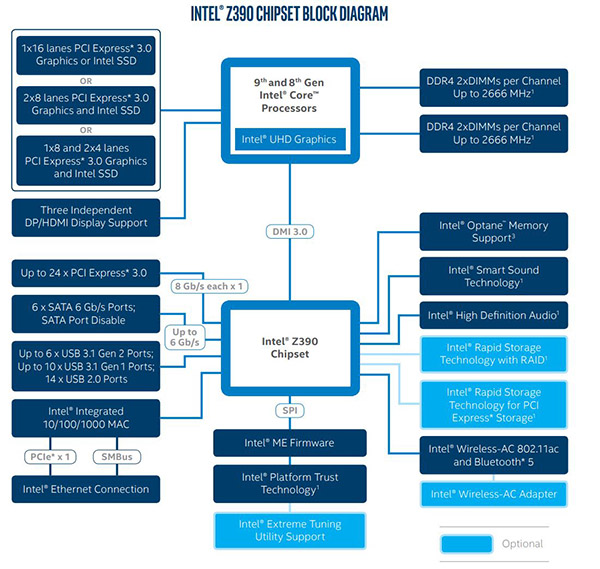 So what, exactly, does it add over the widely-available Z370? The answer is not a lot, as evidenced by the block diagram above. In fact, only two additional features are worth repeating. First, Intel finally integrates USB 3.1 G2 by enabling up to six ports - the same as what AMD enables on its X370 released 18 months ago - and secondly, provides optional support for baked-in Wireless-AC 802.11ac (2x2ac, 1.73Gbps) and Bluetooth 5.
Such feature enhancements bring Z390 up to date, and it provides a good enough reason for all the major motherboard manufacturers to release a slew of new boards primed for 9th Gen Core usage. The premise is that anyone considering a premium Core i9-9900K build will naturally gravitate towards Z390
The new chipset board's pricing starts at £120 and rises fairly quickly to £200 for models equipped with fancier RGB, larger M.2 heatsink shields, and beefed-up circuitry. The MSI MPG Z390 Gaming Pro Carbon is a good example of such an implementation, and it's somewhat similar to the £160 Z370 counterpart.
Yet £200 is not nearly enough budget to accommodate the best-in-class Z390 boards. Even £400 doesn't cut it. No, sir. To buy arguably the creme de la creme the financial outlay has to stretch to a frankly ridiculous £600. Enter the MSI MEG Z390 Godlike.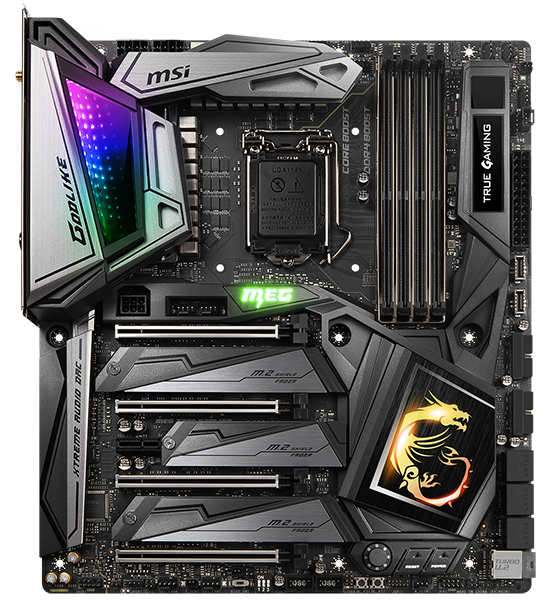 And thar she blows. This E-ATX behemoth is extreme in every sense of the word. Intel reckons the top-dog Core i9-9900K is outfitted with a 95W TDP. Overclocking and overvolting it ought to easily double that figure. Even so, that shouldn't bother the considerable 16-phase CPU power circuitry, with a further two thrown in for the memory rated at up to 4,600MHz. This is a board made for overclocking, so it makes sense to find dual 8-pin power plugs and five fan-headers in close proximity to the CPU socket.
The photos don't do the board justice, in our opinion, because the combination of massive heatsinks and matte-black PCB works really well. There's the standard room around the socket, but given the size of the heatsinks surrounding it, installing super-large air coolers may become an issue.
You can't help but notice the integrated shroud/I/O cover on the left-hand side. Taking RGB lighting to the nth degree, it features what MSI calls Mystic Light Infinity, offering up to 29 effects from the controlling software, and it looks really good in the flesh. To the right of the strengthened DIMM slots resides the Dynamic Dashboard that has a regular two-digit debug display and an OLED display which can be programmed to deliver various bits of info. CPU temperature, CPU speed, BIOS flash status and error messages are catered for, and you can use MSI's software to customise it further, or upload your own animated gif graphics. Obviously you would need the case on your desk for it to be useful.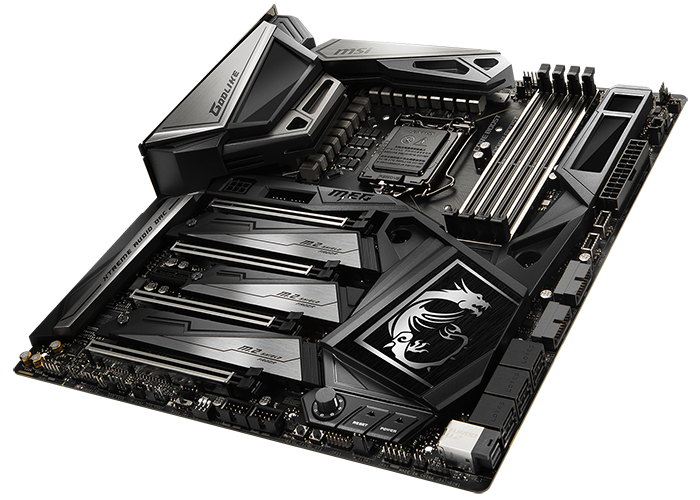 The whole theme is one of throwing as many features (and duplicating them) as possible. Two USB 3.1G2 Type-C ports offer modern connectivity, a further two USB 3.0 connectors sit alongside, and if you look at the bottom, another couple of USB 2.0 connectors lie in wait. The Game Boost Knob, four EZ Debug LEDs, 10 fan headers, dual BIOSes, classy power and reset buttons, and two thermal sensor points keep the features rolling.
Remember the five fan-headers up top? There are a further five dotted around the board, too, and the whole setup consists of 1x4-pin CPU fan, 1x4-pin water-pump, and 8x4-pin fan. Of course, this board, even with the extra RGB on the chipset, wouldn't be complete without strip support: there's a single RGB LED connector, a couple of 3-pin rainbow RGB LED connectors, and the now-standard 3-pin for Corsair cooling products.
Six SATA, all rotated, a strengthened U.2 port, and three M.2 (Type-M) slots give rise to decent storage potential. And given the price, where enthusiasts may well use a trio of M.2 PCIe drives, each has a solid heatsink in situ. The middle slot has a maximum 2280 length due to the provision of a PCIe x1 right next to it. Looks a little ungainly, if you ask us. Lane limitations necessitate a fair bit of compromise when stacking storage up across different mediums, but being fair to MSI, this is a chipset problem first and foremost.
In the unlikely event that's not enough storage, the extensive bundle includes an M.2 Xpander-Z expansion card that pulls eight CPU lanes such that an additional two M.2 drives function at PCIe Gen 3 x4 speeds. Bear in mind that the CPU only provides a total of 16 lanes, meaning you probably won't want to run multi-GPU and the additional M.2 together. The Godlike is also the first to provide the all-new MSI Stream Boost capture card in the package.

There's sensible spacing between the quartet of PCIe x16 slots, and the board supports two-way SLI and quad-CrossFire. With barely any space spare, MSI finds real estate to add a couple of Realtek ALC1220 codecs, ESS Sabre DAC (pulled over from its notebook line, no doubt), and ESS amplifier. Note that the headphone output is 6.3mm, used for professional cans, but MSI includes an adapter for the regular 3.5mm adapter, as well.
It's interesting to see MSI eschew the Intel Wireless capability and go with the Killer 1550 that's pre-installed into the integrated I/O panel via an M.2 Key-E connector you cannot see. The USB ports directly below the twin Killer E2500 Gigabit LAN (which can be combined with the WiFi for more speed) are all powered by the Intel chipset, with a trio of USB 3.1G2 Type-A and a single Type-C.
It would be easier to say what this board doesn't have, and two things spring to mind. There's no 10GbE connectivity, which we'd hoped to see at this price point, and it's a brave decision on MSI's part to drop the display outputs. Each compatible CPU will feature onboard graphics, and though a board of this ilk will typically be paired with a discrete GPU, we'd prefer to retain the ability to output from IGP if the need arises. Otherwise, the specification is such that we worry it is overkill for the chipset that, in truth, offers nothing extra in terms of expendability over Z370. This means anyone loading the M.2 (especially with the Xpander-Z card) and graphics will find severe lane contention. Surely the X299 platform is a better bet for the ultimate motherboard, right?
What we can say is that everything just works on the Z390 Godlike, from installation to BIOS and overclocking. Worth £600? To many, of course not, but to that 0.1 per cent to whom budget is no issue, this is about as outlandish as Z390 is likely to get.