Introduction
The very recent introduction of 2nd Gen Ryzen Threadripper has brought renewed focus on the supporting platform known as TR4. This release has interesting significance for motherboard manufacturers because AMD has already said that all new Threadripper chips will work on existing X399 boards with a BIOS update.
So, as a motherboard maker, do you sit back and extol the virtues of your existing boards, or do you bring revised model(s) to the table armed with beefier power circuitry and some leading-edge features not present last year? The answer, for most, is a bit of both, and Gigabyte offshoot Aorus comes equipped to the X399 party with the Xtreme.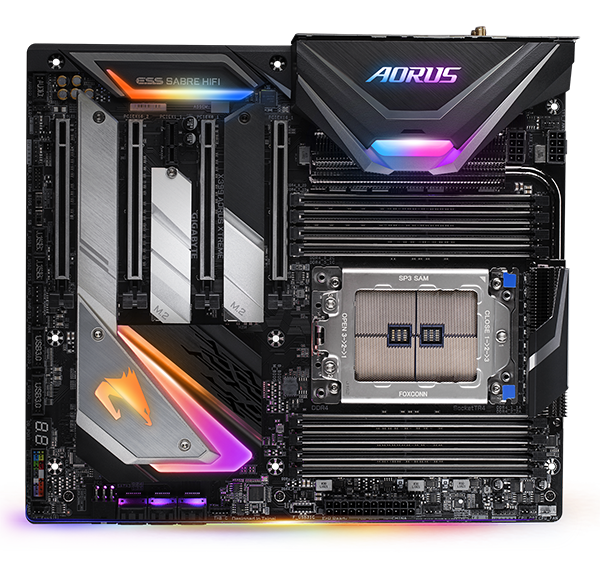 The Xtreme slots in above Gaming 7 and takes cooling, features and overall appearance to another level. Aorus feels the original board's standard ATX form factor footprint (305mm x 244mm) simply isn't large enough and so goes with E-ATX (305mm x 269mm) - make sure your chassis can support it.
First impressions are that it's an absolute beast in build; it makes an Asus X399 ROG Zenith Extreme feel lightweight. Part of the reason for the heft is a full-size base plate on the back. Is it strictly necessary? Nope, though chucking on everything is what this board is all about. That and Aorus claiming it can lower backside temperature by up to 10°C.
Aorus has sensibly upgraded the CPU power to a couple of 8-pin connectors, while a 10-phase all-digital CPU power supply equipped with Infineon IR3578 rectifiers is capable of handling 50A on each phase. There are a further three phases for the SOC, meaning that, even with the 2990WX, you ought to run out of frequency and voltage headroom before the motherboard gives out.
The bottom of the PCB is dominated by masses of cooling for storage drives. The actual provision is no different from first-gen X399, so 2x 22110 and 1x 2280 for M.2, though, like MSI, Aorus has gone for the full amount of cooling coverage, and we prefer the way in which it has been implemented over last year's Gaming 7. As a nod to the times, SATA support is cut from eight to six.
Talking graphics, Aorus reserves 48 lanes for GPU goodness. Sensibly, the first and third slots run at x16 electrically and there's enough space between the two to house a double-width card. Putting four cards in results in an x8, x16, x8, x16 configuration, with all the lanes originating from the CPU. Keeping the aesthetic going leads to strengthened slots. The Xtreme drops the semi-pointless fifth x16 mechanical slot in favour of a x1, which makes sense. Thinking users might go big on graphics, right next to the SATA ports is an auxillary 6-pin connector for more juice.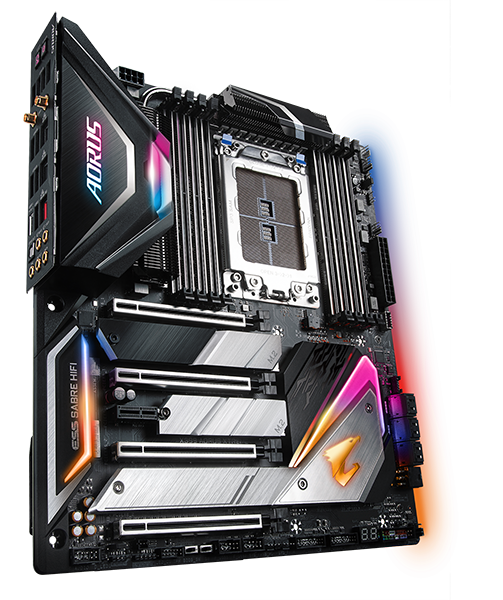 Power-delivery components will get hot when overclocking so keeping matters cool(ish), the Xtreme uses direct-touch heatpipes under a couple of chunky, many-fin heatsinks that are indirectly cooled by twin 30mm fans contained within the large, all-encompassing shroud on the left-hand side. These fans take their cue from a thermal sensor located by the hottest VRMs, and as one would expect, the fans' speed rises and falls in relation to temperature. Not doing much at idle? The fans stop completely. Though we're usually dismissive of fans on a motherboard, cranking a 2990WX to, say, 4GHz using 1.4V is going to need some really heavy-duty cooling.
Appreciating the board is indeed E-ATX in size, having that large I/O shroud can still cause potential layout problems. Unlike Asus, Aorus groups its eight DIMM slots really closely to the socket. We'd naturally prefer more room as it lets a) the cooling breathe and b) enables larger coolers. A case in point is using the massive Cooler Master Wraithripper heatsink. You cannot install tall memory modules such as the Corsair Vengeance Pro RGB because the cooler fouls them - the Asus, on the other hand, pushes its DIMM slots out further away from the socket to ease installation. Sure, it's a minor point, and all standard coolers/RAM combinations will fit, but it's worth bearing in mind.
Looking around, RGB is in obvious evidence but thankfully implemented in a more restrained manner than the Gaming 7. Centred on three primary zones and edge lighting, Aorus takes the bling away from the DIMM slots - perhaps it wants to push users to its own RGB memory. We'd argue this board looks better than the Gaming 7 in any case.
There are two further areas where the Xtreme outdoes the Gaming 7. Firstly, the audio is now run off an ESS9118EQ chip and front-end ALC1220-VB codec. This is about as good as it gets. Secondly, the board has gone to town on networking. Teaming up with Aquantia, the Xtreme offers baked-in support for 10Gbe Ethernet that's rarely seen on a consumer motherboard. Of course, you'll need other infrastructure support to make the most of it, but even if you don't, it drops to 5/2.5/1Gbit as necessary. If that's no good, a further two Intel i210AT Gigabit LANs are solid and reliable. Surely triple LAN is overkill, right?
Aorus also embeds 802.11ac 2x2 Wifi and a combination Bluetooth 4.2 card. Nice and fast it is, we had hoped to see the faster Intel AC-9260 instead of the standard AC-8265 here.
One area kept similar between Aorus X399 boards is USB connectivity. Eight USB 3.1 Gen 1, one USB 3.1 Gen 2 Type-A and one Type-C are on the back, all powered from the chipset, while ASMedia provides support for the PCB-mounted USB 3 Gen 2 header. And though we prefer them on the PCB itself, Aorus at least includes power and clear CMOS buttons on the back.
The BIOS is generally perfunctory. You need to press F2 to bring up the information screen, but the general feeling is that the configuration pages have too much text and not enough graphics, unlike competitors MSI and Asus. One can argue that you can actually tune the CPU and memory more easily through Ryzen Master Utility and also via Gigabyte's Windows-based utility. We're of the thinking that the firmware is becoming less relevant over time as more comprehensive OS-based utilities take over.
Adding everything and the kitchen sink results in an online price of around £440, or £100 dearer than the Gaming 7. Sounds a tad crazy, yet the Asus Zenith Extreme, to which we're going to be comparing it to, and one that has a similar feature set, costs over £500. Going down the premium X399 route certainly ain't cheap.