11th Gen Platform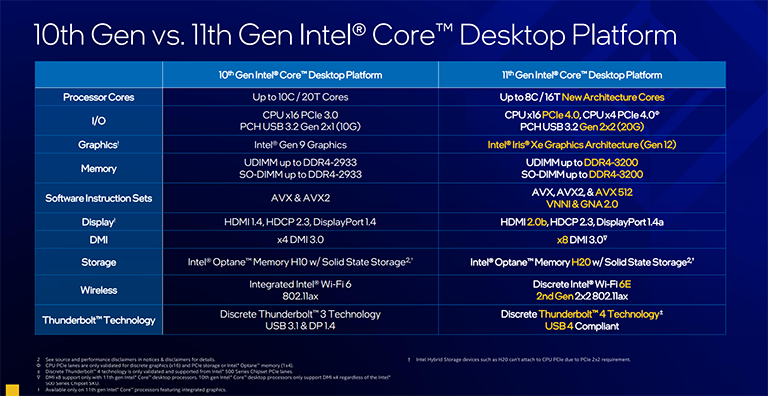 RKL-S chips use the same LGA1200 platform as incumbent CML-S (initialisms, eh?) though Intel decides to bring new chipsets into the fold.
A peek at 10th and 11th Gen Core platforms reveals more. Other than improved IPC, a key advantage is with the latest generation having baked-in support for PCIe 4.0 connectivity from the chips themselves. That means x16 PCIe 4.0 for graphics, and totally new this time around, a dedicated PCIe 4.0 x4 link for storage devices.
Unlike rival AMD who opts for a PCIe 4.0 x4 link between processor and X570 chipset, however, Intel continues to use an older, slower DMI link, albeit doubled in speed to x8 transfers. Why? The answer has to do with rehashing older technology rather than, for now, investing in building a brand-new, cutting-edge chipset. It's known the next-generation Intel desktop processors will use a different socket, so getting RKL-S to market quickly and easily is more important than focussing on bandwidth.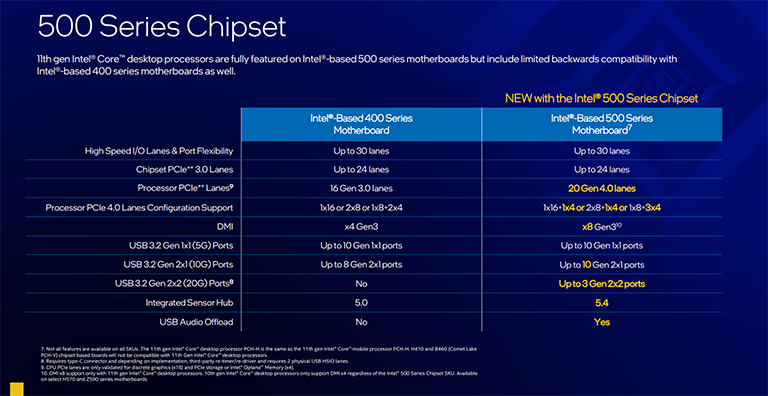 In its optimum form, Intel does add useful platform-level features. There's baked-in USB 3.2 Gen 2 2x2 (20Gbps) support, memory sees an uptick to DDR4-3200 speeds, IGP outputs are improved, as is WiFi and Thunderbolt support.
Zooming into the best chipsets of each generation, Z590 offers full compatibility with PCIe 4.0 processors, that faster DMI link, and general updates. It won't be lost on enthusiasts that motherboard manufacturers have upgraded existing, same-socket Z490 boards for 11th Gen chips. They will work just fine with a BIOS update, though PCIe 4.0 speed is not a complete given. If you're building from scratch, the best combination is 11th Gen Core and Z590 Series chipset. Do bear in mind that, unlike AMD's X570, all ports and slots connected to the chipset still run at PCIe 3.0.
Z590 isn't the only chipset in the series, of course, as H570, B560 and H510 all make their debuts at the same time. Out of these, the B560 will be of most interest to readers as it represents a lower-cost way of getting into the meat of 11th Gen goodness.
There's the same CPU-attached PCIe 4.0 x16 and a dedicated PCIe 4.0 x4 for M.2 storage, which is all most will need on those fronts. Expansion capabilities are more limited, particularly because the chipset link is still x4, but it's good to see USB 3.2 Gen 2x2 support and memory overclocking being made available. We see it as a good fit for anyone investing in a Core i5 chip. If current pricing is anything to go by, B560 boards ought to be available for under £100.
Compatibility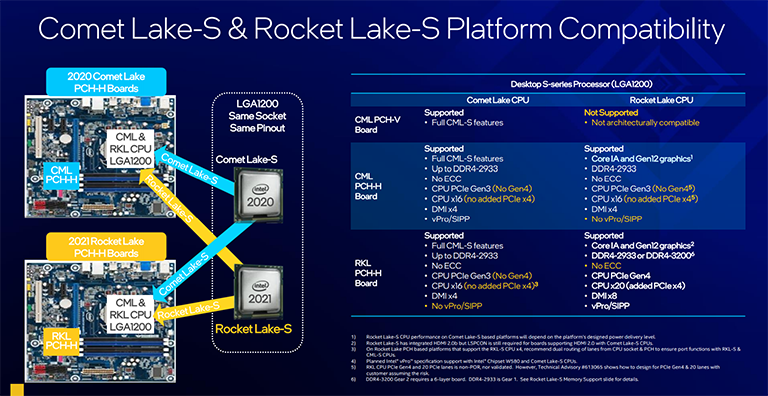 Knowing that 10th Gen and 11th Gen share the same LGA1200 socket and pinouts, it is worth understanding interoperability. The number of arrows and provisos make it somewhat confusing as exact use-cases depend upon the CPU and chipset.
The easier stuff out of the way first. You can run 11th Gen RKL-S chips on 400 Series motherboards featuring PCH-H-class of support. That doesn't mean much, but digging around, chipsets with that designation include Z490, W480, Q470 and H470. The popular B460 and H410, however, fall under the PCH-V banner, meaning no official support due to their older designs. The motherboard guys have taken a dim view of Intel saying that PCH-V-toting boards are architecturally incompatible and have begun retailing them as compatible by using the H470 chipset instead. Confused yet?
We know that RKL-S works on the PCH-H boards - Z490 and H470 being the most popular - but there are aspects to be aware of. PCIe 4.0 support may be patchy, some revisions of Z490 don't have the necessary power-delivery system to cope with RKL-S at all, and overclocking performance may be limited.
Switching gears, those in possession of a 10th Gen chip can run on 500 Series just fine. Naturally, with no Gen 4 capability built into the chips, those motherboard lanes don't operate at maximum speed. In fact, during a recent examination of a Gigabyte Z590 Master, we couldn't use the primary M.2 slot at all - it is reserved for RKL-S chips.