Models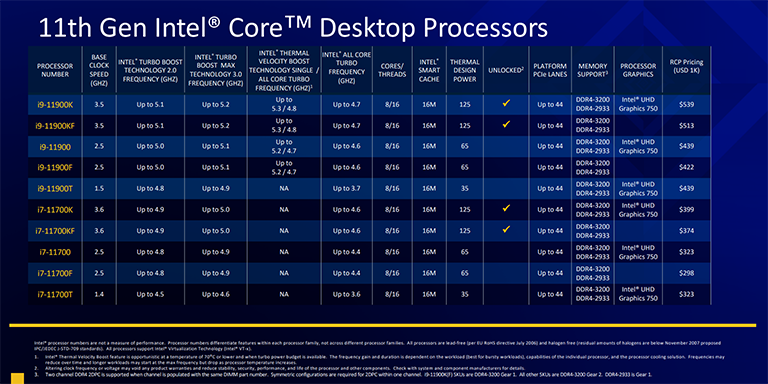 All told, Intel releases 19 11th Gen chips split over familiar Core i5, i7 and i9 families. Note there is no Core i3 (RKL-S) this time around... at least for the time being.
Focussing on the top first, the champion part is the Core i9-11900K housing 8C16T and running at an all-core 4.7GHz and peak 5.3GHz under Thermal Velocity Boost conditions. In a recent move, Intel has updated the spec guidance for Core i9 K and KF chips by announcing Adaptive Technology Boost (ABT) for instances where at least three cores are active. The extra frequency is only available if there is enough thermal and power budget to do so, meaning the chips can run at up to an all-core 5.1GHz given enough environmental scope.
As you will see later on, most Z590 boards deliberately provide enough power to have ABT active most of the time - the power budget is startling, actually. Reckon you have seen these types of environmental smarts before? AMD implemented them in Zen+ in 2018.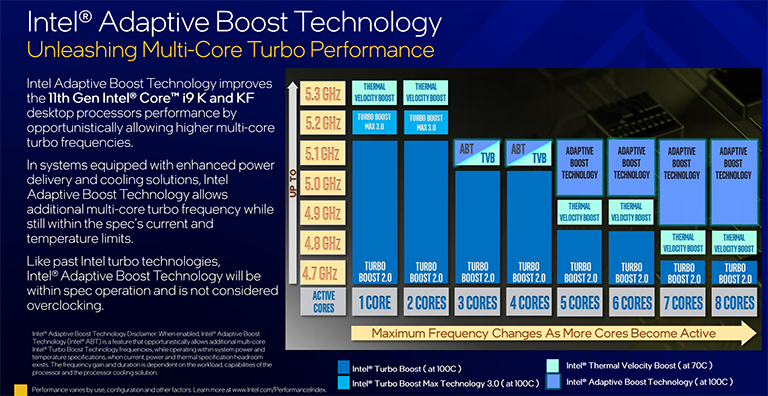 Xe Graphics are officially branded as Intel UHD Graphics 750. Pricing is set at $539, which is over 10 per cent more than the SRP of the 10-core Core i9-10900K.
Various lower-power models continue to exist, and our pick of the Core i9 cohort is the 11900 operating at an all-core 4.6GHz whilst consuming a nominal 65W. K-suffixed models remain unlocked.
The interesting observation is that Core i7 uses the same core-and-thread count as the top-line parts. They are only different insofar there's no frequency-enhancing TVB and ABT boost and peak frequencies are a little lower, as is price.
Is it really worth paying $216 extra for the Core i9-11900K when the Core i7-11700 is almost as good? The enthusiast will decide, especially when the performance is inevitably tallied up against rival Ryzen 7 chips from AMD.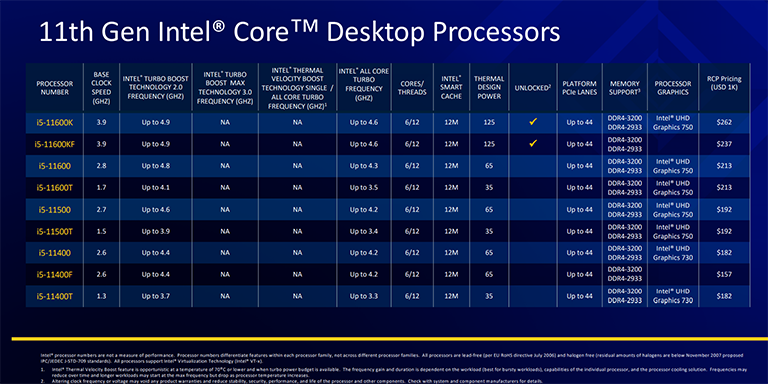 All Core i5 chips remain on 6C12T topology and offer the same 12MB of L3 cache we see today. Peak frequencies are similar to 10th Gen, as well, whilst pricing is identical. Performance advantage will emanate from increased IPC above all else.
It's good to see Intel provide official DDR4-3200 speeds across the entire stack. Most enthusiasts run their memory at faster speeds right now, but the improved memory controller within 11th Gen gives Intel enough confidence to go all-in on the faster speed that duly matches AMD.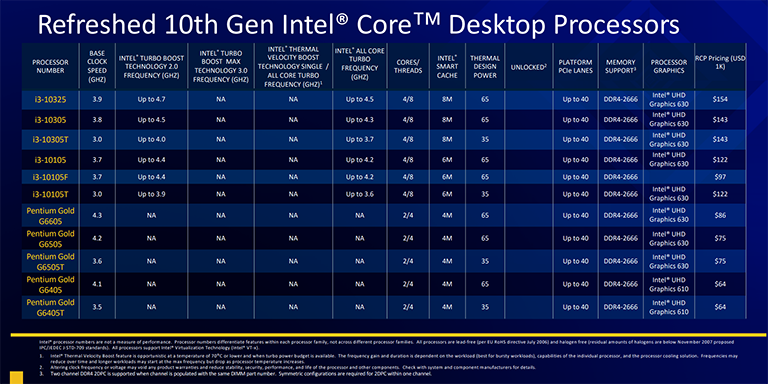 It's not all about 11th Gen, however, as the 10th Gen Core i3 and Pentium line-ups see an overhaul. The new models are suffixed with '5' to differentiate them from incumbent solutions. Peak frequencies are ever so slightly higher whilst pricing remains the same. One can argue there are now way too many SKUs.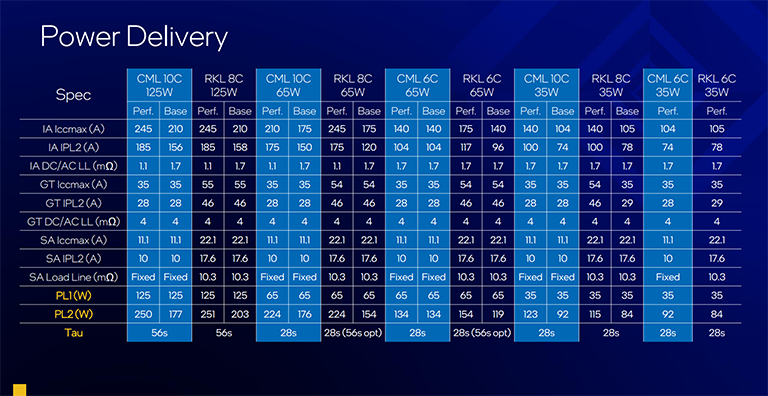 Notice the Thermal Design Power wattages quoted for the various chips? Take, for example, the Core i9-11900K, rated at 125W and therefore the same as last-generation Core i9-10900K. These wattages refer to what is known as the long-term Power Level 1 (PL) target, which, as the name suggests, is what the chip ought to do when running for a long period of time. Power Level 2, meanwhile, is a short-term state which increases the all-core frequency for a set amount of time in order to extract higher performance. Nothing new here, and the time it can stay at PL2 is know as Tau, represented in seconds.
Core i9-11900K increases the short-term base and boost power to 203W and 251W, respectively, which is a bit higher than Core i9-10900K. The point is most Z590 motherboards will disregard the PL1 state and choose to run in PL2, or even higher under TVB and ABT. AMD, however, very rarely exceeds the set TDP, so bear this in mind when comparing the upcoming performance.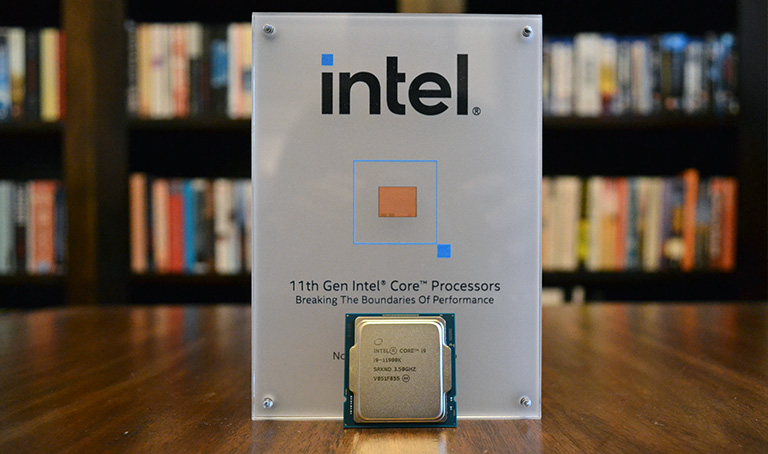 11th Gen Mobile in the background, 11th Gen Desktop under the chip; they are not the same
A lot to take in here. The TLDR version is that PCIe 4.0-compatible 11th Gen Core desktop uses the Sunny Cove cores deliberately backported to a 14nm process and mates them with all-new Xe graphics. This decision increases CPU-side IPC by around 20 per cent, albeit at the cost of dropping the maximum number of cores from 10 to eight. On the GPU front, Intel promises up to 50 per cent performance improvement. New 500 Series chipsets arrive at the same time, as well, maximising the chips' potential.