be quiet! Dark Rock Pro 2
be quiet! Dark Rock Pro 2 specification
Overall dimensions without mounting material (L x W x H)
147mm x 138mm x 166mm
Total weight (kg)
1.25
TDP (W)
220
Socket compatibility
Intel: LGA 775 / LGA 1155 / LGA 1156 / LGA 1366 / LGA 2011
AMD: FM1, AM2 (+) / AM3 (+) / 754/ 939 / 940
Fan model, number
1 x SilentWings PWM 120mm, 1 x SilentWings PWM 135mm
Overall noise level (dB(A)) @ 900/1250/100% (rpm)
13.50 / 19.80 / 26.40
Heatsink fins
44
Fin material
Aluminium
Base material
Copper
Contact surface
CNC machined
Surface treatment
Aluminium / Dark nickel-plated
Heatpipe number, Diameter (mm)
7x 6
Fan dimensions (mm)
135 x 135 x 25 / 120 x 120 x 25
Speed @ 100% PWM (rpm)
1500 / 1700
Air flow @ 12V (cfm, m3/h)
67.8 ; 113.8 / 57.2 ; 93.3
Air pressure @ 12V (mm H2O)
1.82 / 2.1
Product Page
http://www.bequiet.com/en/cpucooler/309
If Arctic Cooling's Freezer 13 was today's small, cheap and easy-going contender, then be quiet!'s Dark Rock Pro 2 is the big, premium behemoth. Both the specification and the £60 price tag are frightening, and the fact that the box carries a 'high-end' label suggests that the faint of heart need not apply.
be quiet!'s packaging is smart and it allows the Dark Rock Pro 2 to leave a convincing first impression; you just know that this thing's going to impress in one way or another. The beefy cooler is well-secured inside, with a good amount of foam protecting against damage during transit, and the bundle includes a mounting bracket, kits for Intel and AMD sockets, a comprehensive instruction manual and a small tube of thermal paste.
But it's the cooler itself that makes up the bulk of the £60 cost, and what a cooler it is. Measuring a meaty 147mm x 138mm x 166mm in size and tipping the scales at just over 1.25kg, this is an imposing addition to any motherboard and one that looks visually impressive. If Bruce Wayne was to pick a CPU cooler, this would probably be it.
And there's more to the Dark Rock Pro 2 than just visual appeal; it should be an excellent performer, too. Between the two towers of aluminium fins and seven heatpipes, be quiet! has sandwiched a large 135mm SilentWings fan, and there's a 120mm SilentWings fan attached to the front. Both fans are PWM controlled, and each of the 44 heatsink fins is contoured to optimise airflow and minimise noise-generating turbulence. As with most of be quiet!'s products, the idea is to offer top-notch performance and quiet operation, but there's no harm in looking good at the same time. By using black fans, dark nickel-plated metal and a brushed-aluminium top, be quiet! has produced a cooler that should look fantastic in just about any chassis.
What's the catch? Well, other than the price and the below-average three-year warranty, it's worth noting that the Dark Rock Pro 2 is a bugger to install. The mounting bracket attaches to the back of the motherboard quite easily (it helps if your chassis has a cutout in the tray for that exact purpose), but the cooler then needs to be bolted on and that's easier said than done. The sheer size of the heatsink makes it a challenge to reach the bolts, and to get it installed we had to remove our motherboard from the chassis, take out the graphics card and remove memory from the DIMM slots.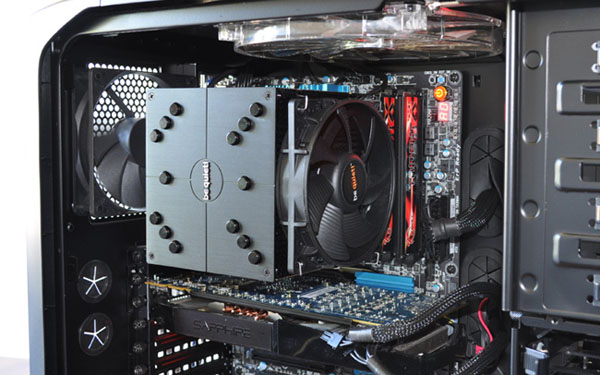 After plenty of effing and blinding, we had the Dark Rock Pro 2 in place but found that it fouled our GSkill Trident memory modules - we had to remove each stick's heightened heatspreaders in order to get them in.
But the end result looks impressive, doesn't it? Truth be told it's probably worth the pain of installation. Probably.
Presentation

Installation

Aesthetics