Noctua NH-U9B SE2
Noctua NH-U9B SE2 specification
Socket compatibility
Intel LGA1366, LGA1156, LGA1155, LGA775, LGA2011 on request, Asus X-socket
AMD AM2, AM2+, AM3, AM3+, FM1
Height (without fan)
125 mm
Width (without fan)
95 mm
Depth (without fan)
71 mm
Height (with fan)
125 mm
Width (with fan)
95 mm
Depth (with fan, *with 2 fans)
95/120* mm
Weight (without fan)
460 g
Weight (with fan, *with 2 fans)
550/640* g
Material
Copper (base and heat-pipes), aluminium (cooling fins), soldered joints & nickel plating
Fan compatibility
2x 92x92x25mm
Scope of Delivery
2x NF-B9 premium fan
2x Ultra-Low-Noise Adaptor (U.L.N.A.)
2x Low-Noise Adaptor (L.N.A.)
Y-Split Cable
NT-H1 high-grade thermal compound
SecuFirm2™ Mounting Kits
Warranty
6 Years
Fan specifications 
Model
Noctua NF-B9
Bearing
SSO-Bearing
Rotational Speed (+/- 10%)
1600 RPM
Rotational Speed with L.N.A. (+/- 10%)
1300 RPM
Rotational Speed with U.L.N.A. (+/- 10%)
1000 RPM
Airflow
64,3 m³/h
Airflow with L.N.A.
52,6 m³/h
Airflow with U.L.N.A.
41,1 m³/h
Acoustical Noise
17,6 dB(A)
Acoustical Noise with L.N.A.
13,1 dB(A)
Acoustical Noise with U.L.N.A.
7,9 dB(A)
Input Power
1,32 W
Voltage Range
12 V
MTBF
> 150.000 h
Product Page
http://www.noctua.at/main.php?show=productview&products_id=32&lng=en
As far as CPU cooler manufacturers are concerned, Noctua is among the most distinguished. The Austrian manufacturer has a reputation for producing quality cooling solutions that are backed by a strong six-year warranty and first-rate customer service, so, naturally, we're expecting a lot from the NH-U9B SE2.
A price tag of around £38 makes the NH-U9B SE2 one of Noctua's cheapest CPU coolers available, but you wouldn't know it by looking at the product. In keeping with most other Noctua solutions, this one is packaged in a box full of detail (and awards) and the bundle is typically more comprehensive than many competitors'.
In addition to the two NF-B9 92mm, three-pin fans (both of which come equipped with nice long cables), Noctua includes Intel and AMD instruction manuals presented in a tidy booklet, mounting kits for a wide range of Intel and AMD sockets, a Y-type adapter for connecting both fans to the same motherboard header, two pairs of Low-Noise and Ultra-Low-Noise voltage regulators for controlling fan speed and noise, and a decent-sized tube of Noctua's award-winning NT-H1 thermal compound.
A six-year warranty is also included as standard, and though Intel's socket LGA 2011 isn't supported out of the box, Noctua will supply a mounting kit free of charge to any customers that need one.
The NH-U9B SE2 bundle is exemplary, and the heatsink oozes quality too. The serrated aluminium fins look impressive and are said to reduce turbulence, the Noctua logo is neatly engraved into the top of the heatsink, and the four nickel-plated copper heatpipes attach to a silky-smooth contact plate.
What's interesting is that the NH-U9B SE2 is also one of the smaller coolers in our round-up. It measures just 125mm x 95mm x 120mm in size with both fans attached, and weighs only 640g. The relatively-small footprint makes it compatible with a wider range of chassis, and it may even fit certain HTPC environments.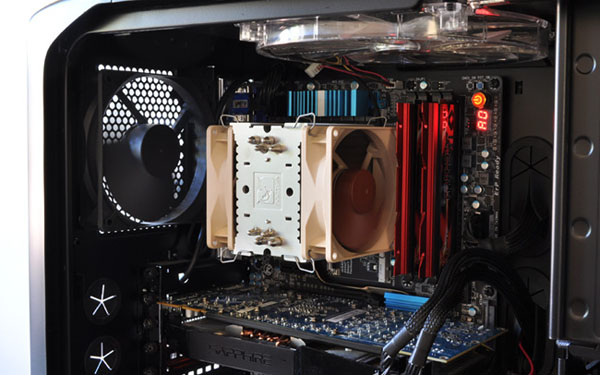 This is a tidy package, and installation is a breeze with Noctua's SecuFirm2 mounting system. On an Intel Socket LGA 1155, it entails attaching a backplate to the rear of the motherboard and then fixing a pair of mounting brackets using four sets of screws and bolts. The heatsink then screws into the mounting brackets, following which the fans can be attached using the bundled clips.
Installation feels precise and well engineered, and Noctua even includes a long screwdriver in the box. But this cooler isn't perfect, either. Using both fans obstructed the first DDR3 memory slot on our Gigabyte motherboard, and the cooler's overall aesthetics are let down by Noctua's totally uncool beige-and-brown fans.
Presentation

Installation

Aesthetics