Arctic Cooling Freezer 13
Arctic Cooling Freezer 13 specification
Max. Cooling Capacity
200 Watts
Heatpipe
Ø 6 mm x 4
Heatsink Material
Aluminium fins x 45, thickness 0.5 mm
Fan (mm)
92
Bearing
Fluid Dynamic Bearing
Noise Level
0.4 Sone
Current, Voltage
0.18A, 12V
Dimensions (Product)
123 (L) x 96 (W) x 130 (H) mm
Rated Fan Speed
600 - 2,000 RPM, (PWM)
Product Net Weight
0.695 kg
Limited Warranty
6 years
Dimensions (Packaging)
126 (L) x 103 (W) x 140 (H) mm
itemnumber
UCACO-FZ130-BL
UPC
0872767003781
Gross Weight
0.8 kg
Product Page
http://www.arctic.ac/en/p/cooling/cpu/3/freezer-13.html
The Freezer 13 has been doing the rounds for some time, but it remains a venerable unit and a keen £20 price tag makes it a particularly attractive solution.
Arctic Cooling's packaging is about as simple as it gets - it's little more than a plastic mould - but it's very easy to get into and the few bundled components hint at an easy installation.
Out of the box, you get the cooler itself along with a universal mounting plate and attachment kits for a wide range of Intel and AMD sockets. Arctic has done well to minimise the number of fittings required and installing the Freezer 13 is a breeze; on an Intel platform, the mounting bracket attaches to the front of the motherboard using push pins that expand to lock it into place, and the cooler is then attached using two screws. Access to the rear of the motherboard tray isn't required, and as thermal paste is pre-applied, the cooler can be up and running in under five minutes. It's relatively-light, too, at 695g all-in, so the load applied to the motherboard is minimal.
The Freezer 13 scores well in terms of usability, but it isn't exactly a looker. The single 92mm PWM-controlled fan uses white blades in a black surround, and that's attached to a silver array of aluminium fins and four 6mm-thick copper heatpipes. The end result is a well-configured package, but one that looks unusual; there's little continuity in colour and the relatively-compact 123mm x 96mm x 130mm dimensions give it a short and chubby appearance.
This, then, isn't the best-looking cooler on the market, but Arctic has paid attention to the little details. The fan is easily removable to aid installation, thermal paste is pre-applied (though there's sadly no extra in the box for any subsequent reinstalls) and there's a handy V-shaped cutout on the rear-side of the aluminium fins to provide easy access to the mounting screws. The aluminium fins are also cut short near the base of the cooler to ensure compatibility with a wide range of motherboards.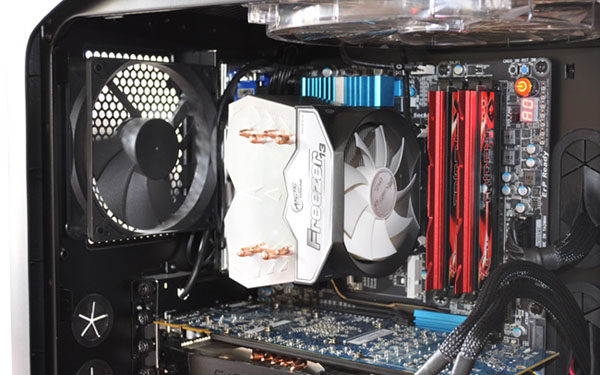 We had zero clearance issues in our Ivy Bridge platform - which features a Gigabyte GA-Z77X-UD5H motherboard and G.Skill TridentX memory - and the Freezer 13 has a 'no-brainer' feel about it. Sure, it isn't the most attractive cooler we've ever seen, but it's a cheap upgrade, ultra-easy to install, well specced and backed by a strong six-year warranty.
We'll take a look at performance a little later in the review, but to start with we're assessing each cooler on presentation, installation and aesthetics, with each category scored out of five.
Presentation

Installation

Aesthetics
10 marks out of a possible 15 is a solid start (67 per cent) and some of the premium solutions are going to have to impress if they're to overshadow Arctic Cooling's cheap-and-cheerful Freezer 13.