Introduction
For a time, building an Intel PC became too easy a task, as the excellence of the company's Sandy Bridge architecture took some of the fun out of the self-build process.
The CPUs and their accompanying chipsets were so well honed that self-building became as simple as taking a Core i3 (Good), Core i5 (Better) or Core i7 (Best) processor and planting it in one of many compatible motherboards. Intel's large serving of ultra-fast onboard cache negated the need for premium memory - a few sticks of cheap-and-cheerful DDR3 was sufficient for Sandy Bridge - and there was reason enough to consider dropping discrete graphics, too - Intel's integrated option was finally adequate for most tasks outside of gaming.
Overclocking became both expensive and easy - anyone with a premium K-series chip could crank up the multiplier without breaking a sweat - and to top it all off, Sandy Bridge ran wonderfully cool - even those with aspirations of running at heightened speeds had little need to explore premium aftermarket solutions.
Feels odd bemoaning a chip that just works, but the good news for users who want the build process to be complicated and time consuming is that 2012's Ivy Bridge is a backward step in one particular regard; it gets hot under the collar. Whether that's down to the concentration of heat in densely-packed 22nm transistors or the use of an altered thermal design is difficult to determine, but one thing's for certain; Ivy Bridge runs hotter than erstwhile Sandy, and if you're planning on overclocking your shiny-new 22nm chip, an aftermarket cooler isn't just an option, it's practically essential.
With this in mind, we've contacted many of the big names in CPU cooling and invited them to send in a cooler that costs between £30 and £50 (give or take a few) for a good ol' group test. Maybe some didn't get the message, and maybe others chickened out, but in the end we did get a healthy response: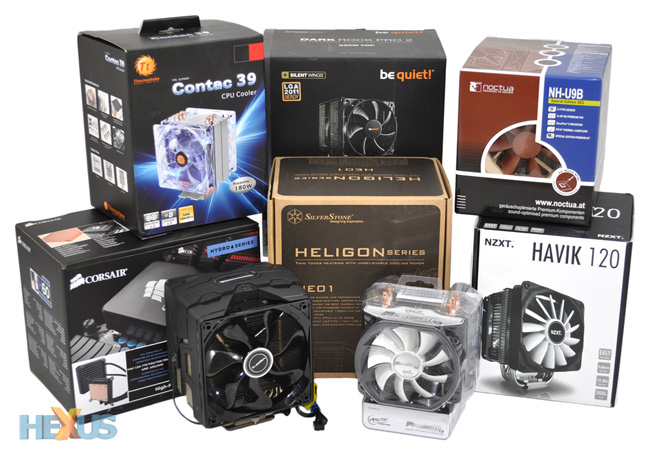 This isn't a competition, stop salivating
A total of eight turned up and it's quite an assortment. Thermaltake played by the rules and provided the £32 dual-fan Contact 39, be quiet! broke the budget with the £60 Dark Rock Pro 2 (but it's a cooler we've been itching to test so hey-ho), and Noctua played it safe with the NH-U9B SE2, worth around £38.
Arctic Cooling's Freezer 13 is the cheapest of the lot at just £20, NZXT's Havik 120 is in the mix at £41, and we've a couple of exclusives, too. SilverStone sent in the just-released Heligon HE01, which will arrive at retail any day now priced at around £65. That's outside our preferred £30-to-£50 zone, but seeing as this is SilverStone's first new CPU cooler in five years or so, we could hardly resist. Sapphire's Vapor-X, another exclusive, is also in the house in pre-release prototype form - hence the lack of a retail box in the picture above.
Seven high-quality air coolers were about to go head-to-head, but Corsair caught wind of the group test and wanted to put forward a case for liquid-cooling in the form of the £50 Hydro Series H60. A valid argument, we reckon, so although we've reviewed the H60 in the past, we've re-tested it on Ivy Bridge for a direct comparison to all of the aforementioned.
The question, quite literally, is what's hot and what's not? Let's find out, shall we?