Underscoring the mobile theme permeating through this year's Intel Developer Forum (IDF), the chip giant is using its eponymous show to launch a new family of low-power processors and associated system-on-chip (SoC) silicon dubbed Atom Z3000 Series and Bay Trail, respectively. The success of these products is hugely important to Intel's desire to become a major player in mobile devices.
But let's step back a bit first. Intel already plays in the low-power smartphone and tablet space with a range of products built on what is known as the Clover Trail+ platform, and the company is bullish enough about CT+'s performance-per-watt characteristics enough to continue a tech-marketing war against the dominant party in this field, ARM.
Though the Clover Trail+ platform, incorporating 'Saltwell'-based Atom processors, has been iteratively teased and improved to the extent that it's a viable low-power proposition, Intel knows that a new architecture, created with low-power idle and load performance very much in mind, is needed to counter the ever-present ARM threat and, just as importantly, lay the foundations for mobile devices to come.
The Z3000 chips and Bay Trail platform are based on the very latest Atom-based Silvermont architecture, manufactured on a 22nm geometry, and designed for a variety of environments. Bay Trail is primed for tablets, detachable notebooks and basic PCs - more on those later - Avoton for small servers, Rangeley for networking, and Merrifield for smartphones. The core design and SoC are tweaked in every case.
Bay Trail explored - the CPU
The successor to Clover Trail+, Intel expects Bay Trail-bearing tablets to appear at retail before the end of the year. Touting up to double CT+'s performance, it's certainly worth exploring what makes it tick.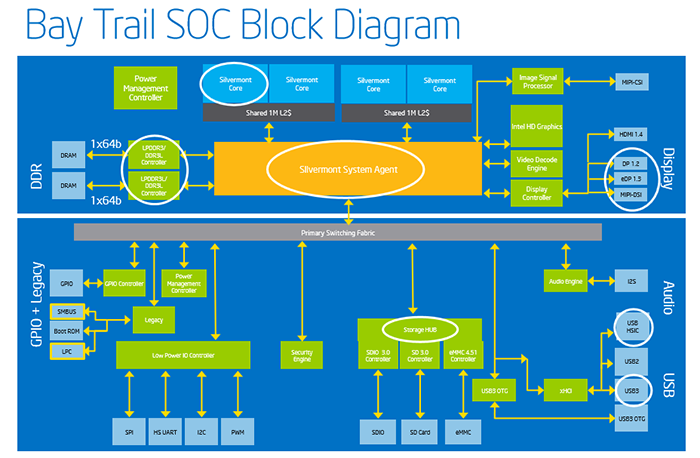 This rather busy block diagram, provided by Intel, shows how the Atom Z3000 core and Bay Trail SoC fit together. We'll zero-in on key aspects and explain the architectural changes along the way.
Zooming into the upper section first, containing the CPU and GPU cores, up to four Silvermont cores can be harnessed on an SoC. Notice how the cores are coupled together, intimating a module-like approach? This is something of a misnomer as only 1MB of L2 cache is shared amongst them. On a full implementation, then, four cores interface with a cache-coherent System Agent. Intel wouldn't go into any details on the topology of this crucial part of Bay Trail, however.
What we do know is that the firm's engineers have taken a different tack with CPU core design. Whereas the Saltwell-based CT+ used an in-order architecture allied to simultaneous multithreading (SMT), Silvermont uses an out-of-order (OoO) execution and bins SMT. Why? Intel is focussing on the best-possible performance in instances where few threads are used, which is likely the case for tablets.
You see, OoO and SMT both have a transistor cost attached to them, but almost all powerful CPUs use an OoO execution for highly-efficient, speedy thread execution. With die space a huge concern, Intel believes that OoO offers better overall performance. Running in concert with OoO is Silvermont's expanded feature-set - the ISA now supports the same features as found on the Westmere desktop chips of 2011.
It's reasonable to think of the cores as heavily-power-optimised versions of the desktop Core processor, which makes sense considering how Intel is orchestrating its desktop strategy. Certainly a step up from older Atom processors, don't be fooled into thinking this is 4th Generation Haswell on a strict wattage diet - the desktop version is far more advanced and may well constitute the bones for next-generation parts.
The GPU and display
Intel isn't providing too many details on Bay Trail's graphics capabilities at the moment. What we do know is that, as a change of pace, the chip giant is dropping the PowerVR graphics from CT+ and replacing them with its own HD Graphics, constituting an important move in making the Bay Trail SoC as in-house as possible.
From what we can gather, Bay Trail's graphics closely resemble those present on entry-level Ivy Bridge chips, and this means support for DX11, OpenGL 3.0, though there's no mention of OpenCL. An understandably limited transistor budget translates to a maximum four execution units - down from a possible 16 on Ivy Bridge - running at up to 667MHz. The framebuffer, as usual, is pulled from the system's RAM, which runs at different speeds depending upon model.
Perhaps the most relevant inclusion from desktop graphics is the presence of Quick Sync Video. The fixed-function block enables hardware-based video encoding and decoding - something that'll play well with the video-centric tasks now popular on tablets and smartphones.
Intel bakes in full-hardware H.264 and partial MPEG decoders, with outputs supporting HDMI v1.4, DVI, DisplayPort 1.2, and eDP 1.3. A dual digital interface enables two of the three outputs to be used concurrently, too. As Bay Trail is all about conserving power, Intel upgrades its display power-saving technology ( DPST) to version 6.0.
Power sharing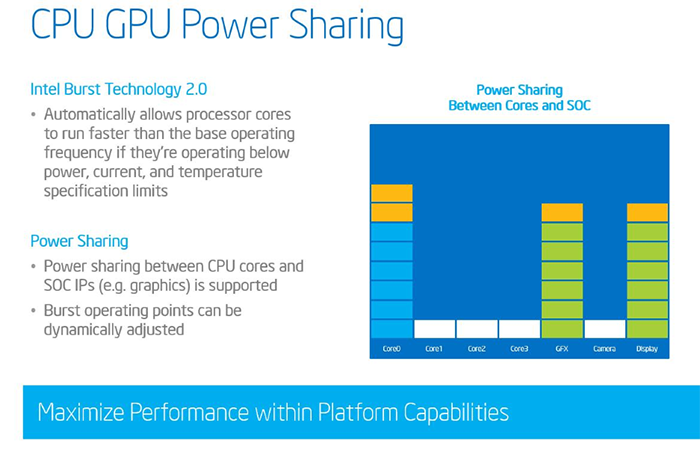 Silvermont also uses an advanced power-sharing architecture that is similar to modern desktop chips. Controlled via hardware, power, temperature and thermals are taken into account and, should conditions permit, either CPU or graphics cores can momentarily boost above their native speeds, as shown above. The premise here is to get the work done as quickly as possible thus enabling the SoC to enter the preferred, energy-saving idle state.
Models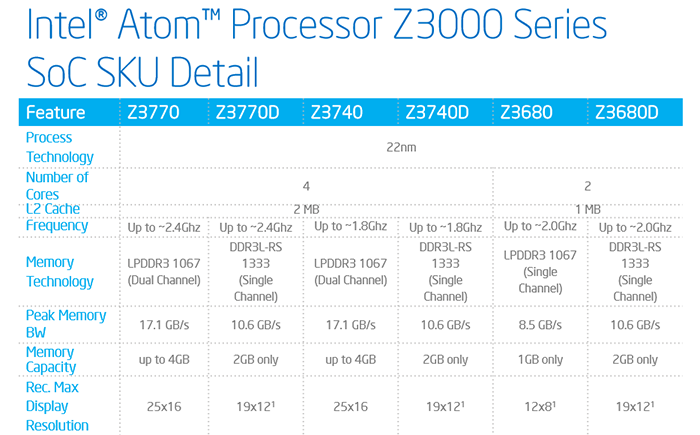 Exact performance is dependant on Atom Z3000 processor, naturally. At launch, six models will be available, differentiated on cores, speeds, memory frequency and capacity. Z3700-class SoCs are aimed at Windows and Android devices while Z3600 is destined for Android only.
These Silvermont-based Atom processors include 64-bit support but, given the tablets they're destined to go into and time-to-market concerns, will run initially on 32-bit operating systems. Full 64-bit OS support, via Android or Windows, is expected early next year.
Clover Trail+-beating speeds and improved cores are likely to set the new Atoms on a substantially higher performance plane than before. What we don't also know at this juncture, annoyingly, is the average idle and in-use power-draw figures for each processor and accompanying SoC - Intel is playing these cards close to its chest.
Strategy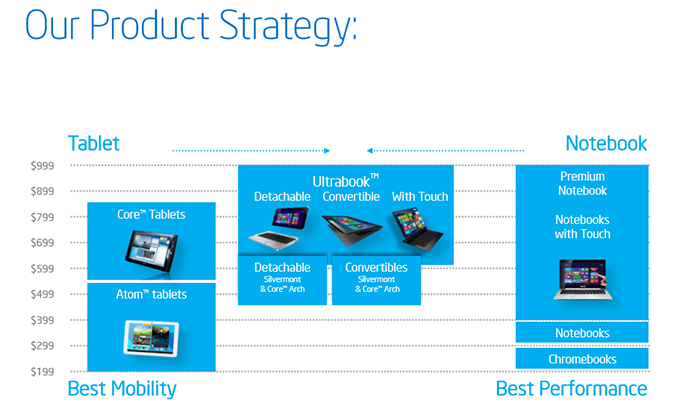 Intel is to employ a two-pronged approach to tablets and notebooks, segmented in terms of price and silicon (Bay Trail or Haswell). You'll see both tablets and detachable/convertible notebooks use both architectures, with premier models, starting at $500, generally using the more-potent Haswell architecture.
Thinking of it a different way, relatively inexpensive mobile devices that require excellent power-draw credentials will use Bay Trail, while performance-orientated models will employ Haswell. There's an obvious overlap between the two, especially if both are based on a Windows operating system, so it will be up to Intel's partners to decide which architecture best fits their product positioning needs.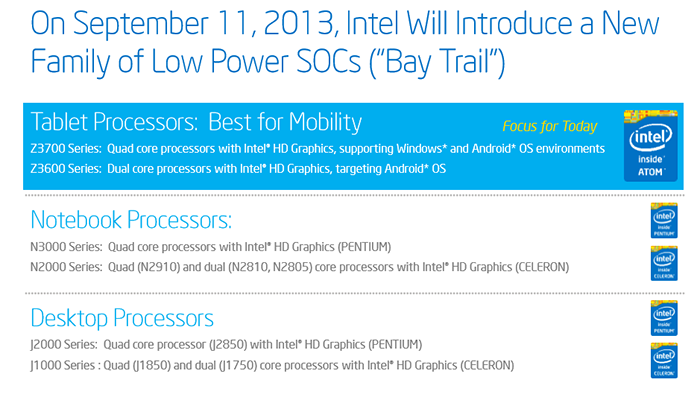 As mentioned earlier, Intel will also use the Bay Trail architecture for desktops and general-purpose notebooks. The improvements over previous-generation Atoms are enough, Intel says, for it to provide a good user experience for basic machines. Knowing that Bay Trail is likely to be an inexpensive part compared to Haswell, here's hoping for some truly budget-priced processors.
Wrap
Bay Trail, in a nutshell, is composed of overhauled CPU cores now using an OoO architecture, Ivy Bridge-class graphics and power-saving technologies allied to an all-new platform hub.
It's reasonably certain that performance has gone up across the board when compared to prior generations, but what we don't yet know is how this impacts battery life for tablets. Chances are that it will be improved, as well, due to the use of a smaller-geometry manufacturing process and numerous tweaks to the power-management side of things.
It's easy to become excited via Powerpoint slides and declare Silvermont a huge step forward for Atom, which it appears to be, and we'll be sniffing around IDF to see if Bay Trail can really live up to high expectations.