PC Specialist has carved out a solid reputation as a provider of a wide range of desktop and notebook PCs. We've seen our fair share of review units and have been impressed by the quality of components and attractive price points for each model.
Though the company offers an enviable array of options for performance PCs, cutting-edge performance is somewhat hampered by using off-the-shelf liquid coolers at the premium end. What's missing, one could argue, is bespoke liquid-based cooling that's both aesthetically pleasing and potent enough to enable PCs to be pushed that bit farther.
It just so happens that PC Specialist sees the merit in a fully liquid-cooled system and is today launching a range of machines under the Liquid Series banner.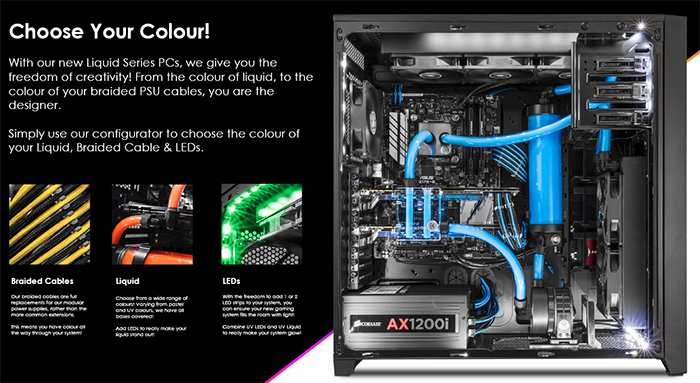 Click to enlarge: image courtesy of PC Specialist
Brand such as Alphacool, CableMod, EKWB, Mayhems and Phobya are now part of the selection available to the gaming enthusiast, and appreciating that style often means as much as substance, the systems have matching braided cabling and LEDs. What's more, the company says it's also debuting revised 120mm fans, also dubbed Liquid Series, that are optimised for 30 per cent more airflow at the same speed.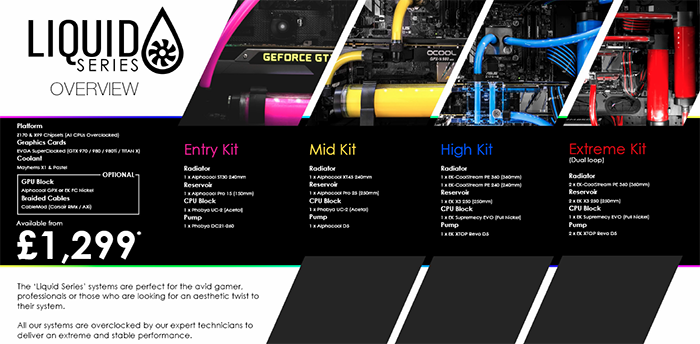 Click to enlarge: image courtesy of PC Specialist
Starting at £1,299 for a base Intel Skylake configuration, PC Specialist is offering four cooling options for builds of progressively increasing performance. At the very top end is the Extreme kit that takes in two EK-CoolStream PE 360 radiators, two EK-X3 250 reservoirs, two EK-XTOP Revo D5 pumps, an EK Supremacy EVO processor block, and for the two GPUs, a couple of Alphacool GPX or EK FC Nickel blocks. Tasty, huh?
Click to enlarge: typical entry- (left) and mid-level systems
The premise is to offer attractive systems for the discerning buyer. PC Specialist has more details right on over here. Take a look at the machines on the PCS site and let us know if you believe the company is on the right track in the premium end of the market.
Click to enlarge: typical high- (left) and extreme-level systems
PC Specialist says it will offer customers a service pack for servicing their Liquid Series machines in the future. For a £149 fee, the company will collect and return the system once the loop(s) have been drained, flushed, cleaned and refilled. The tubing, too, will be replaced and a 24-hour stress test conducted before shipping back out.
We have a mid-level Liquid Series PC en-route to us soon so keep an eye out for the editorial.