Valve invited a huddle of tech journalists to its Bellevue, Washington headquarters to have a look and a play with one of the 300 prototype Steam Machines it has built. (At least both Engadget and The Verge went along.) The living room targeted gaming PC was shown off, complete with a Steam Controller and running the SteamOS. While Valve's own chassis design isn't going to be mass produced it is nonetheless interesting to see it in the flesh.

The Steam Machine on demonstration contained pretty capable components with the pairing of an Intel i7 CPU and a GTX 780 GPU. The amount of RAM wasn't disclosed and the 12-inch square and 3-inch tall chassis doesn't have an optical drive. Valve designer Greg Coomer reminded Engadget that "We're really building this as a test platform, and there are many machines that are gonna be made by third-parties. They're the ones that will be available commercially in 2014".
In testing the machine performed capably. The machine kept cool by keeping the three major components which can generate heat - the power supply, the CPU and the graphics card – in separate zones. Each of the aforementioned components expels its hot air from a different side of the chassis. The Verge reports that the operating Steam Machine was "surprisingly cool and quiet," yet was still being tweaked using various 3D-printed exhaust shroud variations by Valve engineers.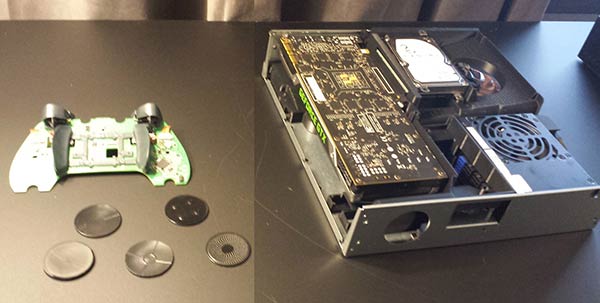 The testing version of the Steam Controller isn't the same as that which will ship with commercial Steam Machines in 2014. This prototype is wired, rather than wireless, also the centre touch screen isn't available but simulated using the four buttons around the corners of where it will be installed. We saw a demonstration of this controller in an official Valve video in mid-October. Interestingly The Verge found out that the controller contains a gyroscope for motion control which is yet to be enabled by a software update.
Looking a bit at the SteamOS now, Engadget thought it was surprisingly limited in not being able to venture further than browsing and playing your Steam game library or the browsing the web. Also PC game streaming wasn't available to be demonstrated during this recent hands-on demo. Right now there is no streaming or media playing option but Valve is said to be in active talks with some streaming companies.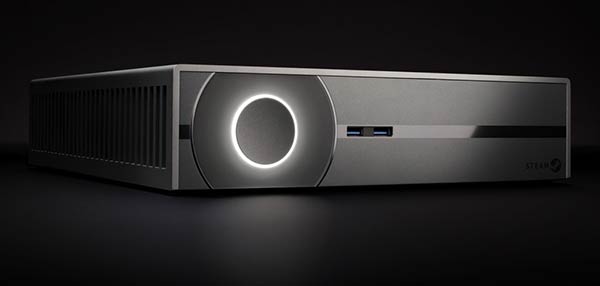 The next big thing we will see concerning Steam Machines will be the revealing of Steam Machines made by Valve's hardware partners at the CES2014 in January. The Verge were told that machines of about a quarter of the size of the Valve prototype would be included in this initial raft of Steam Machine offerings.
Valve aiming to make Offline Mode work indefinitely
In other Steam related news EuroGamer reports that Valve is looking to enable Steam's offline mode to work indefinitely. Valve insists that having to go online periodically to verify your account is just "a bug" and not some form of DRM. A solution is actively being worked on, we are told.