Cade Metz of The Register reports:
The Commodore 64 has been reincarnated as a 3GHz quad-core PC with 3D graphics, Gigabit Ethernet, a DVD-RW drive, and a 500GB hard disk. All that's left is the built-in keyboard. And the name.
In this case, that 64 can only mean a 64-bit processor - not 64 kilobytes of memory. Memory's up to a decidedly un-1980s eight gigabytes.
A new American company, Commodore USA, has apparently licensed the old Commodore name, and it intends to launch an updated incarnation of the long lost Commodore 64 this summer, according to the company's website.
"We were in love then," the site says. "Let's fall in love again."
The company's phone lines don't appear to be working, and it hasn't responded to emails requesting additional info. But its website says the reborn Commodore 64 will be available from the web beginning June 1.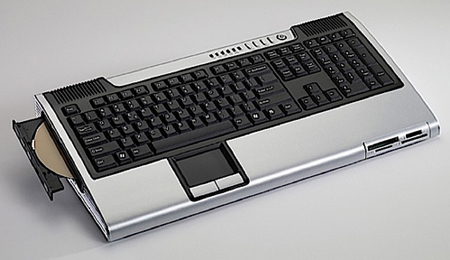 Commodore 64 Reincarnate
The 17.5-inch wide by 2-inch tall machine will support Intel Core 2 Duo, Intel Core 2 Quad, Pentium D, and Celeron D processors, running Ubuntu, Windows, or, well, Mac OS X. It will also run Amiga - the late 80s Commodore OS - but only with emulation help. If you'd prefer an 8-bit processor and the old Commodore kernel, you're out of luck.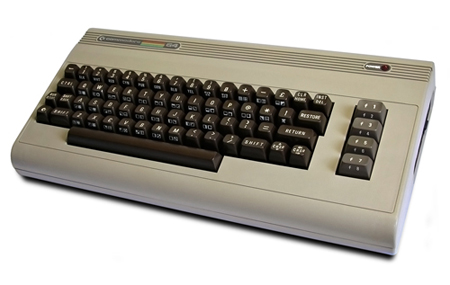 Commodore 64
When it debuted in August 1982 from Commodore International, the all-in-one Commodore 64 sold for $595, and that already dirt-cheap price soon dropped to a mere $199. "We made machines for the masses," Commodore International founder Jack Tramiel said on the machine's 25th anniversary, before motioning to the lumpen figure of Apple co-founder Steve Wozniak parked on the dais beside him. "They made machines for the classes."
According to Tramiel, the company sold almost half a million Commodore 64s each month before his departure from the company in 1984, and he guessed that between 22 and 30 million C64s were sold before the machine was discontinued in the mid 90s.
Wozniak was unmoved such statistics - or the C64's ultra-low price tag. "[The Apple II] sold for three times as much as the Commodore, but we wanted to build a company that would be around for awhile," he said, without a smile.
But Woz did acknowledge the C64's importance in the brief history of personal computers. And he confirmed that he and Steve Jobs once tried to pimp themselves to Tramiel and company. As soon as they had an Apple II prototype, they showed it to Tramiel lieutenant Chuck Peddle.
"Steve started saying 'All we want to do is offer this to you for like $200,000 and we'll get jobs at Commodore and we'll get stock and we'll be in charge of the whole program,'" Wozniak recalled. "And we got got turned down. We were told, basically, that Commodore decided to build a simpler, lower-cost, black-and-white machine without a lot of the pizazz of the Apple II."
That's what they did. And now someone is intent on resurrecting the thing.
Commodore International declared bankruptcy in 1994, and the brand was soon bought by German retailer Escom, before bouncing from one Dutch firm to another. Eventually, it landed with an outfit dubbed Commodore Gaming, and apparently, they have licensed the Commodore 64 name to its latest foster parent.
Whatever Steve Wozniak may say, it's clear that Commodore has been around for quite a while indeed.