Today Intel has launched a quartet of new SSD Series aimed at servers and workstations. All of the new drives use NVMe interface technology, expanding Intel's use of this fast interface across all its storage classifications. The Intel SSD DC D3700 and D3600 Series are claimed to "break the SAS storage bottleneck" thanks to employing NVMe and dual-port PCIe technology. Meanwhile the Intel P3520 and P3320 Series drives also employ NVMe combined with the "highest density 3D NAND" at Intel's disposal.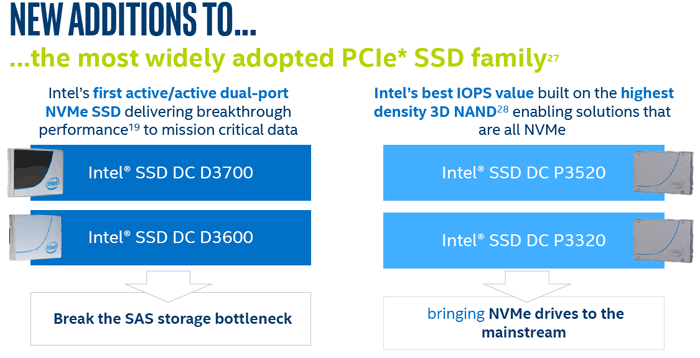 Intel SSD DC D3700 and D3600 Series
These drives are flagged by Intel as being "ideal for mission critical enterprise and scale-up storage". Significantly both the Intel SSD DC D3700 and D3600 Series thoroughly beat SAS storage solutions with their dual-port PCIe SSD interface, a first for Intel.
Please refer to the chart below for the performance advantages the new interface brings in comparison to SAS interface SSDs. (table upper left side of the slide). You can see that IOPS, read and write performance all demonstrate a significant uplift over SAS alternatives. Furthermore the dual port interface promises high availability and performance consistency.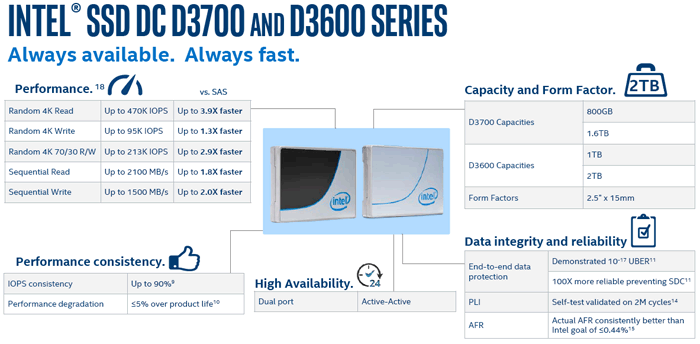 Intel will be initially making the SSD DC D3700 in 800GB and 1.6TB capacities, with the D3600 Series available in 1TB and 2TB capacities.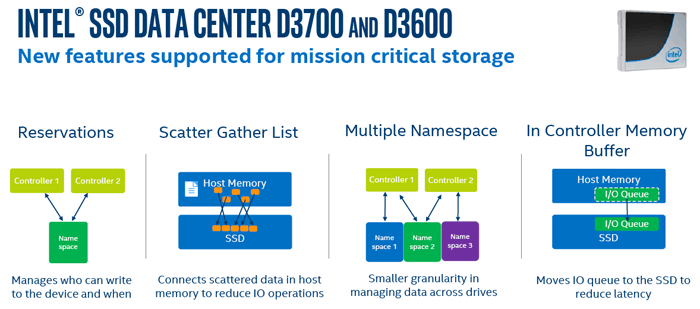 Intel P3520 and P3320 Series
Intel's P3520 and P3320 Series drives also opt for the NVMe interface. While Intel trumpets the aforementioned pair of SSD Series as great upgrades to SAS solutions, the P3520 and P3320 Series drives are touted as solutions capable of "removing SATA SSD storage bottlenecks". It is envisaged that these particular drive Series will be employed in online and hyper-converged storage and read-intensive warm storage solutions.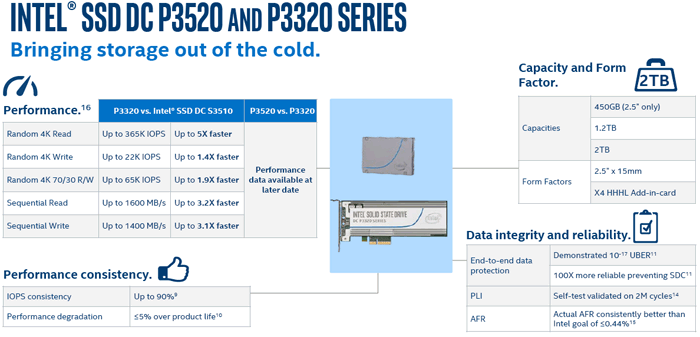 Of all the performance metrics tested, including IOPS, read and write speeds, the new Intel P3520 and P3320 Series drives outperformed the SATA Intel SSD DC S3510 drives by between factors of 1.4x and 5x. Intel also promises performance consistency and excellent data and reliability features.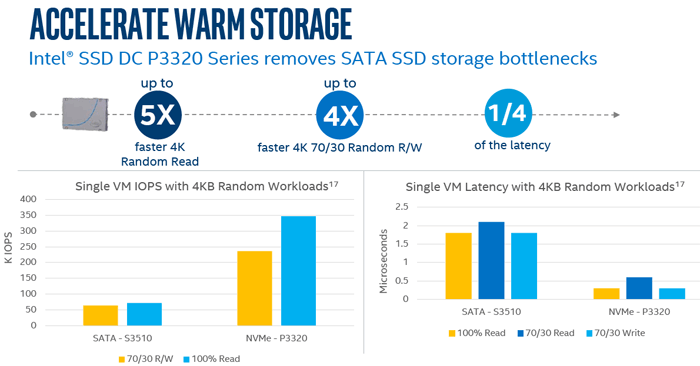 Intel informs us that some of the superior performance of the new P3520 and P3320 Series drives stems from the specification of high density 3D NAND. In particular the chipmaker says that the new 3D NAND provides approx 1.3x better read and write times, increased power efficiency, improved endurance and superior data integrity.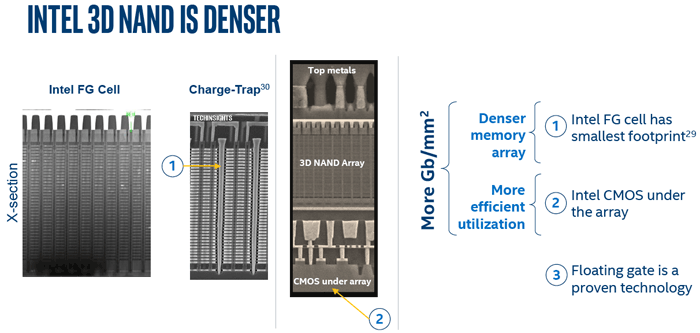 The P3520 and P3320 Series will be made available in 440GB, 1.2TB and 2TB capacities.