Micron has announced that it has started volume shipments of its 3D NAND chips. According to its pages about its 3D NAND technology the memory should result in new storage devices with greater capacity, better performance, and that are more energy efficient. We should start to see Micron's 3D NAND in products from Micron and Intel starting this spring.
Currently Intel's range of consumer SSDs tops out at 4TB. The new Micron chips are expected to boost the capacity of 2.5-inch devices to "more than 10TB" and other slot/stick style storage devices to up to 3.5TB in capacity. Alongside the capacity increase the new NAND has a fast 4K read mode which is touted as providing "significantly higher read/write bandwidth and I/O speeds, as well as improved random read performance". Another important improvement comes by way of reduced power consumption with a new sleep mode that cuts power to inactive NAND - even when other chips in the same die are active.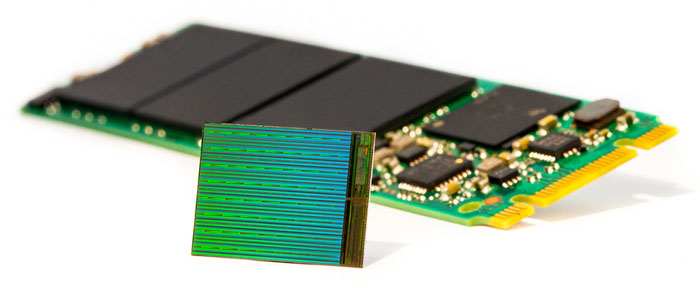 Micron uses a different architecture for its 3D NAND than other players such as Samsung and Toshiba. It claims that its 'floating gate cells' offers "better performance, quality and reliability compared to competing solutions". Also, as indicated above, its density will help provide the most capacious devices available to consumers soon. I wonder if the price we pay per GB will be significantly impacted with the introduction of the new NAND.
According to its new 3D NAND flyer, Micron is producing both MLC and TLC 3D NAND chips in densities of 32GB and 48GB respectively. I've embedded the information below.