Japanese electronics firm Toshiba has launched a new flash memory drive range which incorporates a numerical keypad with which to unlock your data. This is a seemingly retro move in the face of computer based, biometric and smart device based data locking and unlocking mechanisms.
The Toshiba Encrypted USB Flash Drive is easy to use as you just type in your pass code on the storage device's built-in mini numerical keypad and you can access the data which it holds. When a user unplugs the flash drive it automatically re-locks and encrypts the stored data. That's both simple and eminently portable as no computer side software/updates or specific drivers are necessary.
To secure your data Toshiba says that its Encrypted USB Flash Drive is FIPS 140-2 Level 3 certified and utilises military grade AES 256-bit encryption. Furthermore if it gets into the wrong hands a built-in Brute Force Hack Defence Mechanism will overwrite and obfuscate any data stored upon the drive following 10 consecutive failed attempts to enter the correct PIN.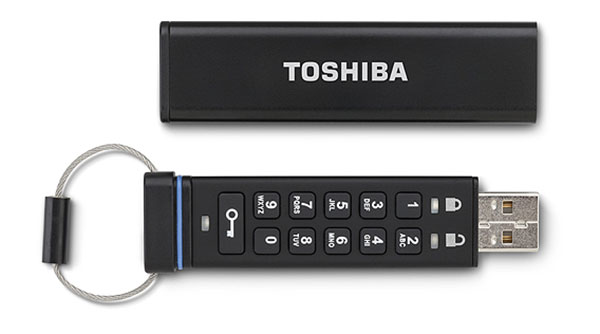 Additional key specifications of the new Toshiba Encrypted USB Flash Drive include:
Available Capacities: 4GB, 8GB, 16GB, and 32GB
Storage interface: USB 2.0
Transfer Rate: Up to 27MB per second read. Up to 24MB per second write
(IP)57 certification for Water and Dust Resistance
Size: 3" (L) X .78" (W) X 0.41" (H)
Colour: Black
Weight: .88 oz
Environmental: RoHS Compliant
OS compatibility: Windows 7 or newer, MacOS X 10.6 or newer, Linux and certan embedded systems
Supports Admin and User independent PINs
3 Year Limited Warranty
Toshiba's secure flash drives come with a pretty high price tag. Right now the 4GB version is listed on Toshiba's site on special offer at US$60 ($35 off the 'usual' price). The 32GB version is on offer at $200 right now.
HEXUS old timers will have seen the Corsair Padlock series of flash drives featured here, a range which offers similar features to Toshiba's new lineup at a much lower price per GB.