AMD has today launched the first in a series of solid-state drives (SSDs) under the Radeon banner. Such a move follows retail branding of system memory. AMD isn't manufacturing these system parts; rather, it is using well-known industry partners and effectively rebranding products.
OCZ Storage Solutions, a Toshiba-owned company, is the choice behind supplying the hardware for the Radeon R7 SSD. Based on the existing Vertex 460 SSD - meaning Barefoot 3 controller and 19nm NAND - AMD tweaks the R7 for a little extra performance by using a faster version of the Barefoot controller - known as M00, as used on the better-specified Vector 150 - and the latest revision of the Toshiba 19nm memory.
Compared to the Vertex 460, AMD also boosts the warranty to four years, instead of an industry-standard three, and outfits the Radeon R7 SSDs with better endurance, quoted as 30GB per day over the warranty period. Providing more context, here is how the R7 SSD lines up against the performance Vector and mainstream Vertex drives.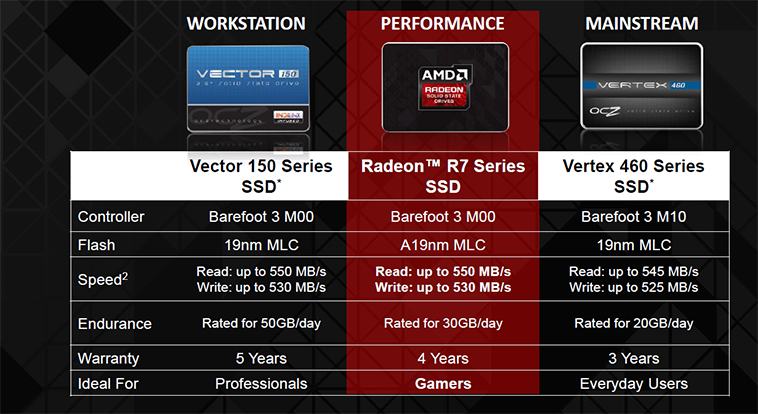 AMD has spied a gap in the current OCZ catalogue and looks to exploit it with the Radeon R7. Just like the Vertex 460, the 7mm-tall Radeon R7 SSD is packaged with a 3.5in adapter and Acronis cloning software. The drive uses a custom firmware, provided by OCZ, and warranty, too, is administered by the SSD specialists.

Drilling down further, the Radeon R7 SSD's specifications are consistent with cutting-edge consumer drives available today. We're particularly pleased to see above-average writing speeds on the smaller capacities. They are to be made available in three capacities: 120GB, 240GB and 480GB.
Performance should be good - review coming soon - because the Vertex 460 does well in our benchmarks. At the time of writing, the only confirmed pricing was $100 for the 120GB model. That's not great value, as the popular Crucial MX100 128GB is readily available for $80.
AMD's decision to use a semi-custom OCZ SSD for its initial SSD is a sensible move. Would you, the readers, buy an 'AMD' drive over a Crucial, SanDisk or OCZ?