It seems like AMD is seeking to get extra mileage from its Radeon brand by introducing a series of SSD drives bearing the name. AMD already supplies APUs and CPUs, GPU and RAM but solid state storage will broaden the AMD brand name to another one of the most common PC upgrade choices. Official looking slides, which show the new product range, come from WCCFtech via Chinese tech site EXPReview.com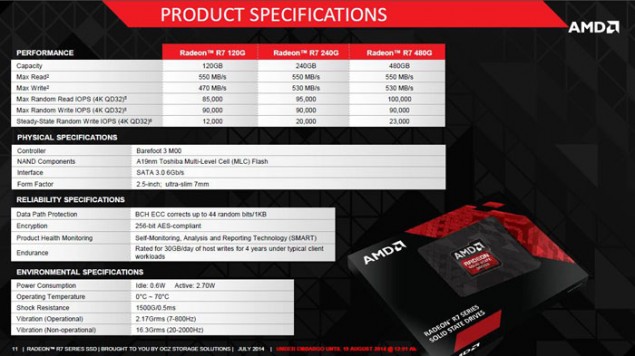 AMD's move into the SSD market has been foretold several times previously. A quick news search reveals stories of AMD collaborating with various parties in 2012, 2013 and in April this year there were rumours of AMD working with Toshiba and OCZ to tailor-make an SSD for AMD customers. This latest rumour seems to be the one 'confirmed' by the EXPReview story.
If the specs we see in the slides are correct the Radeon R7 SSD range will all use OCZ's Indilinx Barefoot 3 controller and Toshiba 19 nm MLC NAND flash chips. This combination of key components would make the Radeon R7 drives very similar in design to the OCZ Vector 150 series. As you might expect, the performance and other key specs also bear a close resemblance to this OCZ range.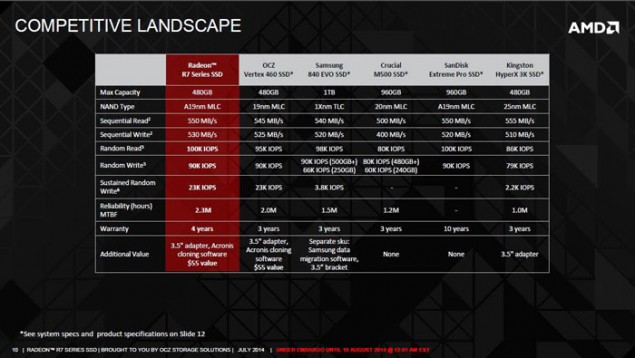 It's good to see AMD's competitive landscape analysis slide (above) showing why its Radeon R7 Series SSDs are a compelling choice. I apologise for its blurry lo-res eye-squintingly small text but that's all we have. From the table you can just about make out that AMD's upcoming drives are definite contenders, sitting comfortably among the competition offering a good balance of specs. Of course pricing will also be key to their popularity.
EXPReview sees this SSD market move by AMD as part of its strategy to provide a "one-stop shop" for PC builders and upgraders. Finally, according to Guru3D we shall see these Radeon R7 SSDs launched on 13th August, just over a week away.