Today Western Digital has launched the WD Black2 dual drive. WD calls the new drive "a unique storage innovation that fuses a 2.5-inch 120GB solid state drive (SSD) with a 1TB hard disk drive (HDD)". It's interesting the firm uses the term 'fuses' in that sentence as it sounds a lot like the Apple Fusion drive introduced in the Mac Mini in 2012. Nevertheless it's good to see this kind of drive available on PC, offering a good combination of capacity and SSD storage in a single small package.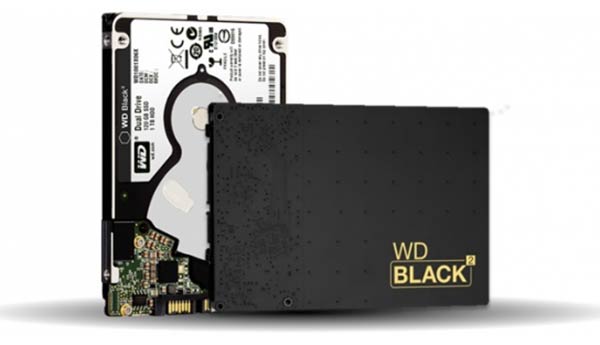 "Our customers told us they like our Solid State Hybrid Drive technology, but our tech savvy users asked for more control of where they store their data," said Matt Rutledge, senior vice president of WD's Storage Technology business unit. "The WD Black2 dual drives empower our customers to enjoy SSD performance and access high capacity storage in a no-compromise package. The WD Black2 dual drive is a direct result of our interaction with our customer base through WD Labs initiatives. WD devised its beta labs program to provide an exclusive testing arena for key customers and technology influencers of existing and emerging WD storage products."
The WD Black2 dual drive, as mentioned above, fits its hybrid storage solution into the 2.5-inch form factor. The height of the drive is 9.5mm which is compatible with a good proportion of laptop PCs, All-in-Ones, SFF PCs and can easily be accommodated in a common-or-garden desktop case by a variety of means. We are told that the drive has a SATA 6Gb/s interface and connects via a single cable.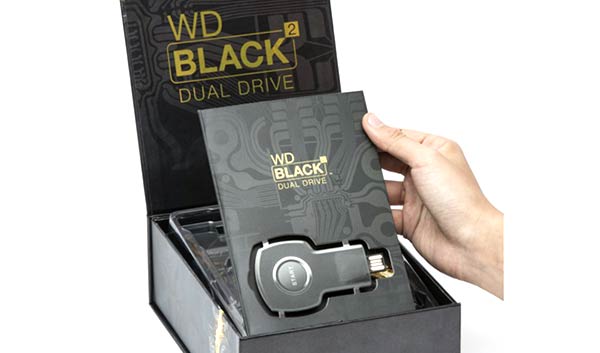 USB Key to unlock the HDD capacity
You can drop the drive into a standard 2.5-inch, 9.5mm deep drive slot on your PC and it will work with Windows OSes ranging from Windows XP to Windows 8.1. However there are some limitations which must be noted, should you be interested in this drive. According to PC World France, when the drive is first installed your system will see just the SSD portion. A user then inserts the supplied USB key and that will prompt the installation of WD's driver which allows your system to work with the whole drive transparently. See the table below for other limitations.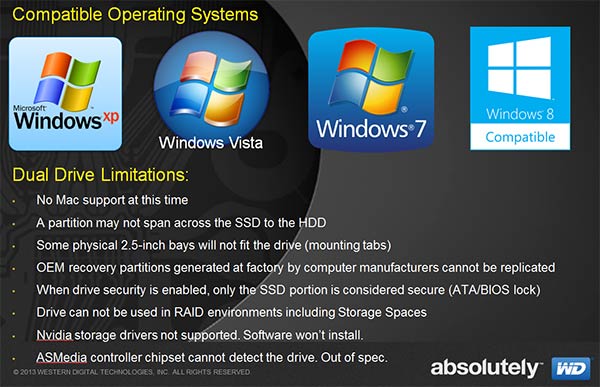 We are told the WD Black2 dual drive will be available to buy from wdstore.co.uk and through e-tailers such as amazon.co.uk shortly. The MSRP for the 2.5-inch 120 GB SSD + 1 TB HDD WD Black2 dual drive, model #: (WD1001X06XDTL) is £249.99. However with dedicated 500GB SSDs available for around the same price, like the 7mm deep Samsung 840 EVO 500GB (reviewed here), the extra capacity offered by the WD Black2 dual drive had better be useful to you.