LSI has announced a new, third generation, Sandforce flash memory controller family called the SF3700. Existing Sandforce solutions are the most popular in the market today and the new SF3700 controller family, announced at SC13, builds on this success by offering faster speeds, smaller form factors, increased reliability, increased capacity (up to 2TB) and lower power usage (thus longer battery life).
LSI informs us that the new controllers are the industry's first to support both native PCIe Gen2 x4 and SATA 6Gb/s host interfaces in a single device. This design should help reduce development and manufacturing costs for SSD makers. Furthermore utilising the PCIe interface users can experience performance over three times faster than SATA-based solutions with sequential reads in excess of 1.8GB/s.
Huibert Verhoeven, vice president and general manager, Flash Components Division, LSI said "The SF3700 family brings a new architecture, designed from the ground up to deliver unmatched flash performance and the longevity required to drive current and future portable client computing, enterprise and big data applications."
Key features and benefits of the LSI SandForce SF3700 are as follows:
Native PCIe and SATA Interfaces: a jumper is set by the manufacturer to implement the interface they wish to use.
Optimized DuraWrite Data Reduction helps to maximize SSD endurance by further lowering write amplification and the number of program erase (P/E) cycles.
SHIELD Error Correction.
Enhanced RAISE Technology: similar to RAID but specifically designed for SSDs.
Dual AES-256 Encryption.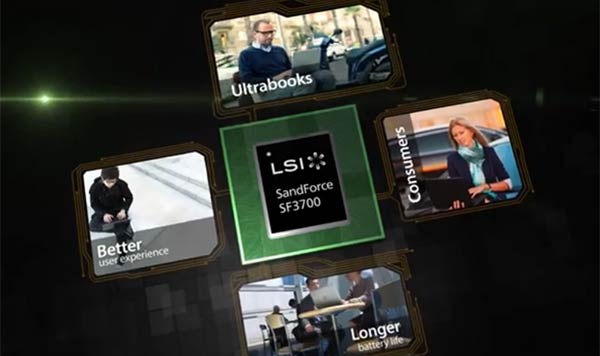 From the LSI press release we can see that the firm has plenty of heavyweight industry support and big name adoptees lined up for its new SF3700 family of controllers. Intel, ADATA, Kingston, Micron and Toshiba all offer supporting statements about how they are working with LSI and/or adopting this new controller technology in their storage products. The SF3700 controllers are currently being sampled by SSD OEM customers for products which are expected to ship in H1 2014.