There had been previous hints that SSD overclocking would be demonstrated by Intel at the IDF13 (Intel Developer Forum 2013), which kicks off one week from now. However it seems like some senior manager at Chipzilla couldn't contain their excitement and arranged an solid state drive overclocking demonstration at the Pax Prime show in Seattle a couple of days ago.
Legit Reviews were at Pax and reported on the SSD overclocking feats shown by Intel this weekend, including screen shots of drive benchmarks alongside information on how much the SSD controller was overclocked. The article also suggests that these 'K' series SSD drives might be coming to market, allowing users to adjust clock speeds on the drive controller and speeds of the NAND flash memory.
In the demonstration Intel used its Extreme Tuning Utility (XTU) to tune the SSD controller and NAND speeds. The particular SSD drive used in the demo was a 480GB drive with the default controller speed of 400MHz and default NAND flash bus speed of 83MHz. Within the XTU software these values could be boosted up to 625MHz and 100MHz respectively. Let's have a look at the resulting benchmarks from the Intel demonstration: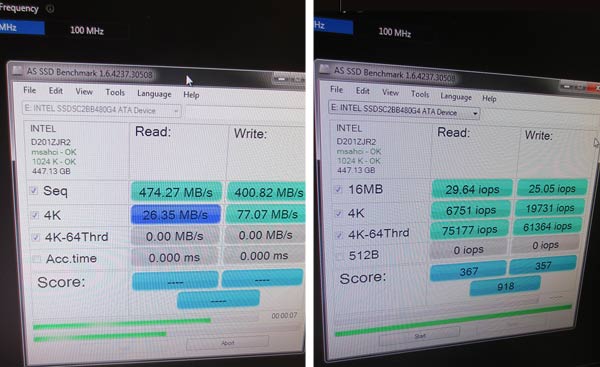 Default speeds: controller at 400MHz, NAND bus at 83MHz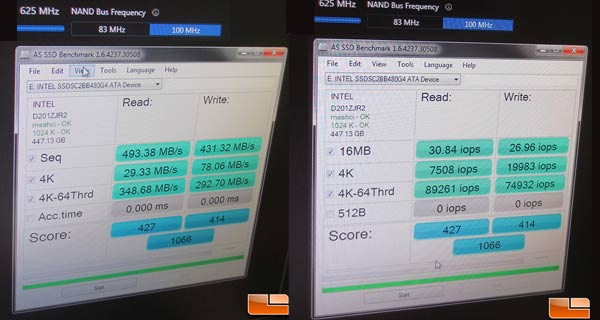 Overclocked: controller overclocked to 625MHz, NAND bus at 100MHz
As you can see from the above - overclocking the prototype Intel SSD brought with it potentially significant gains. The best increase is in 4K-64Thrd IOPS which went up from 61364 to 74932, that's a 22 per cent gain. You can also see the other comparative results directly above.
The Legit Reviews guys made a suggestion to Intel due to concern about the impact overclocking might have on this data storage device - for these 'K' drives to come with useful backup software if they ever make it to market. With the IDF13 next week we hope to see further information, benchmarks and videos detailing Intel's SSD overclocking performance and ideas.