In a pre-Computex announcement storage specialist company Biwin has announced the world's first 10-channel 2.5" SATA III SSD. The new enterprise drive will be available in 80 GB, 160GB and 300GB capacities. Biwin call this drive the NuvoDrive™ NX Enterprise. These new drives, utilising the 10-channel Novachips NVS3600A "Bugatti" controller, offer 25 per cent more bandwidth than drives with 8-channel controllers.
Most SATA III SSDs on the market use 4 or 8-channel controllers but the "Bugatti" controller with 10-channels enhances flash bandwidth on the SATA III bus for high speed sequential transfers. Biwin claims the combination of the greater bandwidth and large 256MB DRAM cache helps "achieve outstanding write speeds, and it particularly stands above all competitors in 4K random writes with incompressible data. Look no further than the NuvoDrive NX to accelerate random write intensive workloads."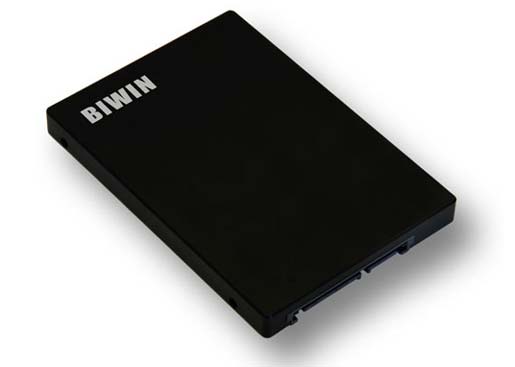 The Biwin NuvoDrive NX SSDs possess reliability and security features such as global wear leveling, BCH ECC, AES 256 encryption, native TRIM and SMART command support. The drives are being currently being sampled by OEMs and are expected to be in mass production in Q3 2012.
Biwin has a large specification table for the NuvoDrive NX available on its website. Key performance values from the specification are shown, for your convenience, in the table below.
Biwin NuvoDrive NX Performance
| | |
| --- | --- |
| Sequential Read (max) | 500 MB/s |
| Sequential Write (max) | 520 MB/s |
| Seek Time | 0.1 ms |
| Random Write 4KB (max) | 80,000 IOPS |
Speeds were measured using the ATTO Disk Benchmark.
Looking at the table above we see the sequential read and write times of 500MB/s and 520 MB/s, which are good but not ground breaking. We tested the SanDisk Extreme 240GB SSD yesterday and that drive achieved 550MB/s and 520MB/s respectively in the same ATTO benchmarks as the NuvoDrive NX. Also the 4KB random write figures of 80,000 IOPS for the NuvoDrive are beaten by the SanDisk Extreme which has achieved 4K random write speeds topping 88,324 IOPS. From the figures it looks like the 25 per cent extra bandwidth offered by the "Bugatti" drive controller isn't fully utilised in the current hardware/firmware configuration.