Introduction
The cost of SSD ownership has fallen dramatically in recent weeks, and tumbling price tags make this an opportune moment to review one of the most attractive SATA 6Gbps drives currently on the market; the 240GB SanDisk Extreme.
Launched in February with an MSRP of £239, this high-performance drive is today available for under £155 - a reduction of 35 per cent in just over three months. A mouth-watering prospect for anyone who's been sitting on the solid-state fence, but if you came close to taking the plunge when SSDs breached the £1-per-gigabyte mark, you ought to be rubbing your hands together in the knowledge that SanDisk's high-end solution now sits at an all-time low of around 65p per gigabyte.
Important to note, too, that the lowered price tag isn't a sign of an inferior drive. SanDisk's Extreme is aimed at enthusiast users who seek top-notch performance, and it isn't the only drive to suddenly appear more affordable. As a result of lower pricing for NAND flash memory and a price war between some of the biggest names in the industry, a wide range of drives are now frequently making appearances on various bargain-hunting websites.
Shop around and you'll find that the going rates for 120GB and 240GB drives appears to have settled at around £80 and £160, respectively, making relatively-high-capacity drives a viable solution for a greater number of users.
We've plenty of experience with SanDisk's Extreme SSD - we came away impressed in our review of the 120GB model - and the 240GB upgrade is similarly equipped with the popular SandForce SF-2281 processor and a selection of SanDisk's own 24nm Toggle Mode NAND memory chips.
However, whereas the 120GB drive featured just four 32GB NAND memory chips, the 240GB model is armed with eight - allowing the drive to offer both greater capacity and improved performance, the latter a result of having a greater number of NAND devices communicating with the processor in parallel.
Eagle-eyed readers will note that SanDisk's PCB still has room for a further eight memory chips, and though the empty slots serve no purpose here, they're all filled out in a range-topping 480GB model that currently retails at around £400.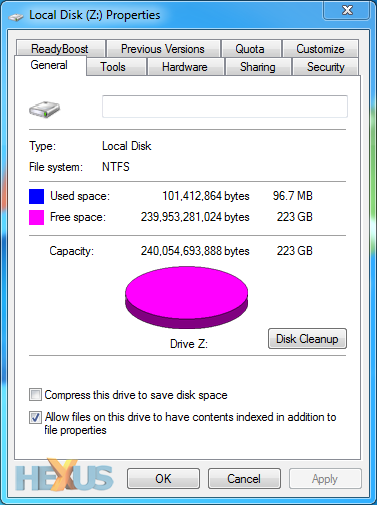 There's technically 256GB of memory within the SanDisk Extreme SSD we're taking a look at today, but a percentage of that is set aside to maintain optimum performance and to preserve drive longevity, leaving the user with the advertised capacity of 240GB.
Ample for the OS, most programmes and at least a couple of games, and SanDisk's quoted read and write figures of 550MB/s and 520MB/s, respectively, intimate that the drive will live up to its Extreme billing.