It was way back in 2007 that we first laid our eyes on Enermax's Jazz series of hard disk drive (HDD) enclosures, and with the award-winning Jazz proving popular, the Taiwanese manufacturer is today following up with the all-new Brick series.
Despite the less than elegant name, Brick measures 113mm x 76mm x 17mm and weighs roughly 65g. That makes it both small and light, and 2.5in drives can be installed via Enermax's "One Screw Design". Release the screw, open the case, plug in your SATA drive and you're good to go - thankfully, Enermax provides a screw driver as part of the bundle, along with a leather carry bag.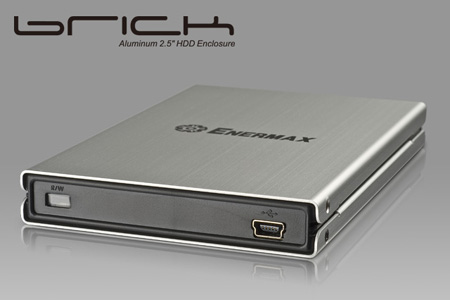 There's a USB 2.0 interface, providing power and transfer rates of up to 480Mb/sec, and a dual-mode status indicator that'll blink blue to show power and purple for activity. Vents at the front of the drive should help keep your drive aired.
Brick will be available in black or silver finishes, with an RRP of around £9.88. Not a bad looking piece of kit, we reckon, but Enermax's product names leave a lot to be desired - first Apollish, now Brick.