It looks as though Japanese manufacturer Hitachi is set to join Western Digital in the ultra-high-capacity space with the launch of a 2TB Deskstar drive, given model number HD32000IDK7.
The drive, pictured below, has cropped up at an online retailer and is listed as "coming soon" with a price tag of $269.99.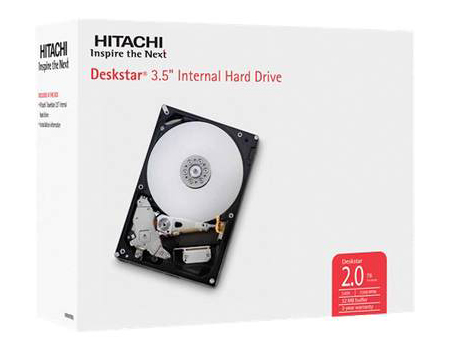 In recent months, Hitachi hard drives have gathered a reputation of being easy on the wallet, with 1TB drives going for under £50. Whilst its 2TB drive is more costly than Western Digital's 2TB Caviar Green, it could be quicker, too. Hitachi's drive is equipped with 32MB of cache, and is said to operate at 7,200RPM. Western Digital's first 2TB drive features an identical quantity of cache, but runs at 5,400RPM.
It's worth noting, of course, that Western Digital does have a high-performance 2TB drive in the pipeline, but what's important here is that competition in the 2TB space should drive down prices.