Intel took part in a memory and storage summit in South Korea yesterday and made a number of important announcements with regard to its NAND and Optane technology plans. As well as talking about the technology milestones it has recently passed, Intel sketched out its investments and plans for next gen storage and memory products. A lot of the talk was framed as solutions for cloud, AI and network edge applications.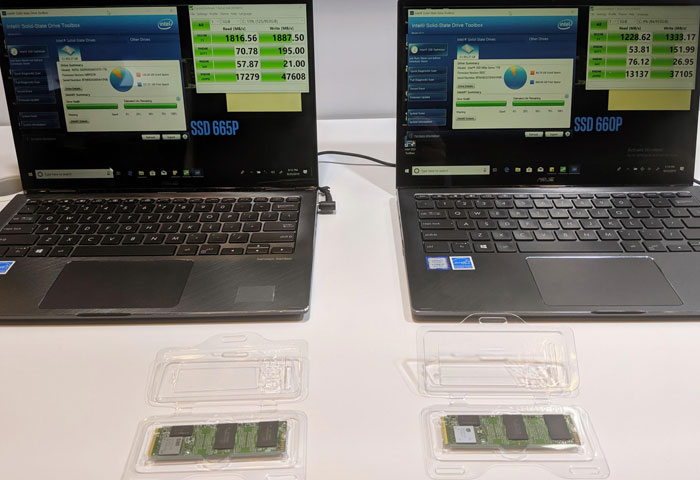 Intel's current SSD 660p QLC drives (64-layer NAND) are soon to be replaced by the 665p drives which feature 96-layer QLC NAND – claimed to be denser and faster. Following this, Intel intends to intro 144-layer QLC NAND based drives retaining the 3D floating gate memory cell design – touted as providing greater reliability than Charge Trap tech.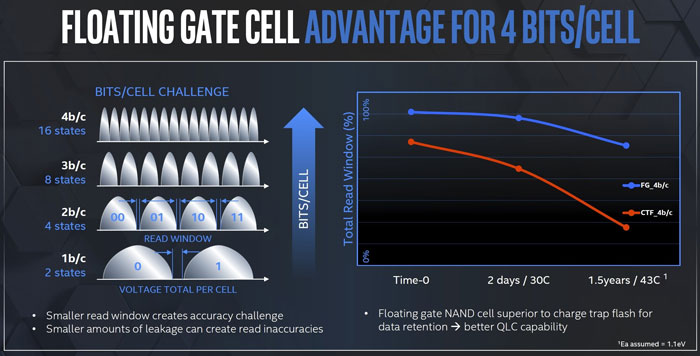 Moving on Intel hopes to push densities further by introducing 5 bit per cell NAND flash (AKA PLC or Penta-Level Cell). This increase in density is still under test in the lab and its release is contingent upon those results. Toshiba is also experimenting with PLC NAND implementations. Both the extra layers and PLC should provide a positive impact on end-user capacities and pricing per GB.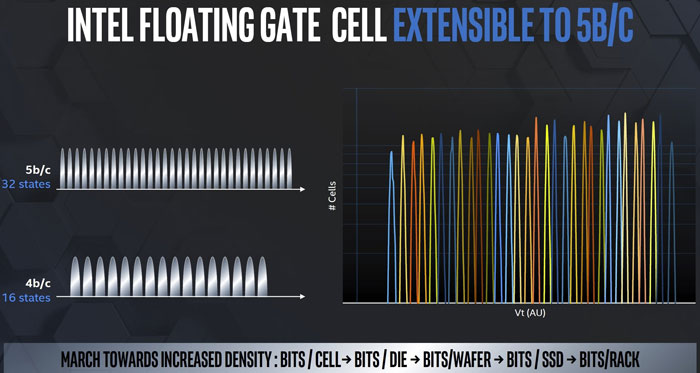 Intel's second generation of Optane DC persistent memory devices are codenamed 'Barlow Pass'. These devices are scheduled for release alongside Intel's next generation Cooper Lake 14nm and Ice Lake 10nm Xeon Scalable processors in 2020. As with the first generation Optane, the greatest utility value is said to reside between RAM and NAND: where "DRAM isn't large enough, and SSDs aren't fast enough".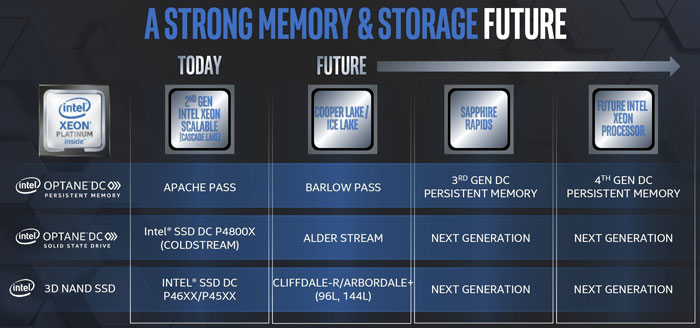 Importantly for enthusiasts, in addition to this DIMM-based persistent memory hardware advancement, Intel is working with Microsoft to add support for the tech in client versions of Windows. However, we don't have a precise timescale for its introduction, it will be roughly another year or two.
Sources: Intel News Blog and PCWorld.