During yesterday's Intel-hosted Data-Centric Innovation Day in Santa Clara, the firm launched over 50 new processors. I wrote about those data centre and corporate / enterprise targeted Xeon processors (and more) yesterday evening. Intel reckons that processing is just one out of three essentials to a modern data-centric business. The firm asserts that as well as processing data faster than ever, companies need to consider carefully how they move and store data - in an optimised system. With this in mind it presented products last night designed to make moving and storing data faster and more efficient than ever.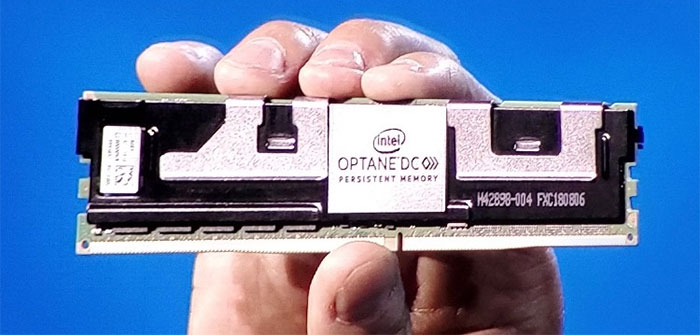 Storage
Probably the highlight of the storage portfolio expansion was the launch of the Intel Optane DC persistent memory DIMMs. Intel heralded these devices as delivering "breakthrough storage-class memory capacity to the Intel Xeon Scalable platform." With its new processors and this memory, Intel says that users can benefit from "faster-than-ever analytics, cloud services, virtualization and next-generation communication services".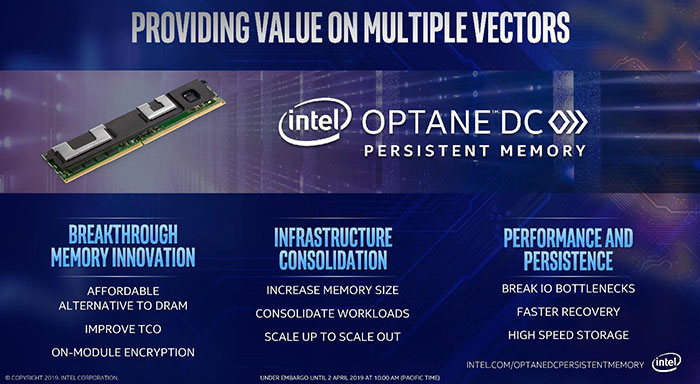 Intel Optane DC persistent memory can be mixed with traditional DRAM in systems (using a standard DDR4 slot) delivering up to 36TB of system-level memory capacity. Thanks to its disruptive design, providing a persistent memory tier, allowing data persistence in main memory rather than on disks, in-memory software can work even better to garner insights from massive data sets.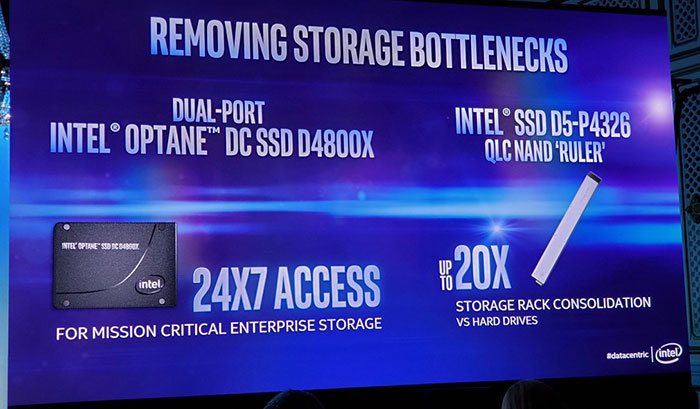 In addition to the new Optane DC persistent DIMMs, Intel launched the dual-port Intel Optane DC SSD D4800X (NVMe), claimed to deliver 9x faster read latency compared to NAND dual port, under write pressure. Furthermore, the new Intel SSD D5-P4326 'Ruler' SSD (QLC 3D NAND) enables up to 1PB of storage in a 1U design.
Connectivity
Another essential piece of the flow chart for data processing is connectivity, for moving the data around. Last night the Intel Ethernet 800 Series controllers and adapters were introduced. These devices are capable of supporting networking speeds of up to 100Gbps, and offer features such as Application Device Queues (ADQ) for improved application response, latency, and throughput. Intel Ethernet 800 Series controllers and adapters will start to ship from Q3.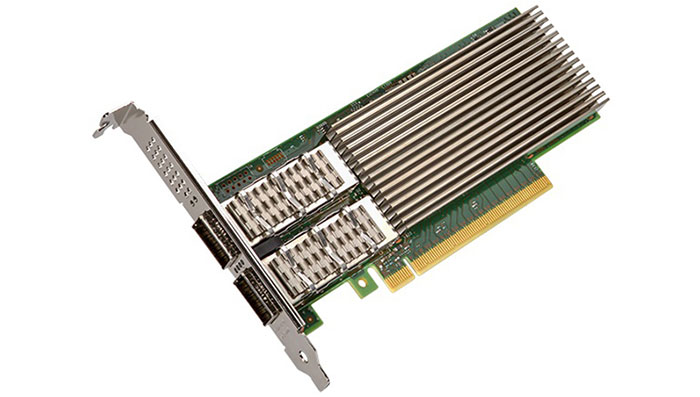 Lastly, the Intel Wi-Fi 6 AX200 with 802/11ax Wi-Fi M/2 card has launched, separately to the Data-Centric Innovation Day announcements and launches. The wireless NIC, previously codenamed 'Cyclone Peak', will be available in the M.2 2230 and M.2 1216 form-factors and supports 802.11ax over 2x2 MU-MIMO antennae, with a peak bandwidth of 2.4Gbps. Both 2.4GHz and 5GHz bands are supported and the card supports Bluetooth 5.0 as well.