Intel SSD DC P4500
A year ago Intel first revealed the 'Ruler' form factor for server SSD storage. Yesterday, as part of its data-centric Innovation Summit at its headquarters in Santa Clara, CA, it revealed the a SSD DC P4500 Series Ruler drive. This SSD, about the same length and width as a 12-inch / 30cm ruler, is claimed to be the "world's densest, totally silent solid state drive". It can store up to 32TB of data, which Intel informs us is "equivalent to triple the entire printed collection of the U.S. Library of Congress".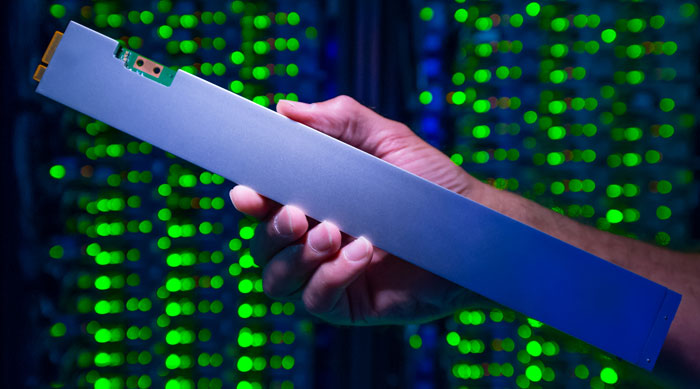 Intel doesn't list the new 32TB Ruler on the SSD DC P4500 Series product pages as yet. If you head on over to that page you will find just 4TB and 8TB versions of the Ruler at the time of writing. The only details we have right now about the 32TB Ruler are via the Intel Newsroom.
Providing some background to the bumper 32TB new member of the SSD DC P4500 Series, Intel says it is its densest drive ever. Inside the Ruler are Intel 3D NAND chips, built using memory cells stacked 64-deep.
An important reason why companies that run/need servers will choose the new 32TB Ruler drives are that it can facilitate Petabyte of storage in a single server slot (32x 32TB Rulers in a row). Another quality of the Ruler is that compared with traditional SSD designs it "requires half the airflow to keep cool," says Intel. With data centres spending a large portion of their budgets on air conditioning, the Ruler could bring surprising savings in this area.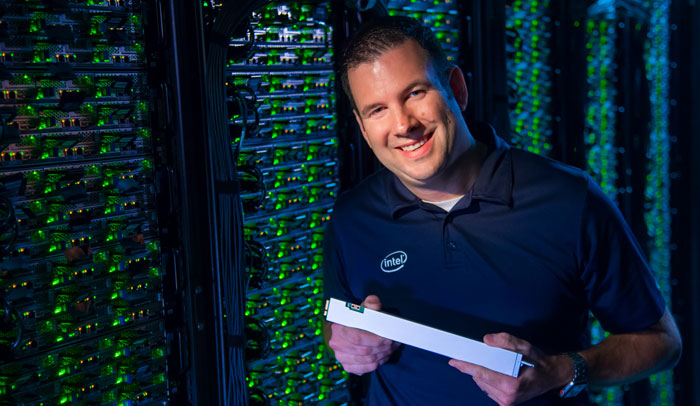 You can read more about the new Ruler and its design in an additional Intel blog post highlighting the work of Wayne Allen, director of data centre storage pathfinding, Non-Volatile Memory Solutions Group at Intel.
Intel Xeon roadmap
Also at the Innovation Summit yesterday, Intel revealed a 'sneak peek' of its plans for Xeon processors through to 2020. TechReport shared the roadmap graphic, like the one below, and provides some details from the presentation.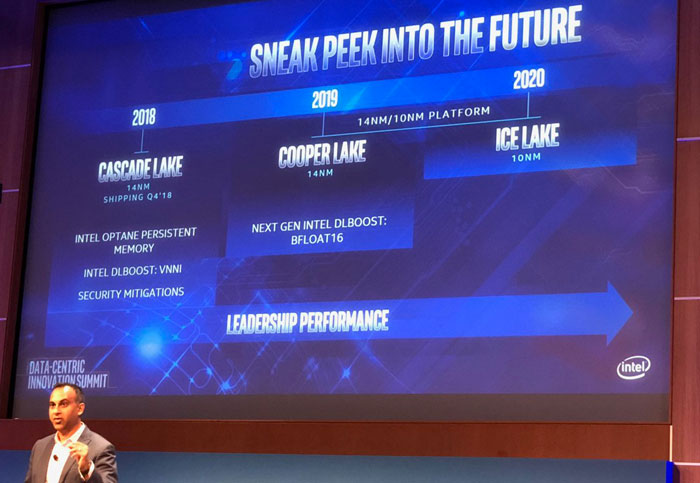 In the above you can see that Cascade Lake Xeon Scalable processors will be shipping in Q4, just a few months from now. These 14nm processors will integrate a new memory controller to support Optane Persistent Memory DIMMs. Furthermore, DLBoost:VNNI will be introduced to accelerate Deep Learning. Last but not least, these will be the first Intel processors to include hardware-level mitigations for Spectre and Meltdown vulnerabilities.
Copper Lake will continue on 14nm next year and Intel highlights support for fast DLBoost: bfloat16 floating-point support, useful for AI-related workloads. At long last, sometime in 2020, Ice Lake Xeon processors will arrive, debuting on Intel's 10nm process technology.