Micron has announced that it has started to ship the industry's first Quad-Level Cell (QLC) NAND SSDs. The Micron 5210 ION SSDs are aimed at enterprise storage firms and thus they are pitched as offering; lower TCO, more capacity, and a smaller footprint. These slim 7mm 2.5-inch form factor drives pack 33 per cent more capacity per NAND cell than their triple-level cell (TLC) counterparts and thus can help reclaim high-value rack space. Furthermore, using the new Micron 5210 ION SSDs enterprises can free read-intensive workloads from slow HDDs, suggests the firm.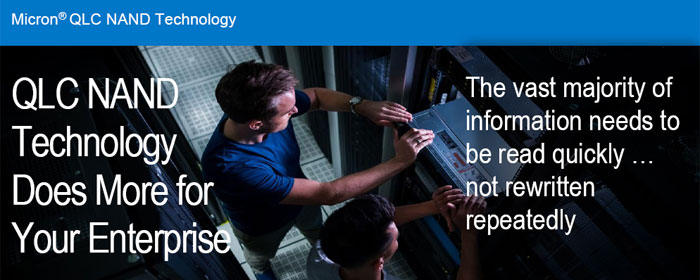 "This breakthrough QLC SSD will usher in a new generation of storage products that allows enterprise and cloud customers to experience the benefits of NAND flash across an expanding array of workloads that were previously relegated to slow, power-hungry hard drives," said Micron Executive Vice President and Chief Business Officer, Sumit Sadana. "This innovative solution is another example of Micron's accelerating momentum in bringing high value solutions to market and creating true value for customers."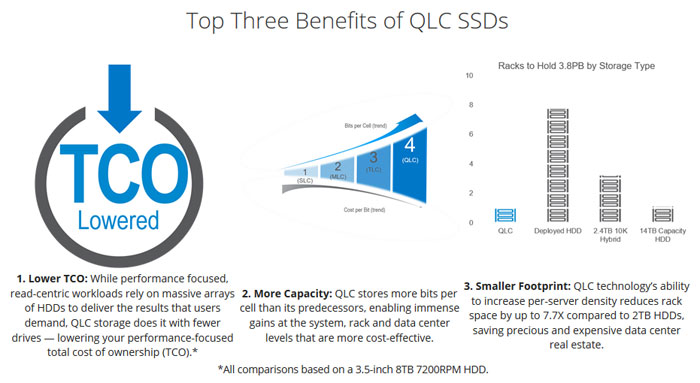 Micron's 5210 ION SSDs leverage the "proven architecture" of the previous 5200 series SATA SSDs. The new QLC NAND chips can reach densities of 1 terabit using next-generation 64-layer 3D NAND structure. As mentioned in the intro, these drives are now shipping, but only to strategic enablement partners and customers, one example given is Baidu. Micron says that the new 5210 ION SSDs will be available to the broader market by autumn this year. Capacities available will range from 1.92TB to 7.68TB.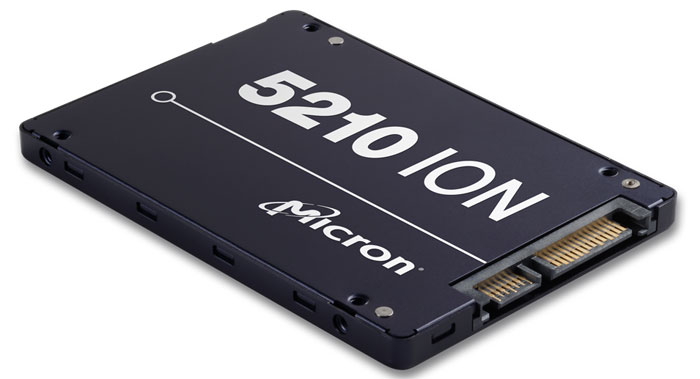 Intel
Micron's partner in QLC NAND development, Intel, also released news concerning the announcement of the first QLC NAND SSDs. Intel added that the partnership is looking at 3rd Generation 3D NAND with 96-layers to enable the industry's highest Gb/mm2 areal density. Intel wrote that QLC technology will not just be limited to enterprise products, it will enable "compelling new operating points for density and cost" in client products too.