Last year Intel launched its 16GB and 32GB Optane Cache modules (about a year ago) and its 280GB and 480GB Optane SSD 900P Series, which were aimed at enthusiast and pro users. Now it hopes to deliver some of its Optane tech to users of 'mainstream client systems' with the launch of the 58GB and 118GB capacity Optane SSD 800P Series.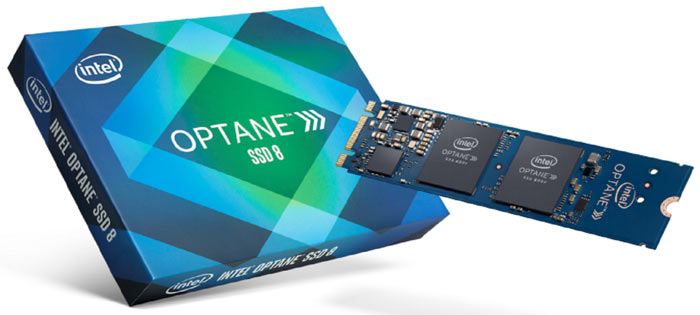 The new Intel Optane SSD 800P devices are supplied in the M.2 2280 form factor (22 x 80mm) and use an NVMe PCIe 3.0 x2 interface. You will choose to buy one of these storage solutions thanks to its appealing mix of "high throughput, low latency, high quality of service and industry-leading endurance," thinks Intel. More specifically Intel reckons that its new 800P will deliver fast system boot, speedy application load times and smooth multitasking to those in its mainstream PC target market. Low power states make it eminently suitable for devices like laptops and 2 in 1 devices, as well as desktop systems.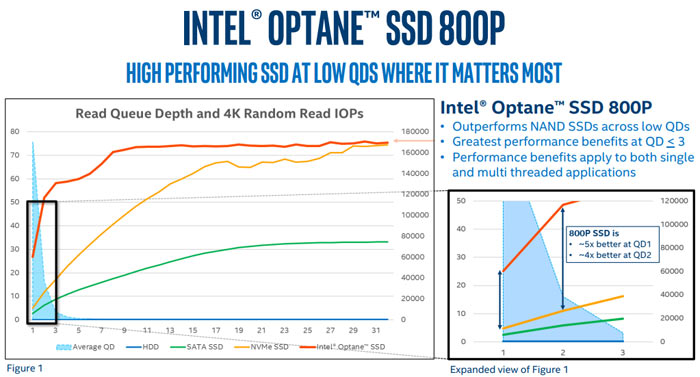 Specs table
Model Name: Intel Optane SSD 800P Series
Capacity: 58GB, 118GB
Memory Media: 3D XPoint Memory Media
Sustained Sequential Read/Write: up to 1450 / 640MB/s
4 KB Random Read/Write, Queue Depth 4: up to 250K / 140K IOPs
Read/Write Latency (average sequential): < 6.75 μs / < 18 μs
Interface: PCIe 3.0 X2, NVMe
Form Factor and Weight: M.2 2280 / up to 10 grams
Life Expectancy: 1.6 million hours Mean Time Between Failure (MTBF)
Lifetime Endurance: 200 GB writes per day
Power Consumption (typical average): Active Power: 3.75W, Deep Sleep/L1.2: 8mW
Operating Temperature: 0 C to 85 C
RoHS Compliance: Meets the requirements of European Union (EU) RoHS Compliance Directives
Warranty: 5-year warranty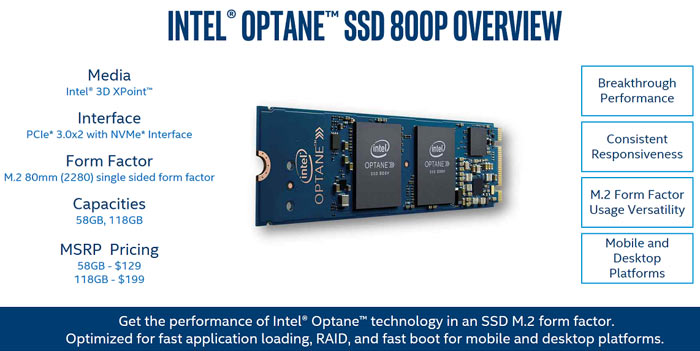 Intel is launching the 58GB and 118GB capacity Optane SSD 800P Series devices at $129 and $199, respectively. This represents a per GB price of $2.22 and $1.65, respectively. Even the prosumer Intel Optane 900P Series is available with a significantly lower per GB price of $1.25 - but you would have to buy the 480GB capacity drive to achieve that 'value'.