A week ago Intel started to ship the first Optane PCIe SSDs to businesses and enterprises, the Intel Optane SSD DC P4800X 375GB. Now the corporation has followed up by releasing Optane cache drives for consumers. We previously learned about these low capacity cache drives back in January when they were shown off at CES 2017. A little later it was announced that they had started to ship to hardware partners for testing.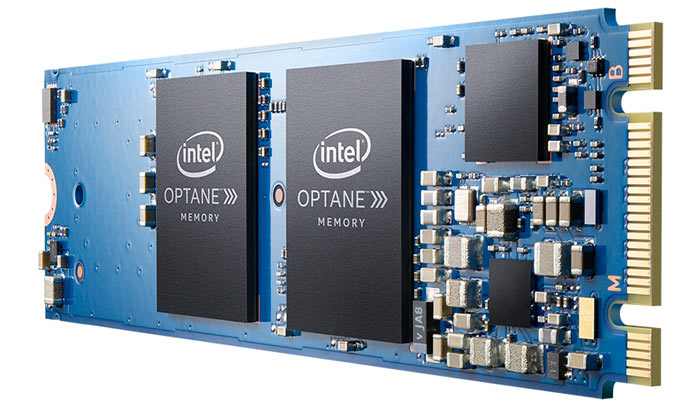 From 24th April consumers will be able to choose from two Intel Optane memory SKUs; a 16GB model with an MSRP of $44, and a 32GB model with an MSRP of $77. Both are supplied as 80mm M.2 devices. Check out the specs below: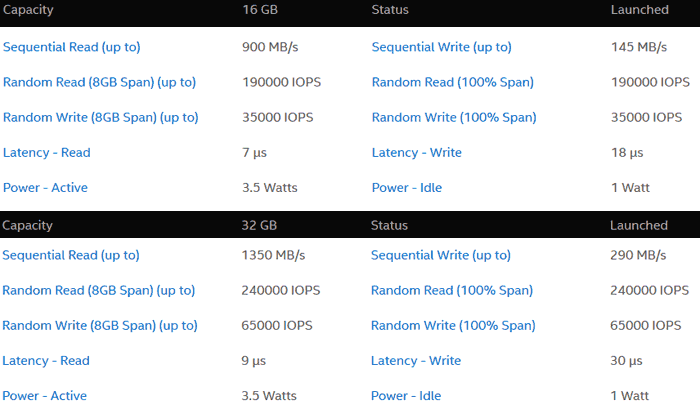 With their low capacities, Intel is angling these modules as devices to boost HDD-based PC responsiveness, though they could still offer some acceleration to users of SATA SSDs as their primary storage. So all the figures you see quoted on the Intel Optane consumer promotional pages are for HDD storage based systems being perked up by Optane. See the footnotes on the Optane memory product page, for example.
Intel is promoting Optane for consumers as a technology that lets you "Get the speed. Keep the capacity". It is a "bridge between the DRAM and storage." However, consumers are getting a bridge between RAM and HDD, not the expected bridge between RAM and SSD. Let's look at the headline claimed benefits for an HDD-storage based PC system boosted by use of one of these cache drives:
Power on your computer up to twice as fast
Increase storage performance up to 14x
Launch applications faster: Microsoft Outlook up to 5.8x faster; games launch up to 67% faster; and levels load up to 65% faster
Find files on your PC up to 4x faster
Intel rationalises its HDD-boost promotional angle by quoting the statistic that "79 per cent of desktop PCs still use hard disk drives as the primary storage".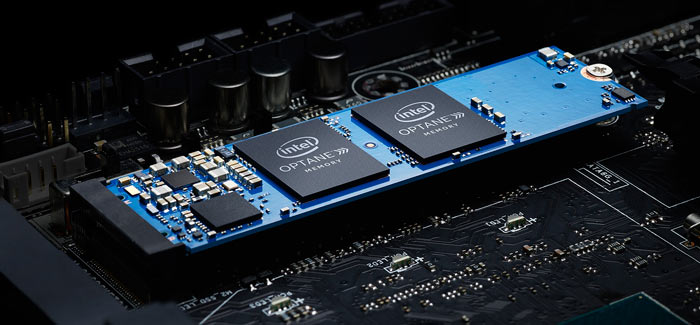 To use one of the new Optane cache drives you will have to have system support in place and at this time that means a 7th generation Intel Core processor and 200 series chipset. On that topic we've just had an email from Asus saying that it has a new UEFI BIOS for M.2 Optane support in its 200-Series motherboards. Asus, like Intel, suggests that an Optane drive is a great companion for a roomy HDD.