Samsung has published a blog post discussing how it has embraced the Vulkan graphics API, to improve gaming perfromance and create more immersive gaming experiences on mobile. The South Korean tech giant also uploaded various videos about the advantages of using the Vulkan API including one video comparing OpenGL ES and Vulkan gaming on its Galaxy S7 smartphone.
The first mobile games leveraging the Vulkan API are Need for Speed: No Limits, Heroes of Incredible Tales (HIT), and Vainglory, says Samsung. In the video above (and screenshot below) you can see split screen comparisons of the Galaxy S7 running the same games in OpenGL ES and in Vulkan.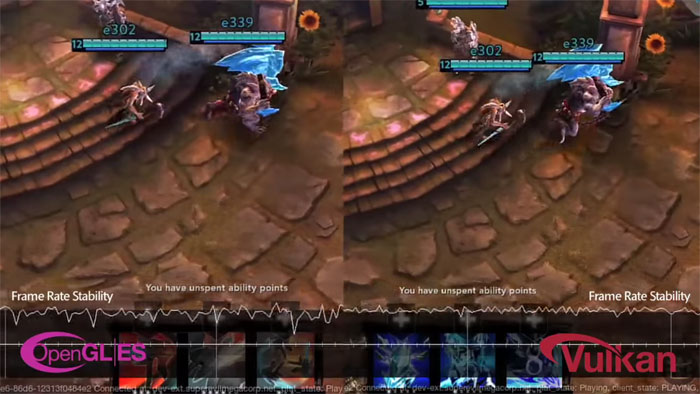 Samsung says that using the Vulkan API the games are "noticeably more detailed and responsive, so gamers can enjoy them all at a deeper level". This result is said to be thanks to the simpler Vulkan driver that "reduces CPU bottlenecks, allows the use of multiple CPUs for increased performance, and reduces hitches and other surprises". As we have seen in other gaming industry hardware tests, modern APIs like Vulkan can increase performance while reducing hardware load.
Vainglory developer, Super Evil Megacorp, has worked closely with Samsung in implementing the Vulkan API in its games. Samsung engineers were in the developer's offices during game development. Impressively, thanks to Samsung's partnership and the new Vulkan API, Super Evil Megacorp "was able to create games with 30 percent faster performance, increased rendering of images on the screen and improved battery life".
Google decided to implement the Vulkan API as part of the Android platform last year.