We heard some interesting details about Project Spartan at the Windows 10 event last week. The key features of the new browser are to be; speed, backwards compatibility via the IE11 engine on older sites, universal presence across Microsoft Windows 10 devices, Cortana integration, the ability to ink/annotate on web pages and having dynamic updates via the Store. But what will it be called?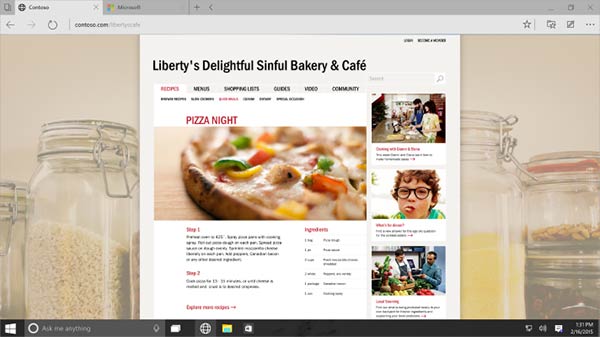 Microsoft has been conducting research upon what to name its Project Spartan web browser for prime time. Remember the Project Spartan moniker is just a codename. It seems like all the possible names surveyed being with the letter E – so will Microsoft be keeping the familiar Internet Explorer single 'E' logo? Here are the alternatives that Microsoft is considering, according to Windows Central:
Entourage, Elixa, Evo, Evex, Endeavor, Edge
From the above 'Edge' may be a good one as it's the name of the new rendering engine. The new browser might be known with one of the above single word names but Microsoft is also considering pairing the above with one of the following:
Microsoft, IE, Internet Explorer
So we could end up with a name such as the following:
Microsoft Evo, IE Evex or Internet Explorer Elixa…
Project Spartan web site rendering speed
While even the latest version of the Windows 10 preview for Insiders doesn't include Project Spartan it has been discovered that you can run IE11 with the new Edge document rendering mode – like Spartan. The new mode is enabled by setting a flag, via the IE11 task bar, to 'Enable Experimental Web Platform Features'.
Anandtech decided to test the performance of this new mode, which should give a good indication of the speed of Project Spartan when it becomes available. Please find the results table below.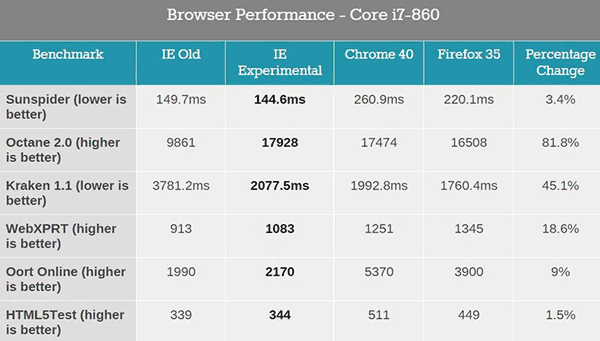 You can see some great performance numbers from the new browser which are highly competitive with the likes of Chrome and Firefox and represent an impressive gain compared to IE (per cent improvement shown in last column). Of course with Project Spartan as experimental software in an early testing phase there should be plenty of room for improvement in both speed and compatibility before the software hits v1.0.