Microsoft has begun an Internet Explorer Developer Channel program. Now, via devChannel.modern.IE, developers and end users alike can download and test early versions of IE which have features which may or may not appear in the next version of IE proper. It's a bit like the developer release programs run by Mozilla (Firefox) and Google (Chrome).
On the MSDN blog Microsoft explains its move as "creating a more open dialog between the IE team and the Web development community". If you install the developer channel version of IE it doesn't overwrite or break your current IE11 installation and you can run the browsers alongside each other to compare the new and old functionality. Users are encouraged to submit their test-drive feedback "through @IEDevChat or Connect".
The Internet Explorer Developer Channel (IEDC for short) is a fully functioning browser and it is downloadable and usable for those with Windows 7 SP1 or newer and IE11 installed. The download for my office computer weighed in at around 110MB.
What's new in the current IEDC release?
Having a poke around the Dev Channel site Microsoft makes it pretty easy to see the new technologies that are being rubbed into the IE11 at this time. Also it kindly offers a video overview of all these new browser features.
WebGL is being worked on with speed-up tweaks, especially for duplicate shapes. Support for the Gamepad API is also being worked upon and it will allow one or more Xbox 360 controllers to be used for web based games. Microsoft suggests you try the IEDC with Escape from XP and a couple of joypads.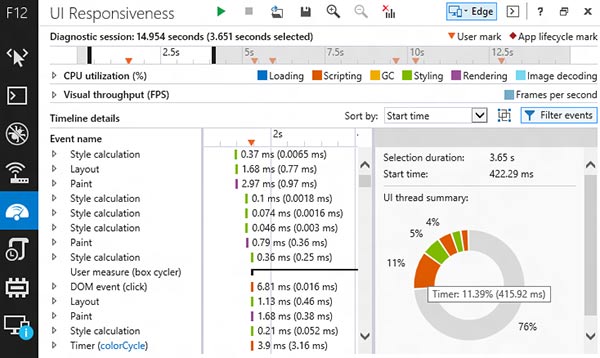 Another interesting feature of IEDC is the WebDriver support, coming to IE for the first time. It allows web developers to automate web browser tests. Last but not least Microsoft has implemented updates to its F12 developer tools including the UI, debugger and several more.