The latest version of the Internet Explorer browser has been made available by Microsoft for its older Windows 7 OS. This free update can be downloaded from here, however Windows 7 users with auto-update turned on should receive the option to install it as an automatic upgrade. The latest version of IE should run faster, support more web standards and includes new developer tools. Meanwhile users of older OSes like Vista or XP can't upgrade past IE9. In other IE news the browser now has its own "anime personification," in the shape of a young lady called Inori Aizawa.
IE11 has been made available globally for Windows 7 users. The headline improvements over the previous version of IE include the "performance, security, privacy, and reliability that consumers enjoy on Windows 8.1," it's also optimised for touch.
Microsoft are particularly happy to boast about the faster performance on offer in IE11. "IE11 on Windows 7 improves performance across the board with faster page loading, faster interactivity, and faster JavaScript performance, while reducing CPU usage and improving battery life on mobile PCs". The company says that the latest version of Internet Explorer can make real world web sites perform 30 per cent faster.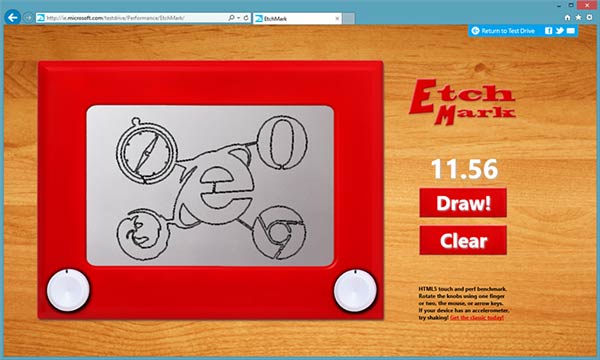 Redmond suggests you try out its EtchMark browser etch-a-sketch benchmark, pictured above, available here. This single web page uses "a broad range of technologies available to developers in IE11, including HTML5, CSS3, SVG Filters, touch, orientation events, pointer events, power efficiency, and more". Niftily you can shake your device to start your sketch anew - if your Windows machine has device orientation support.
Other significant performance increases are observable in JavaScript. "On Windows 7, IE11 is 9% faster than IE10, which is nearly 30% faster than the nearest competitive browser," we are told on the IE Blog. For a more rich experience Microsoft IE11 now supports 25 new and improved modern web standards including; hardware-accelerated 3D Web graphics, HTML5 video without plugins, WebGL and HTML5 drag and drop.

"My name is Inori and I'm an anime personification for Internet Explorer! Shall we explore the web?"
Inori Aizawa, born 16th August 1995, made her debut at the AFA - ANIME FESTIVAL ASIA in Singapore at the end of October. At that time we saw a silhouette of Inori and were told "The world's most popular browser just got cuter."
Yesterday she introduced herself on her official Facebook page and we got a short but informative bio, reproduced below;
"Hey everyone! My name is Inori and you can think of me as a personification of Internet Explorer.

When I was younger, I used to be a clumsy, slow and awkward girl.

However, just like the story of ugly duckling, people told me that I have really matured and changed over the years. I feel confident in my abilities now, and I'm eager to show you what I can do.

Why don't you get to know me a little better?"
However at the time of writing the special IE11 (Inori version) is still not available to download. At least you can watch a short video of Inori fighting angry chrome robots while you wait...