Microsoft has released Internet Explorer 10 for Windows 7. It is available for download in 95 languages. According to Microsoft the headline improvements over the previous version of Internet Explorer (IE) are that it is "20% faster for real world Web sites" and it also supports 60 per cent more "modern web standards".
If you are running IE10 Release Preview you might find your browser has updated automatically already, this is Microsoft's first target for auto updating. Users of Windows 7 Service Pack 1 and/or Windows Server 2008 R2 and higher will get auto-updated to IE10 final "in the weeks ahead". The IE10 currently available for download is not compatible with Windows Vista or Windows XP.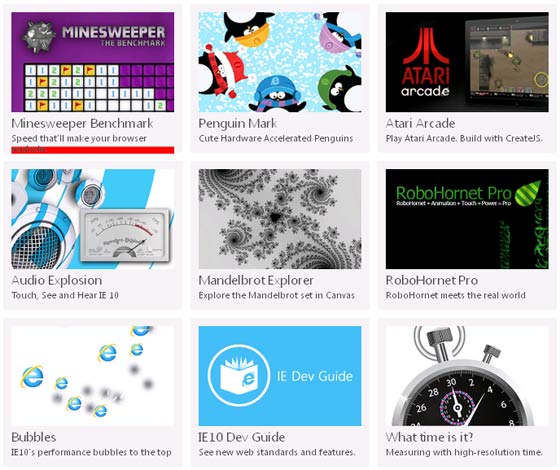 It's faster
Heralding the speed of the new browser release Rob Mauceri, Group Program Manager, Internet Explorer wrote on the official IEBlog "With IE10 we continue delivering the best performance for real world Web sites on your Windows device." He invited readers to go to the IE Test Drive site to check out and compare IE with their other browsers. He noted that there was a new HTML5 Minesweeper benchmark there. But it's not all about speed, Mauceri pointed out IE10's useful built-in spell checker will help improve the quality of your blog posts and tweets. Furthermore the tab bar has been tweaked to allow users to close tabs more quickly and accurately.
It's compliant with more web standards
"For developers, IE10 brings increased support for modern Web standards powered by hardware acceleration to enable a new class of compelling applications and fast and fluid Web browsing," wrote Mauceri. IE10 supports 60 per cent more web standards than IE9, that's an increase of over 30 including "many of the latest HTML5, CSS3, DOM, Web Performance, and Web Application specifications".
The adoption of these new standards is useful for; design – with more visual effects and responsive page layouts, web programming – for better online apps, interactivity and last but not least, for security.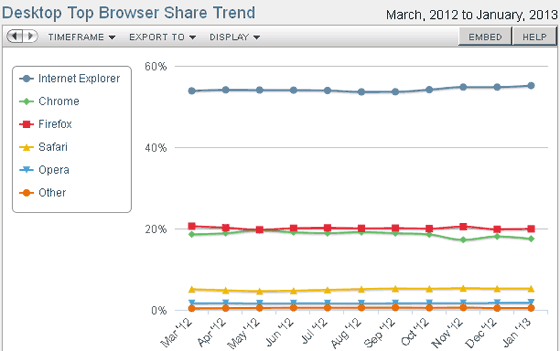 Looking at the latest Desktop Browser Share figures from NetMarketShare we see that IE has been slowly but steadily improving over the last year. Having IE10 available to Windows 7 users should help boost IE's position at the top of the desktop table. Currently Windows 7 is the most popular desktop OS with 44.48 per cent of the market, Windows XP is at 39.51 per cent and Windows 8 at just 2.26 per cent.