Microsoft first demonstrated its Your Phone app Calls feature at the Samsung Unpacked event in Brooklyn in August, when the Galaxy Note10, 10+ and 10+ 5G were launched. It followed up with a live demo of the feature at the Surface event last week. Now the firm is making the feature available to the general public, or at least its ring of volunteer Insiders in the fast ring, via Windows 10 Insider Preview Build 18999 (20H1).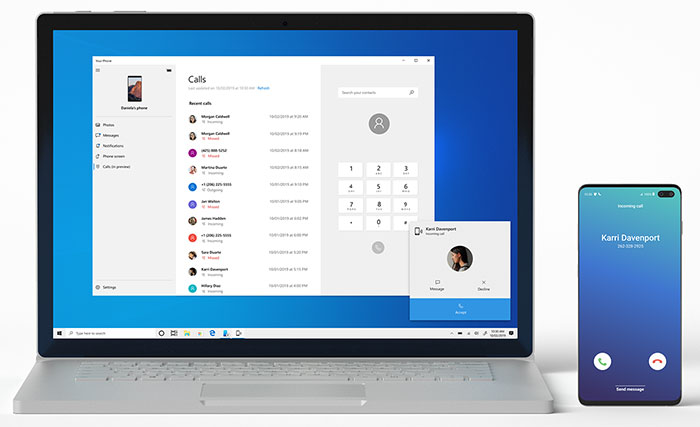 With the Calls feature enabled you can use your PC's speakers microphone, and large screen "for a richer calling experience," says Microsoft. Probably more importantly, it's a handy way to answer calls when at your desk / on your laptop, when your phone is in a bag, pocket. Official highlights of the Calls feature in Your Phone are as follows:
Answer incoming phone calls on your PC.
Initiate phone calls from your PC using in-app dialler or contact list.
Decline incoming phone calls on your PC with custom text or send directly to your phone's voicemail.
Access your recent call history on your PC. Clicking on a specific call will auto populate the number within the dialler screen.
Seamlessly transfer calls between your PC and phone.
According to the Windows blog you don't need a shiny new mobile such as the Samsung Galaxy Note 10 series or Microsoft Surface Duo, it will work with any Android 7.0 or newer phone with Bluetooth (Bluetooth on both phone and PC of course), as long as you are running this insider build of Windows or newer.
If you are interested in the new Your Phone app and the Calls feature but don't wish to start testing fast ring versions of Windows, you won't have to wait until next year and the next major Windows 10 update. Microsoft says that Insiders on 19H1 builds or newer will be able to download the updated app in a few days.
Elsewhere in Windows 10 18999 (20H1)'s changelog, there are details of updates to Cortana, and a long list of general changes, improvements and fixes. Would-be users are warned that pre-release builds of Windows 10 may contain "bugs that might be painful for some".