Blizzard is reportedly in the advanced stages of readying Diablo 4 for the masses and we might get to see some of it at BlizzCon 2019 later this year. Those with a soft spot for classic games might be more heartened to hear that the original Diablo has become available via World Wide Web browser.
To recap, Diablo was launched back in 1996, and quickly became a classic in the eyes of gamers and the games media. This action role playing title utilises point and click movement, ideal for a browser game, and interactions with other game objects are also mouse-driven. Players choose one of three classes (the Warrior, the Rogue, or the Sorcerer), and acquire items, learn spells, defeat enemies, and interact with non-player characters (NPCs) throughout the game experience, helping to complete quests.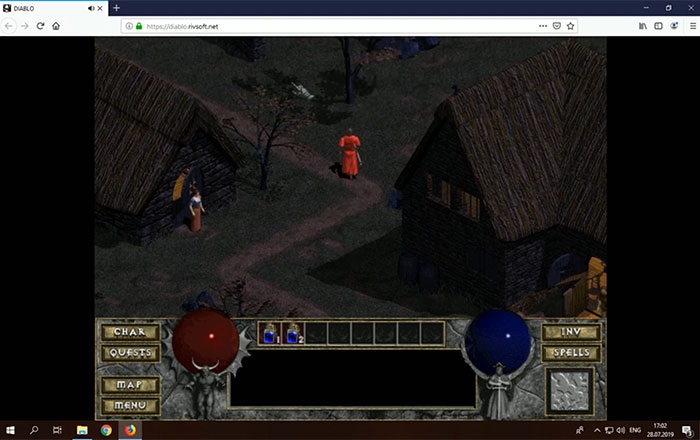 If you are interested in playing the original Diablo in your browser, head on over to https://diablo.rivsoft.net where you will have to wait a bit for the start page to load, then click the 'Play Shareware' button. Please note that the site seems to be under some strain right now and it took me several attempts to get it to load. It worked fine in both Firefox and Chrome, eventually (these are the only 2 browsers I tried).

If you click the button to 'Play Shareware', the site will load up the 50MB file that facilitates this. The shareware version includes the first two dungeon areas, one of the three playable classes, but fewer NPCs. However, if you already own Diablo, you can rifle through your storage and drop the diabdat.mpq file on the browser window to start up the full version of the game. You can see someone doing exactly this in the YouTube video below.
Interestingly, Rivsoft says that the web game is "based on source code reconstructed by GalaXyHaXz and devilution team". This code is pretty faithful to the original, even preserving the "bugs and badly written code in the original game". Modern Vintage Gamer looks at this feat of reverse engineering in a video, if you are interested.