The Open Source Technology Summit OSTS 19 kicked off yesterday and will run until tomorrow. This annual Intel hosted event started off as a gathering for a few dozen engineers but now boasts over 500 high-level participants from the likes of Intel (of course) plus Alibaba, Amazon, AT&T, Google, Huawei, JD.com, Microsoft, MontaVista, Red Hat, SUSE and Wind River. Central to the discussion is how to optimise (open source) software to make the most of the hardware available. Current trends in computing dictate that there is considerable focus upon the next generation of data-centric technology "in areas such as containers, artificial intelligence (AI), machine learning and other cloud to edge to device workloads," explains the Intel blog.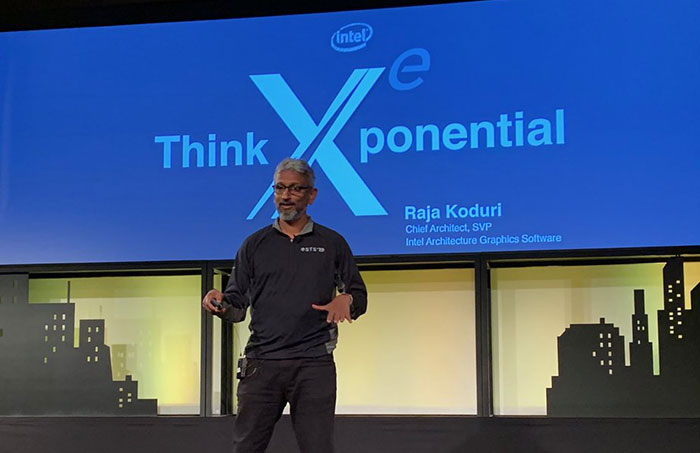 One keynote speaker at OSTS 19 yesterday, who should be immediately familiar with HEXUS regulars, was Raja Koduri, currently SVP of the Core and Visual Computing Group, general manager of edge computing solutions and chief architect at Intel Corporation. Koduri's talk was dubbed 'Think Exponential' and of course was a platform to talk about Xe GPUs and how (open source) software could unlock so much more potential in general.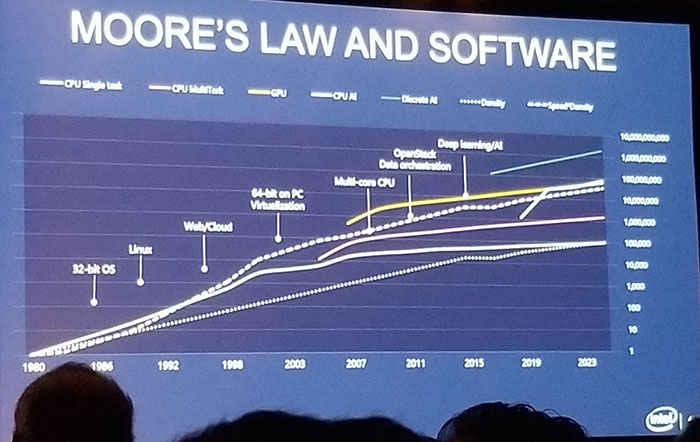 Intel evangelist Brian Richardson helpfully shared some of Koduri's slides on Twitter, as did some other Intel execs. Koduri, backed by his slide deck, made a number of interesting assertions such as "For every order of magnitude performance from new hardware, there is >2 orders of magnitude unlocked by software". He also talked about how software improvements and technologies were important to Moore's Law, and signalled that a majority of the software scaling for Intel's CPU architecture was open source. This is echoed in the official Intel blog post, which asserts that "advancements in architecture, process, memory, interconnect and security," rest upon the "key technology pillar," of software.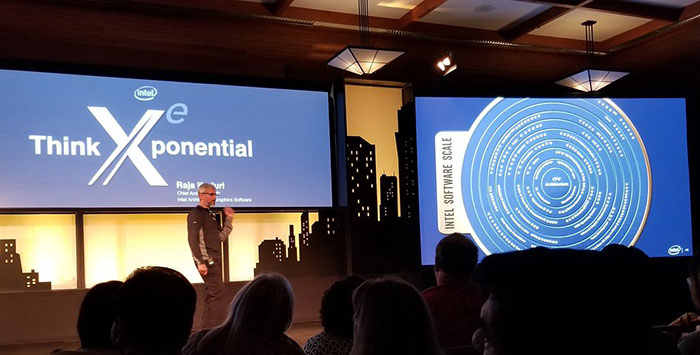 Moving onto other topics discussed at OSTS 19, advancing core infrastructure for uses well-suited to Intel architecture was covered. For example, Intel intends to push forward with the ModernFW Initiative with the goal of removing legacy code and modularising design for scalability and security. Intel also aims to enhance its Linux-based solutions for developers and partners via the Clear Linux Developer Edition. Key Linux software developments include deep learning and data analytic reference stacks. Last but not least, Intel is keen to enable new usage cases in industrial and automotive with consideration of edge computing devices and robots too.
Intel is well positioned to be a major power in advancing open source software with its computing vision and more than 15,000 software engineers in-house.
Intel GCC Version: 1.100.1220.0
In other Intel software news, the firm has recently released its Graphics Command Centre v 1.100.1220.0. This driver suite is 1-click optimised for Dirt Rally 2, Anno 1800, and Left 4 Dead 2. You can read through the full release notes on Intel's official forums.