As well as the new Surface devices launched last night, Microsoft shared important software news as it detailed what is new in Windows 10 and Office this October, and talked about the Windows 10 October 2018 Update roll out.
Update features
As mentioned in previous news articles about the Windows 10 October Update the biggest new features are to do with bringing your smartphone and PC experiences closer together. The main new feature here is encompassed by the Your Phone app. With You Phone, users of the latest Windows 10 release and Android mobile devices can enjoy easy cross platform access to media and texts.
In the video above you can see the Windows 10 Your Phone app open and displaying recent photos and text messages. The user drags and drops some of the photos to an Office presentation and then copies an updated title from a text sent by her manager. The functionality works the other way too with respect to SMS. Via Your Phone you can text your friends and group message from the comfort of your PC keyboard.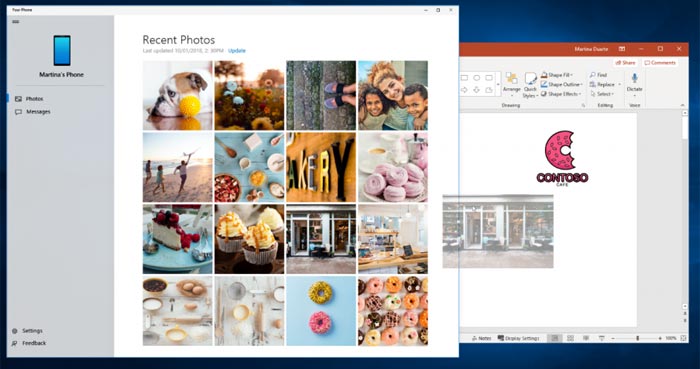 Timeline on phone has also arrived with the Windows 10 October 2018 Update. This handy pickup where you left off feature is available on mobile via the Microsoft launcher app. In the example video below you can see a user checking some figures in a presentation doc before an important meeting.
Other updates and improvements in the Windows 10 October 2018 Update include; the Microsoft To-Do task managing app (which again syncs with mobile), the Snip & Sketch inking-friendly app, Microsoft Edge improvements such as top sites in jump lists and WebAuthN support, SwiftKey comes to Windows, Cloud keyboard, Start Tile folder naming, search improvements, mixed reality flashlight, Game Bar improvements, security improvements, and the Microsoft Font Maker app. You can read through a blog about new features by Microsoft's Jennifer Chen, here.
Update rollout
Microsoft is aiming to use its "real-time feedback and telemetry to update your device when data shows your device is ready and will have a great experience". This is similar to how it rolled out the previous major Windows update and used Machine Learning to optimise the task. It says that this will mean that your PC will prompt you to complete the update that it downloads in the coming weeks.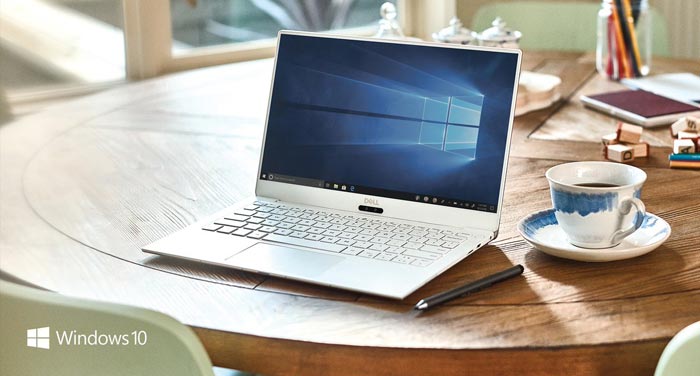 If you are an impatient type of person it is possible to get ahead in the queue by manually checking for updates in Windows. To do this click in the search box in the taskbar, type 'Check for updates', and once in the control panel click the 'Check for updates' option. I did this, not because I wanted to update early, but to check the process. However it started downloading the update and I am now being prompted to schedule a restart to install it…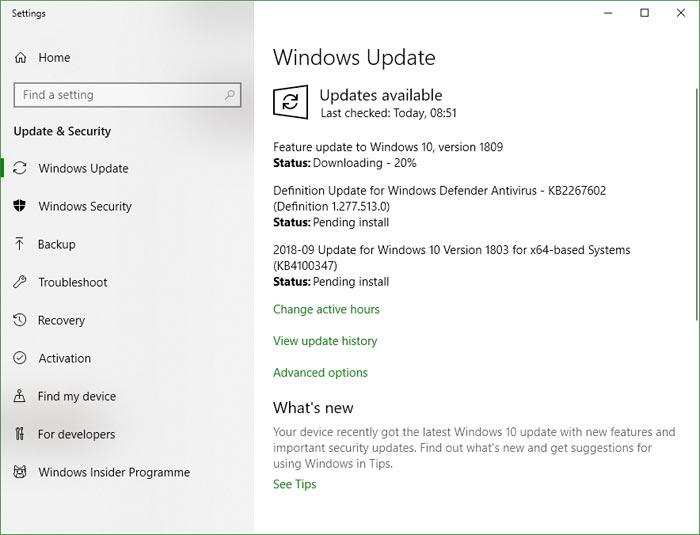 Those, like me, with such updates enabled are a subset of users which Microsoft's ML models have already determined have "no known key blocking issues".
Interestingly Microsoft promises faster updates, smaller downloads, and less downtime from updates. In particular it states that the time your device is offline during updates will be reduced "by up to 31 per cent compared to the Windows 10 April 2018 Update".