Microsoft already promotes the message that "Microsoft Edge is the faster, safer browser on Windows 10 and it is already installed on your PC," when you search for Firefox or Chrome via Microsoft Edge. Now it has been seen to be testing a significantly more obtrusive messaging method to try and swat away and stall the installation of rival browsers.
The Verge reports that Microsoft is now testing a new warning the appears when a user goes on to attempt to run the Chrome or Firefox installers, on the latest version of Windows 10 for insiders. So, even though you are alerted about Microsoft Edge being the "safer, faster browser for Windows 10," when searching for Firefox or Chrome, this message is again shoved in your face when proceeding to run the installer.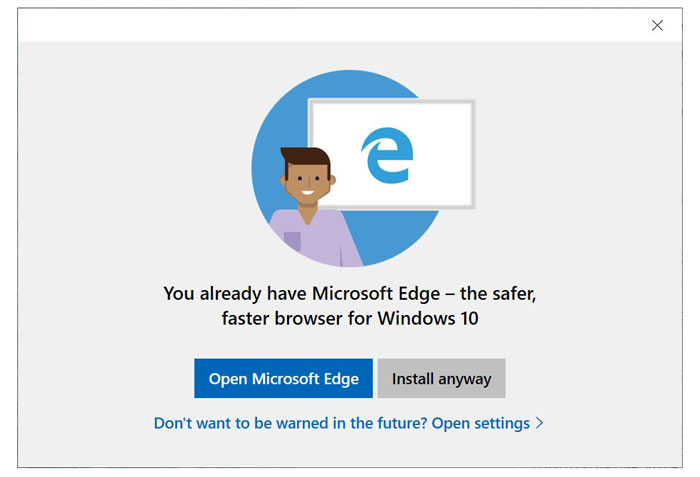 The existence of such a pop-up alert will be controversial with some PC users. However, Microsoft tries to counter this by allowing the warnings to be turned off "in the future". For the effort though, one might as well just click the 'install anyway' button in Microsoft's popup.
According to the source report, while the warning is now in testing it isn't going to be included in the finalised Windows 10 October 2018 Update. It is noted that Microsoft often tests out feature changes and this one was both undocumented in the usual Blog posts and "appeared very late in the testing stages". Perhaps user feedback from Insiders will prevent this warning appearing in later shipping versions of Windows 10.
Of course Microsoft would prefer Windows 10 users to stick with Edge for its associated benefits to the Bing search and ads platform. This business concern is obviously high up on the reasons for the warnings and alerts and why Microsoft has previously tried to tie Windows 10 Mail links to Edge, Cortana queries to Edge, and even pushed notifications to Chrome users to recommend Edge.