Nvidia has made a new driver set available. The new GeForce Game Ready 385.69 WHQL drivers are delivered with more optimisations than usual, Nvidia claims nine new games will benefit from the "fastest, smoothest experience," if you go ahead and download this software.
The full list of games optimised in 385.69 WHQL is as follows:
Project Cars 2, (now)
Call of Duty: WWII open beta, (from 29th Sept)
FIFA 18, (21st Sept Origin Access sub, 29th otherwise)
EVE: Valkyrie - Warzone, Game Ready VR (now)
Forza Motorsport 7, (3rd Oct)
From Other Suns' open beta, (29th Sept)
Raiders of the Broken Planet, (now)
Star Wars Battlefront 2's open beta, (6th to 9th Oct [two days earlier if pre-ordered])
and Total War: WARHAMMER II. (28th Sept)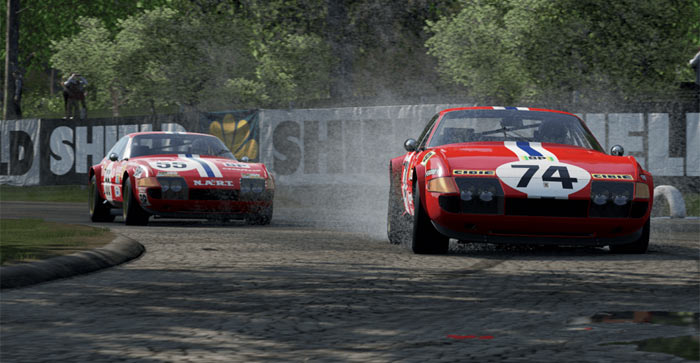 The Project Cars series is well known for dazzling graphics and working hand in hand with Nvidia on the second major outing for this game, developers Slightly Mad Studios have gone even further. A separate new article on geforce.com discusses Project Cars 2 on PC and its support for 4K, 12K, GameStream, HDR and VR. In the game you will likely be impressed by the 20 additional fully scanned track options (compared to previous game), with over 60 locations, and there are 130 tracks in total available.
As well as the above gaming optimisation Nvidia has added or updated SLI profiles for Dishonored: Death of the Outsider, Fortnite, JX3 Online, Project CARS 2, Raiders of the broken planet, and Total War: WARHAMMER II. There are good 3D Vision profiles for Project CARS 2, and the Call of Duty: WWII open beta too.
If you look through the release notes (PDF) you will find a lengthy list of fixed issues delivered in 385.69 WHQL. Several of the patched up issues are for poor/flickering performance on laptops equipped with Optimus switching graphics. As usual you can search for the latest driver for your graphics card via the dedicated downloads page or leave it up to the GeForce Experience app (which popped up an alert on my desktop system about 30 minutes ago).
Need for Speed Payback
In another post on the GeForce blog, Nvidia reveals a GeForce-Exclusive 4K PC Gameplay Trailer for Need for Speed Payback. At the same place you can ponder over the minimum and recommended system requirements for this upcoming racing game from EA / Ghost Games.