Alongside the headlining hardware announcement(s) last night Nvidia announced the availability of GameWorks DX12 and discussed some of its features. Resource updates have been put together by Nvidia to increase realism and shorten product development cycles in titles designed using DirectX 12.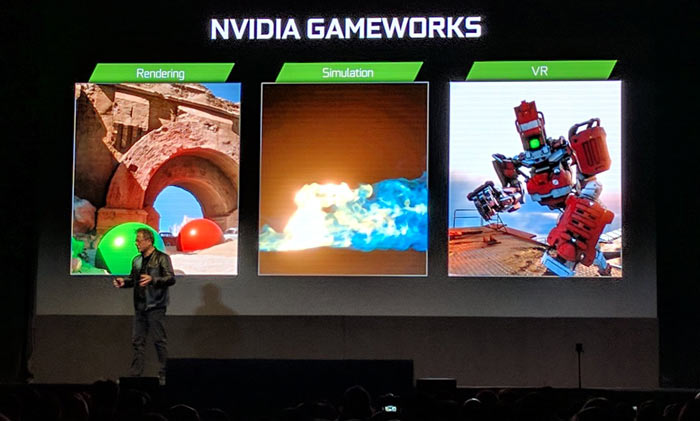 The new and updated resources include updates to the NVIDIA GameWorks SDK for creating interactive cinematic experiences on PC games; updates to the NVIDIA VRWorks SDK for creating immersive virtual reality experiences; new developer tools; and a new Game Ready Driver. Nvidia claims these toolsets will give developer access to new rendering and simulation effects, plus "substantial performance gains" to gamers, and more.
Nvidia to provide "best game experience on DirectX 12 titles"
Talking about his firm's commitment to DirectX 12, Tony Tamasi, SVP of content and technology at Nvidia, said "We have invested over 500 engineering-years of work to deliver the most comprehensive platform for developing DirectX 12 games, including the world's most advanced physics simulation engine". Tamasi said that the new GameWorks DirectX 12 software tools will ensure GeForce gamers get the best DirectX 12 gaming experiences, "just as they have on DirectX 11 games."
Physics and VR
Nvidia wants to make the most of asynchronous compute for gaming effects, so has introduced two key technologies to do so. Firstly Nvidia Flow 1.0 is a visual effects library for the rendering the likes of combustible fluid, fire and smoke, secondly Nvidia Flex 1.1 offers a DX12 compute compatible a unified particle-based simulation technique for real-time visual effects. Another update to GameWorks physics came with the new HairWorks 1.3 for realistic fur and hair simulation.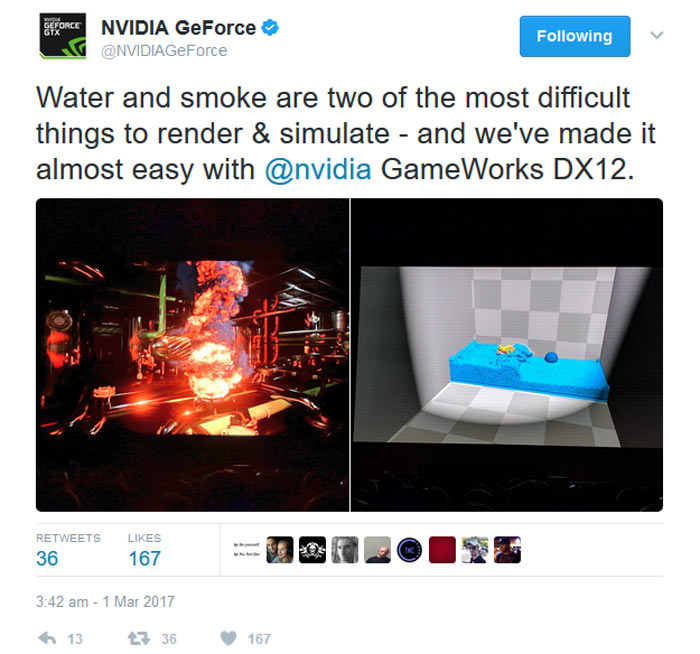 VRWorks has been updated by Nvidia "to support DirectX 12 with better performance, lower latency and plug-and-play compatibility." It will be supported by UE4 games and the Unity 2017.1 beta onwards (ships in spring).
New developer tools have also been introduced by Nvidia to improve DirectX 12 development. New tools include the Nvidia Aftermath 1 diagnostic utility, the Nsight Visual Studio Edition 5.3 real-time VR and DirectX 12 debugger, and the PIX Plugin DirectX 12 performance debugger from Microsoft.
Game Ready Driver Optimised for DirectX 12
Coming shortly will be a new GeForce Game Ready Driver optimised for DirectX 12 games. This driver will offer an impressive performance uplift of "16 per cent on average," across a variety of DirectX 12 games. Titles feeling the DX12 Game Ready driver love will include; Ashes of the Singularity, Gears of War 4, Hitman, Rise of the Tomb Raider and Tom Clancy's The Division.
Interestingly the aforementioned games titles are the often ones that currently show modern AMD Radeon graphics cards in their best light. Can Nvidia really snatch these DirectX 12 jewels from AMD's grasp? We will have to wait and see.